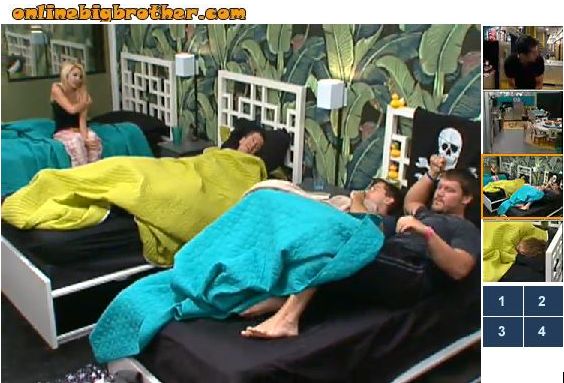 10:15am Britney, Matt, Lane and Ragan are in the bedroom talking. Lane climbs into bed with Matt and Ragan and Britney yell how cute… come on snuggle up to each other. Ragan says that he cant believe they will be on lock down all day. Lane says that he thinks it will only be most of today. Ragan says that when he asked production about the set-up… Lane starts saying TV time, TV time. Ragan says that they could still do sit-ups and crunches inside. Then Ragan says that he might not because it could be an endurance competition tomorrow and doesn't want to be sore. Matt says that he is still gonna do it. Lane tells them not to. Rachel comes into the bedroom and offers to make Ragan, Matt and Lane French toast. Ragan and Lane want some, but Matt is still self imposing the slop diet on himself.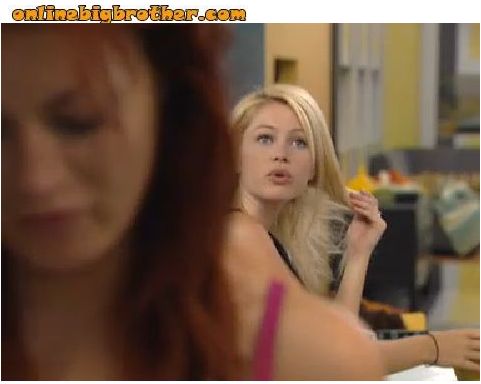 10:35am Rachel is in the kitchen making French toast.  And Britney is making cinnamon toast. Brendon is in the kitchen cleaning up. Britney, Brendon and Rachel are talking about all the fried food they like. Britney starts talking about the dance she did for Ragan this morning to the Britney Spears song that they played. Rachel and Britney then start showing off their dance moves in the kitchen. Rachel says some times she likes to get gangsta and start booty pop'n. (lol) Rachel tells Britney that she cant wait for them to go out one night and rip it up.  Britney says oh I know …I get crazy!!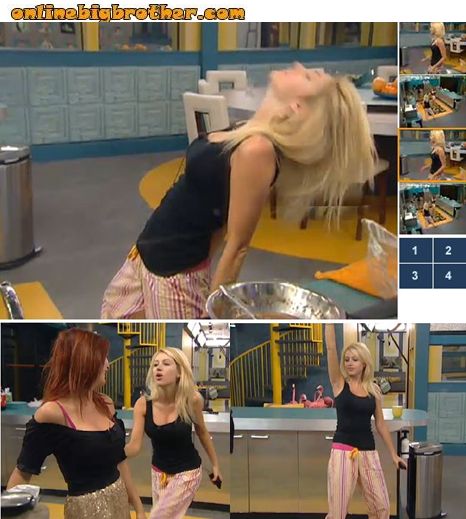 11am Brendon, Rachel and Britney talk about Vagas and how Britney should have her bachelorette party there.  Rachel tells Britney that she will hook her up!  Ragan and Lane come into the kitchen to eat the french toast and cinnamon Britney says that she is going to get called to the diary room.  And right after Big Brother calls her in.  Britney asks did you see that, I said I was going to be called into the diary room and they just called me in…. BIAM!!!  Lane and Ragan are alone in the kitchen talking about how Andrew talked about finger banging a chick in an airplane bathroom until she came.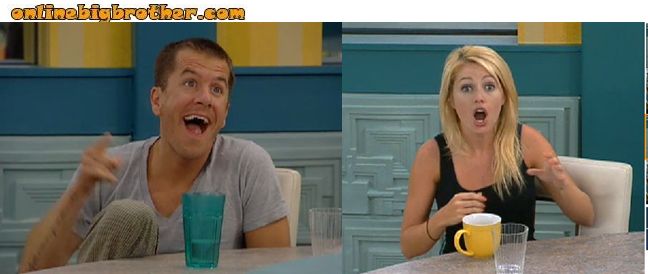 Rachel and Brendon are up in the HOH room bathroom. Rachel is getting ready to try and bleach her hair because she doesnt like how dark it is. Rachel starts asking Brendon practice questions for future competitions. Rachel is banging the shit out of the hair product and it is distracting Brendon. Brendon asks her if she is going to continue doing that much longer. Rachel says yeah, maybe you should go down stairs and we can practice later. Brendon says no just repeat the question. Rachel says that they will have all day to practice and that he should leave. Brendon persists and she asks him the question again. Then Rachel says that she doesnt understand how he can be so grumpy in the morning. They are both getting on each others nerves.