11:15am Hayden and Lane are in the lounge room talking about using Britney to get farther in the game. Lane says that if people think she is aligned with him, they will target them as a couple, put them up and the Brigade will vote her out, saving Lane and their numbers. They discuss how they think the best scenario would be to have the Brigade left in the house with Kathy, Rachel and Britney. Lane says for all this to work out, it has to start tomorrow. Lane says that he think Hayden and Britney have a good chance. Lane says that he cannot wait to see Rachel or Brendon's face when the other goes. Hayden says that he wants it so bad after Rachel was such a bitch. They agree that if Kristen had stayed, she would have been the perfect foe for Rachel. Lane says that he thinks the HOH competition this week will be endurance. Hayden says that if Rachel and Brendon are telling the truth they are not going after The Brigade this week. They start going through the votes and how many they need to keep the Brigade safe. They both think that Kathy is going next week, no matter what. Hayden and Lane say that they think the first Brigade member out would probably be Matt because he just wouldn't have the votes to stay. Lane and Hayden make a deal that if either of them is up against Matt, they would vote to keep each other no matter what even if Enzo wants to keep Matt. They both say that they will lie to Enzo, to save each other and that they can sort it out later. Hayden leaves the room for the kitchen. Lane rolls over to go to sleep.

Get the 24/7 Uncensored Live Feeds For Free!! With No Commitments!
3 Day FREE Trial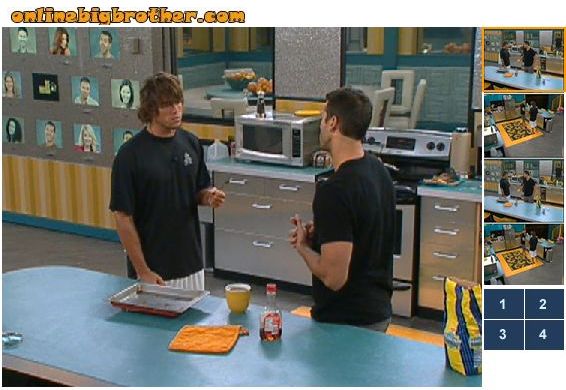 11:50am Hayden and Brendon are in the kitchen talking. Brendon asks Hayden what she (Kristen) said. Hayden says that she just said that she doesn't want him to be mad if she is campaigning. Hayden says that they stayed up late last night because they know that one of them are leaving. Britney, Hayden, and Brendon head up to the HOH room but the door is locked so they sit outside and Britney and Hayden play checkers. Rachel is trying to bleach her hair lighter in the bathroom. Rachel opens the HOH door and Brendon goes in. Brendon kisses Rachel and then tells her that he loves her. Rachel says that he shouldn't be so nice to her. Brendon says of course I should I love you.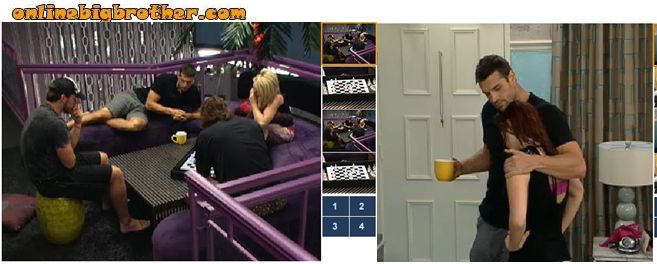 12pm – 12:20pm All four cameras are on Kathy and Kristen getting ready in the bathroom. Lane and Enzo are in the lounge room talking. Enzo says that she (Kristen) was trying to talk game to him last night and he was falling asleep. And then he woke up and said yeah I'm a do it. And she was like what. Ezno says oh shit. Then she would start talking game again and I would start falling asleep again and wake up and say ohhh..yeah Im a do it. She asks do what? Enzo says Im gonna make eggplant parmesan. Enzo says she was like what?! Both Lane and Enzo laugh. Enzo says that he was losing it yo. Enzo and Lane start making fun of Kathy. Lane says that at least they have their ass covered with Kathy because as long as she is there …shes the target. Enzo says that he doesn't trust Ragan. Lane says yeah. Enzo leaves the room.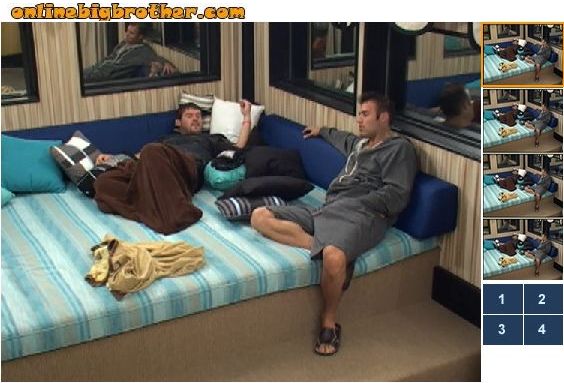 SEE what they CAN'T show you on TV! 3 Day FREE Trial
12:30pm – 12:50pm Enzo, Britney and Matt are in the kitchen.  Rachel yells down from the HOH balcony asking Britney and Matt will wear her hair extensions again for the HOH pictures.  They both say that they will.  Britney asks when the HOH pictures are going to be? Rachel says in a half an hour.  Britney says that she is going to take a nap until then.  Britney goes to the bedroom where Ragan and Matt talk about what the up coming HOH competition will be.  Ragan says that he really hope that it is an endurance competition.  Matt gets up and goes into the lounge room where Enzo and Lane are talking.  Enzo says that he doesn't want to be in the pictures at all and wants her to take pictures of everything else, including the fish and food they eat. They talk about what they think the HoH comp will be like.