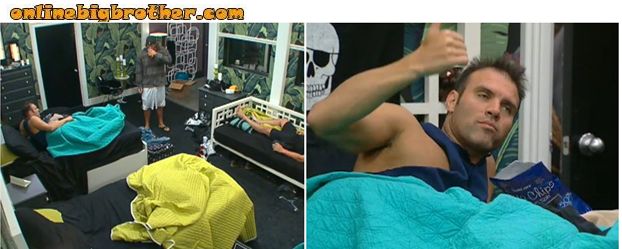 12am In the lounge room Enzo, Lane and Kathy are talking. Enzo talks about how his body isn't use to food. Lane says that he needs a snack . Enzo tells Lane that its too late. They both get up and go to eat cookies. Enzo ask if they are still out there. Enzo says that there is no skill to that. Lane says they will be out there all night. Lane and Enzo head to the bedroom.They talk about how big tomorrow is going to be and they wonder if the will be spending the rest of the summer together or not. Lane says that Britney will find out who she will put up, its either Matt or Kathy. Lane says that Rachel wants to split them up. Enzo says who cares what Rachel wants we got the votes. Lane says not if one of us goes up. Enzo tells Hayden that someone is getting back doored if you don't win Hayden, it could be Lane or Kathy or even him, who the fuck knows. Enzo says that one of the brigades might go home if they go up against one another. Lane and Enzo agree that they think Brendon will keep it the same. Lane says that Kristin can't come off. Enzo says they have to push hard for Kathy to go up as the replacement. Enzo says that things are in their favour to win. Enzo says that afterwards they can celebrate Matt's birthday. Enzo says that if Matt had put them (Brendon and Rachel) up last week they would have no problems. They joke around saying that they know Brendon's' going to be picked. Enzo says talks about a possible double elimination, and how the Brigade needs to make it past that point. Lane says that next week is the week to get Brendon. Lane laughs and says that he knows they have been saying that week after week. Enzo says that he is scared. Lane says that Britney told him that Rachel wants Kristen gone but if she gets off, Matt will probably go up and want Hayden or Kristen gone but really want Kristen. Enzo says that he is worried and that he hopes there is more to it. Enzo says that Britney is a good source of info since she's close with Rachel.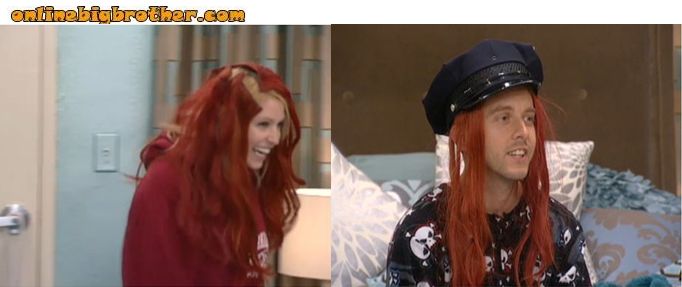 12:20am Up in the HOH Britney and Matt are playing with Rachel's red hair extensions. Britney puts them in her hair and does an impersonation of Rachel. Matt has them on too. Rachel and Brendon come back into the HOH room. Rachel laughs. Britney does a little show for Rachel. Rachel laughs. Rachle jokes that Matt looks like such a stoner with her red extensions in his hair. Britney says that she wants to go downstairs and do her re-enactment. Britney leave to head downstairs. Britney says get you life vest floaters. Britney goes into the bedroom and does her impersonation for them. Enzo wishes Matt a happy 30th birthday. They continue to joke about how Matt looks like a pot head. Matt says that he doesn't know what he is doing. Lane says that Matt looks creepy. Enzo complains about eating too much food. Lane asks Brendon if he found any strategy. Brendon says no. Enzo asks what if Kristen wins. Brendon says that he hasn't thought that far ahead.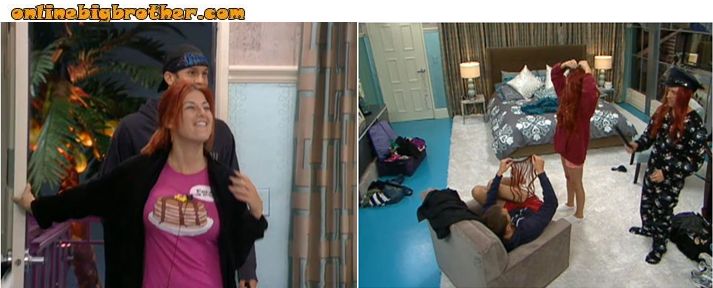 12:30am In the bathroom, Hayden and Kristen are talking about how she doesn't have a job anymore. Hayden tells her to win the POV, and then they will get Kathy as a replacement nominee, that's all we've got. Matt is now talking to Hayden. Matt wonders why Rachel would call him a floater. Matt says she says Kristen's a target and if one wins there's a good chance one of you won't go home. Matt is worried Kathy will win and it will be him or Lane for sure. Matt says that if she does win we're fucked. Matt says that he is just seeing if he had heard anything. Matt then asks if there is any skill vibe. Hayden says its hard getting it to the middle. Hayden says if he wins Kathy goes up. Matt asks if he's sure. Hayden says they can say Kathy is tight with Kristen. Hayden says that he wants to keep Kristen around because she is great for them.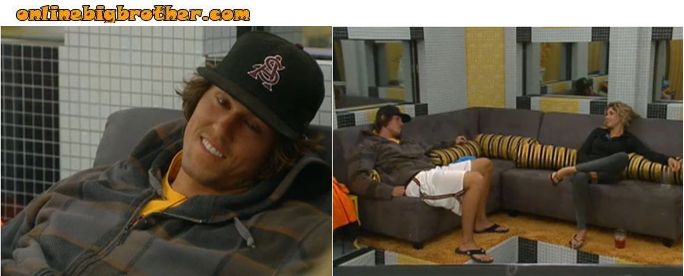 Kathy joins them and Hayden tells her that he adores her. Hayden says that no matter what happens he adores her. Kathy thanks him. Kathy and Kristen are still practicing the game outside. Hayden asks do you think we need some rest. Kathy says that they've been out here panicking. Hayden asks who and she says them two. Brendon and Hayden wish Britney a good night and head to HOH. They talk about whether or not they are comfortable with the apparatus. Rachel says that she can't believe she's practicing with them. Rachel says that she forgot she could use it. Rachel wonders why she's on their side and says that she was talking shit about us to Matt. Brendon says Matt also told Hayden he said that we would put up a couple who took a dive. Brendon says he didn't say it, as they talk about Matt playing both sides and that's why Rachel put his key second to last since he's not with us. Rachel says that anyone not with them is against them. Brendon says he agrees. Matt comes up to return her hair.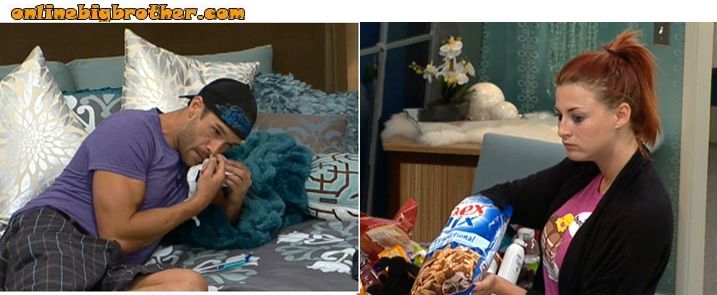 1am Brendon is talking about Kathy and he says that he doesn't know about her. They make fun of Kathy and the way she plays the game. They say that if she uses the veto it would be the dumbest move she ever made. They continue to talk about Kathy's loyalties. Rachel says that she hopes Ragan plays in the POV. Rachel says that Enzo asked them who they would put up if Kristin wins. Brendon talks about knocking people out and that they need to lock down an alliance with Ragan. Brendon says that Matt is going back and forth they may need to get him out because he's always trying to stir the pot. Brendon says he never told Matt that. Rachel says that she thinks Hayden lies too. Brendon says it will come down to who lies the least. Brendon wonders about Matt's loyal to Ragan and says he's not loyal to anyone else. Rachel agrees. Rachel asks how Brendon feels about Enzo. Brendon says that Enzo and Lane make him nervous and he believes Lane and Enzo wanted to put them up. Brendon says that he likes Britney and in the short term, she's ok. They talk about how they could give her a chance. Rachel says that she wishes she could send Kathy home. Rachel says that she will be a fucking puppy to Kristen. Brendon says they need to tell Kathy that if she tries to keep Kristen, that she is against us. Rachel wonders who she should put up against Hayden. Rachel continues to talk about Kathy. Brendon says that even though he wants to take out the floaters, they need to prioritize. Rachel says that she is worried that Hayden would stay and ask who they would put up. Brendon says Lane. Brendon thinks that Enzo's vote can't control his vote. Brendon says the only way to get Lane on their side is if Hayden is gone, and anyone against Kristen is good. Rachel says that if Kristen comes off she asks if he realizes he has a chance to go home. Brendon says he would that's why he's stressing out. Rachel keeps saying if we put up Kathy and the feeds cut to the we will be right back. Brendon says that taking out Hayden would be good. Rachel wonders if Enzo and Lane have something. Brendon says that he thinks he does with Britney. Rachel says no, Britney told her she doesn't. Brendon thinks she'll lie. Rachel says that she doesn't think so.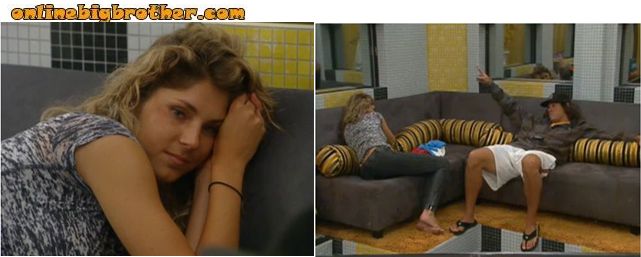 1:30am Hayden tells Kristen how pissed off he is that he's on the block and its only week four. Then he starts flirting with Kristen. Hayden says that Kristen is very special and weird as shit! Hayden says that he likes her way more than he should and if one of them leaves this week he will hate Brendon and Rachel forever. Hayden keeps saying that he thinks Kathy will be the replacement nominee if one of them comes off the block and that if she is then Kathy will go home. Kristen says she can't believe she's not making it to the jury house, she was sure that would be the very least she would do in the game. Hayden says he can't believe Rachel won again and that if she makes it to the end no one will vote for her because she doesn't deserve it. He thinks Kathy and Enzo would both get the money of Rachel. Kristen disagrees because Enzo's wife is an investment banker and doesn't need the money. Hayden says that if he wins the $500,000 he's going to send Kathy $10,000 because she deserves it. Kathy comes out of the diary room and tells Kristen and Hayden that she's ready to leave the house and that she will go home for them because she can't take being in the house with Brendon and Rachel anymore! Hayden tells Kathy that if she wins POV and takes Kristen off the block Enzo will go up and then he will be voted out over Enzo. Kathy says the people Brendon and Rachel should be going after are the real floaters and they (Enzo, Lane and Matt) are all sitting in the Jumanji room right now. Kathy tells them she can get Britney to vote for Hayden over Enzo 'cause they're both from Arkansas. She starts getting herself riled up and starts telling Haysten that she's mad now and that will make a big difference in the game, they all better watch out. Kathy starts spouting off that she thinks Rachel will cheat tomorrow when the POV names are called to make sure Kathy's name isn't in the bag. Then she goes on to say that she believes Enzo is in an alliance with Brendon and Rachel. Hayden starts to defend Enzo but, then switches to focusing the conversation to Ragan and how he's going to win this game because he is the ultimate floater and he's doing it so well because everyone likes him so much. Kathy starts talking into the cameras and begging America to save them (Hayden, Kristen and herself) because they are the good people and Brendon and Rachel are sick and manipulative. Kristen and Kathy start mocking Rachel and saying oh no, she doesn't have sex with all those men that take her on dates and gives her trips and cars and things. Hayden questions why Andrew turned on them when they are the reason he stayed in the house for 2 weeks. Kristen, Hayden and Kathy go to their room and enter quietly. Enzo is still awake so they turn on the lights and start talking with him. They're wondering if the POV comp will include questions or just be the pinball game. Hayden says no questions, just game. Hayden is mad that Brendon and Rachel have all the luck in the house. Enzo says that luck runs out!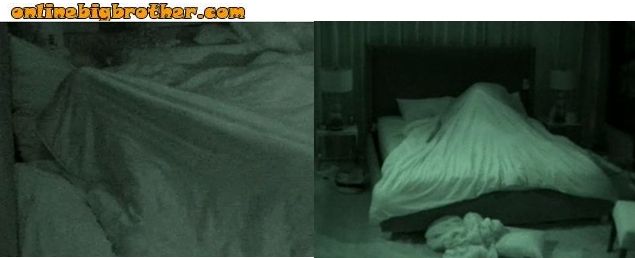 2:30am Brendon and Rachel are making out under the covers in the HOH room. They are making out really hot and heavy and trying to be really quiet. Rachel was definitely giving Brendon a BJ under the covers in the HOH room.  When she is done you can see Rachel's head move up from Brendon's waist to his head.  After Fifteen minutes of it Rachel falls over to the side and they both take a deep breath. Rachel says that she is very sweaty. Brendon tells her she can sweat as much as she wants during their make-out sessions. They both laugh. Brendon tell her that she is perfect.  Rachel falls asleep laying on Brendons chest….
3am All houseguests are asleep….
7:40am All the houseguests are still asleep..