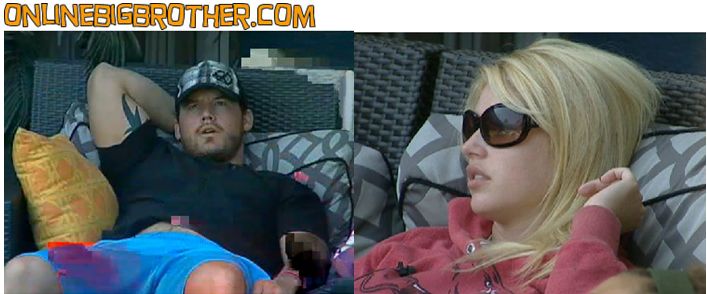 SEE what they CAN'T show you on TV! 3 Day FREE Trial
9am Big Brother wakes up the houseguests for the day. Everyone is up and getting ready for the day. Britney, Lane and Monet are on the backyard couches talking. Britney says that she dressed right and didn't get cold last night in the have not room. Lane says that it smells like wine outside. Britney says that it smells like wine fart. Britney asks Lane if he is looking forward to going back to his regular gym. Britney says she is looking forward to going to her regular gym. Britney says that it is really tough that they don't have a tanning bed in the Big Brother house. Britney and Monet talk about how Kathy has mood swings. Britney says that Kathy is a strange little creature. Monet says that Kathy is fake, how she is now trying to be all nice to her now even though she was rude to them last night after the HOH pow-wow. Andrew joins them on the backyard couches. The girls stop talking about Kathy. Andrew goes to work out on elliptical. Britney, Monet and Lane talk about guns. Britney wants to buy a pistol but it needs to be a revolver but she can't cock the thing. Britney says that wants to make sure the gun she buys can kill the person she uses it on. Lane asking her if she wants that on her conscience. Britney says Yeah, if someone is going to come in and rob her she is shooting to kill because they are taking her goods. Lane is tells Brit she shouldn't own a gun. Britney says she is a sharp shooter. Lane asked her what kind of gun she had and Britney says she doesn't know. Britney says she just knows it was scary looking and really long. Lane tries to figure out what kind of gun it was. Britney talks about how she shot a can off a tree stump from a long way away, like 50 yards. Lane said do you even know what 50 yards is? Britney says that she does because she watches football.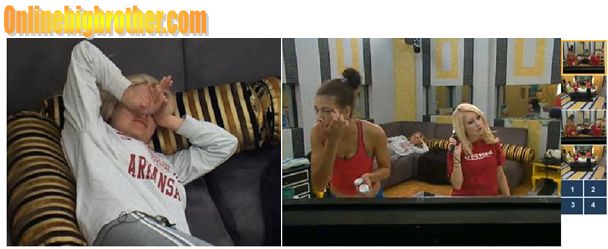 10:10am Rachel and Brendon are up in the HOH room bed. Brendon tells how Rachel that she was in such hysteria last night. Rachel says she just didn't know what to say to everyone last night. Brendon tells that if she doesn't know what she is going to do, either Andrew or Matt on block then she just shouldn't say anything or tell people she hasn't decided yet. They start making out. Brendon says that Rachel is sexy. Rachel bites his tongue. Brendon get sup and asked Rachel if she sees any nose hairs. She says no. Brendon complains about his back hurting and needing to be cracked. He asks Rachel to walk on his back. Rachel walks on Brendon's back. Rachel tells him that she isn't as light as those little Asian masseuses. Rachel tells Brendon she wants to get under the covers.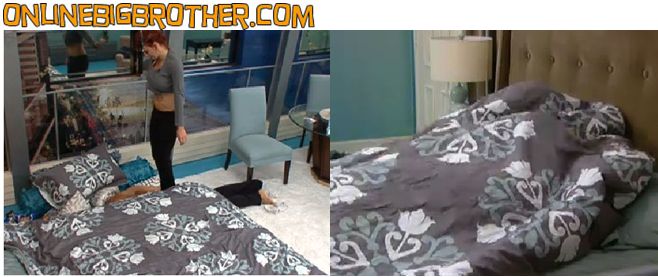 FREE trial Uncensored/Unedited Live Feeds for Free! 3 Day FREE Trial

10:30am They are back to kissing and making out really heavy. There is lots of heavy breathing and juggling. Rachel is groaning and laughing. You can see a hand movement back and forth….there is lots of moaning and heavy breathing. They are telling each other how sexy they are. Rachel's head pops up out of the covers to get air. Rachel says that people are probably thinking we are getting frisky. Brendon says no they won't. Rachel asks really? ..that's what I would think, my parents watch this show. Rachel popped her head out and stared right into the camera and asked what is so interesting, and then goes back under covers. Back to just making out. Rachel says that she has been sexually frustrated for the last month. Brendon says don't you worry about that. They go back to making out. Rachel gets called to the diary room. They stop making out. Brendon says that she can talk about it in the diary room.