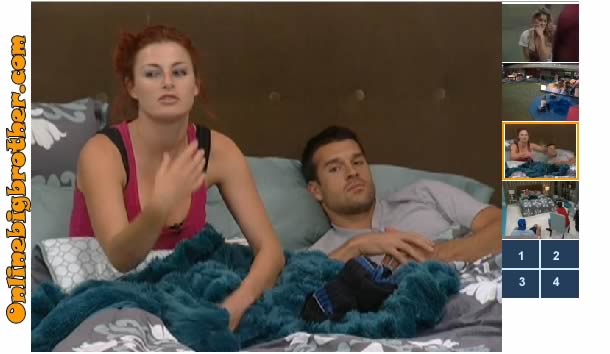 SEE what they CAN'T show you on TV! 3 Day FREE Trial
12am Up in the HOH room talking are Rachel, Brendon, Ragan, Kathy, Kristen, and Hayden. Rachel tells them that she is afraid that Monet and Britney will be trying to swing votes between now and Thursday. Brendon says that he thinks Britney is going to freak out because Monet is going home and she's been on slop. Brendon says that he doesn't think Britney will last an endurance competition if there is one. Rachel says that even she was losing steam toward the end of her HOH comp last week, and it wasn't even an endurance competition. Brendon and Ragan say that Britney is really fighting to be nice because it's hard for her to be that way. They don't think she is a bad person or anything but they are saying that she is a spoiled brat. Brendon says that it's more in Britney nature to be a bitch. Rachel says that Monet didn't even bother talking to her for 15 days and only did until she won HOH. Brendon says that their group needs to fight their butts off to win HOH. Ragan saying he did not shed a tear over Annie leaving and won't shed a tear this week over Monet. Ragan says that if Enzo makes it to the jury house he will vote for who he got along with and not how someone played the game. Ragan says he will vote with who played the game best. Rachel agrees. That's who they want in the jury house. Ragan saying they have a hard core cast this year. They all leave the HOH and go downstairs….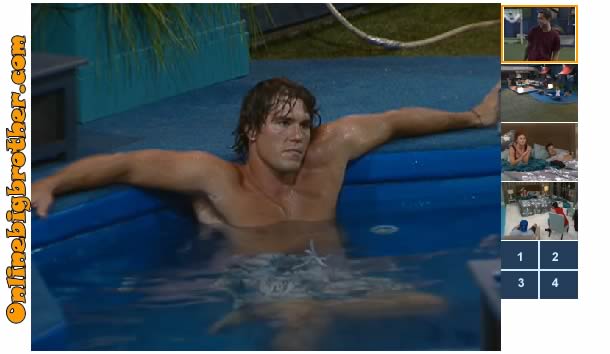 In the backyard talking are Britney, Lane, Matt, Monet, and Andrew. Monet says that you can't look past the fact that Rachel and Brendon are in a final 2 alliance. Lane says that you just never know at this point who is going to win. They discuss the votes this week. Britney says that she knows their group does not have the majority of the votes this week to keep Monet in the house. They start to wonder if Hayden might flip to their side. Monet wonders who they are going to put up as a replacement nominee. Monet thinks that it can only be Andrew, Lane or Matt. Matt says this is fun, someone in there has got to spill the beans about what is going on. Monet says tomorrow we will find out who she puts up. Matt says they are so dumb.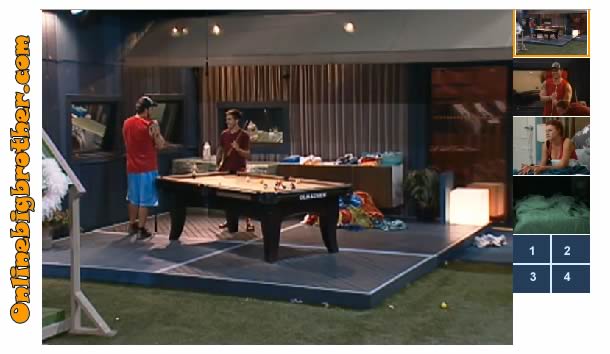 FREE trial Uncensored/Unedited Live Feeds for Free! 3 Day FREE Trial

Back up in the HOH talking are Rachel, Lane, Enzo and Brendon. Rachel asks Enzo and Lane where their heads are at and if they want to keep Monet or not. Enzo says that he doesn't care as long as it isn't him up there. That if they want Monet to go then she goes. Rachel asks where their votes would go if she put up Andrew. Enzo says if Andrew and Monet both go up he doesn't care who goes home. Lane saying he would vote with the house. Lane and Enzo tell Rachel that they will vote for how Rachel wants them to vote. They bring up how Monet won the money. Enzo says that he likes Monet but doesn't think this game is for her because she cries all the time. Rachel says that the pawn that goes up will be pissed and will go after her and Brandon but wants to guaranty their safety. Rachel says that Lane and Enzo are not their targets, at least not till week 5 when people start going to jury house. Lane says that Rachel and Brendon have never been on his radar. Rachel says that the floaters need to go. Enzo agrees and is happy that he and Rachel are on the same page. Enzo says that he thinks that Rachel is genuine and that he is a good judge of character. Rachel says exactly, I don't play dirty, but I can bring it on…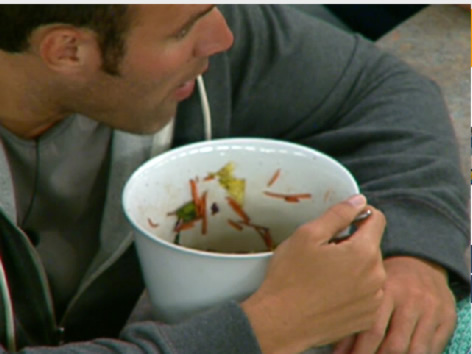 12:30am Britney heads up to the HOH room to talk to Rachel and Brendon. Britney tells them that everyone is freaking out downstairs and how they wouldn't let Andrew and Matt into HOH. Britney says that Kathy is also acting weird downstairs. Britney says that she asked Kathy what was going on and Kathy snapped at her. Rachel said that nothing is going on and that it is week 2 and they are just trying to figure out what is going on with the house. Britney said that because she has the POV she is the only one feeling safe and all else is paranoid and freaking out. Britney says that she thought Andrew was going to self implode, and that he is so paranoid. Britney says that its because you guys wouldn't let him in the HOH room, you need to talk to him. Brendon says get him up here. Britney says that she thinks he went to bed. He was really freaking out. Brendon asks how Matt was behaving. Britney says that he wasn't too bad. Britney says that everyone in the backyard thought it was one of them going up on the block. Rachel says that it's a fucking game, someone has to go up. Brendon leaves the HOH. Brendon goes to talk to Andrew. Andrew tells Brendon that he and Matt think that it was stupid to put all those people in the same room and lock everyone else out. Brendon says that was Rachel's idea. Andrew says it was too aggressive to do that so early in the game. Andrew says that he is not worried about this week but worried about next week. He is paranoid that everyone knows he is on his and Rachel's side. Andrew says that if he feels like he is not part of the game then he doesn't want to be in the house.

FREE Live FeedTRIAL!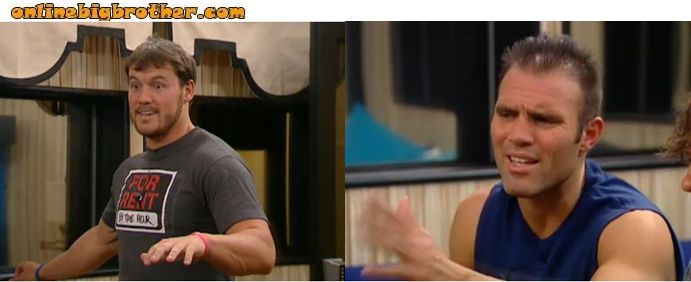 12:40am Back up in the HOH room, Matt is talking to Rachel and Brendon. Rachel tells Matt how she is not very comfortable with putting him up as the pawn. Matt says that he was just offering himself and whatever she wants to do is fine. Rachel tells Matt that she is not going to blindside the person she is going to use as a pawn. Matt asks what the big pow wow was about. He doesn't get an answer. Matt asks if she is going to backdoor anyone. Rachel says no. Monet is going home. Brendon apologizes for all the awkwardness. Matt said it was funny to him and he didn't give a shit. Brendon says to Matt that if he does go up they will tell him in advance. Rachel told Matt not to worry. Matt tells Rachel and Brendon that they look very suspicious, but he still trusts her. Rachel tells him that the only thing she is up to is going to sleep. Matt said he is just going to continue playing dumb because that is what he's good at. After Matt leaves Brendon tries to calm Rachel down in HOH. Rachel is freaking out about Andrew. Rachel says that she believes Matt and Andrew are being sneaky, and that she isn't sure she can trust them. Brendon tells her that Andrew doesn't want to be seen by the other houseguests as being in an alliance with them, he is trying to protect their alliance. Rachel says that she thinks Andrew doesn't like her and she is worried he would put her up. Brendon says Andrew won't put them up, that he trusts Andrew more than most people in the house. Rachel says that she won HoH and that it is her decision, she doesn't want to put up Matt, she wants Andrew up. Brendon tells Rachel to stop telling people one thing when you want to do another. Brendon says that Andrew is neurotic and freaks out. Rachel wonders why Matt is freaked out too. Brendon defends Matt's reactions. Brendon gets frustrated and says just put me up, just do it. Brendon raises his voice and asks Rachel what she wants to do because she keeps flip flopping.
Rachel asks him why are you mad at me? Brendon says I'm not mad at you. I'm just trying to understand what you are doing. Brendon tells her to stand up for what she believes in and that she over thinking things and because she is telling people what she is doing and then changing her mind people aren't going to trust her. Brendon says that she is building a bigger target on her back.

1am Hayden, Enzo, Lane are talking in the backyard. Lane and Enzo are pissed that Rachel and Brendon are acting the way they are. They are pissed that Rachel and Brendon think they own this game and want the game played there way, and who the FUCK are they to decide how it's played. Hayden tells them they want Monet gone. Lane says that he wonders if Kristen gets HOH will she put him up? Enzo says that Hayden controls her. Hayden says she is her own person and he tells Enzo and Lane that Brendon and Rachel are trying to form an alliance with him. Enzo tells them that Rachel and Brendon are going to snake them the moment they get a chance. Enzo doesn't buy that Brendon and Rachel are going to keep them safe. Enzo says that Matt wanted them to come get him if they found time to talk. No one gets up to get him. They agree they have to keep their alliance secret now more than ever. Lane says he needs to get Ragan out, he thinks Ragan will put him up. Hayden disagrees that Ragan would go after Lane

Watch it happens as it happens!! Superpass 3 Day FREE Trial

Up in the HOH room Brendon and Rachel are talking. Rachel says that she doesn't want Brendon to say bad things about Britney on a personal level, because Rachel likes Britney and relates to her. Rachel says that she doesn't want Britney to stay in the game, but likes her and relates to her. Brendon says Britney is culturally insensitive unlike Rachel, he tells her that Britney called someone Bin Laden. Rachel feels she has had many of the same experiences Britney has. Brendon finds out that Rachel is insecure that the things Brendon doesn't like about Britney are things he wouldn't like about Rachel. Brendon is glad Rachel can see the good in Britney but doesn't think she's like Britney. Brendon talks about mean or unappreciative things he thinks Britney has done, like how she never thanked him for making rice. She's also been mean to other people. Brendon doesn't like people being mean to other people and stands up for people who are picked on. Brendon agrees not to say bad things about Britney being spoiled anymore.  Brendon says that Rachel is appreciative, helps clean, is courteous, and is helpful to other people, unlike Britney.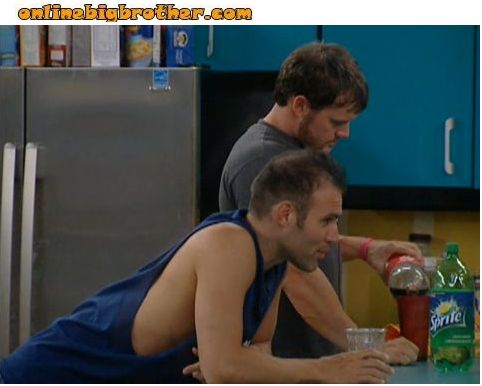 1:50am Lane starts talking about Brendon and Rachel and wonders if they will break the April and Ollie sex record in the house. Lane is surprised when Kristen says she doesn't think Rachel and Brendon have had sex yet. Kristen says Brendon is too classy for that but she wouldn't put it past Rachel.

2am The bell rings and it is time for Rachel, Brendon and Monet to put their heads in the blocks in the backyard. They all come to the backyard and assume the position. Matt and Enzo are talking. They says that if Andrew goes up, Matt says they need to vote him out. Lane and Hayden now join them. Hayden telling them what happened in the HoH. That they want Monet out and that they are not putting up Andrew. Enzo is pissed at Rachel and Brendon's attitude at wanting everyone to play there way. Matt says that Brendon and Rachel should go up next week, no matter who wins HoH. Matt is shocked they are strong arming people into doing what they want. They ask Hayden who Kristen would put up. Hayden says Britney. They ask why and Hayden says because Britney is a bitch to her. Matt says that he would put up Andrew and Kathy and try to backdoor Brendon. They say that the best case scenario is Britney wins HoH so she can put up Brendon and Rachel. They say it would be dumb to keep those two in the house another week and have them both play HoH. Lane says first priority is to keep the brigade members safe. They say it may be smart to vote out Monet this week regardless to keep their alliance secret.

SEE what they CAN'T show you on TV! 3 Day FREE Trial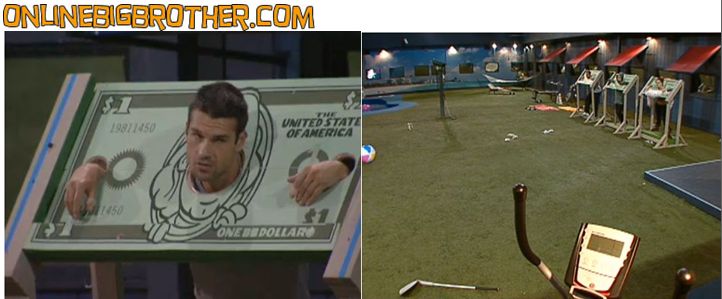 3am The bell rings after an hour to release Brendon, Rachel and Monet from the blocks in the backyard. The houseguests leave to go to their beds…

7:10am All the houseguests are still asleep…

Share it YO!!
Tweet