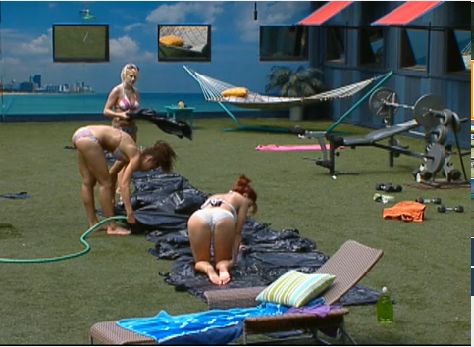 SEE what they CAN'T show you on TV!! 3 Day FREE Trial

2:50pm The girls are still making their slip'n slide. Rachel is knelling on the ground and Matt makes the comment that her ass is pointed straight for the camera. Rachel looks back then says maybe I'll just give them a little show and she wiggles her ass at the camera. Rachael suggests that they should have a trash bag fashion show later where each pf them make unique outfits. Matt asks the girls if they've used all the garbage bags to make their slip'n slide and they say Yeah…. Matt then asks them well how are we going to take out the garbage. The girls say… they'll give us more. Rachel is tying all the bags together. Rachel asks if America likes it when she ties knots …then she asks do you like it when I tie knotty knots? …the cameras are all over me… I'm going to give them a show…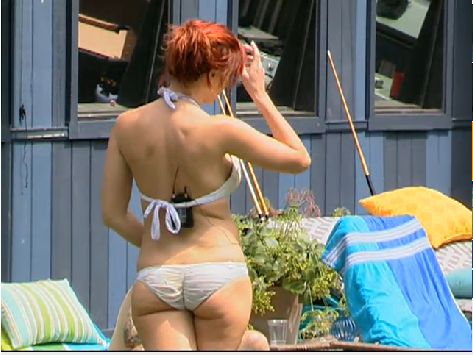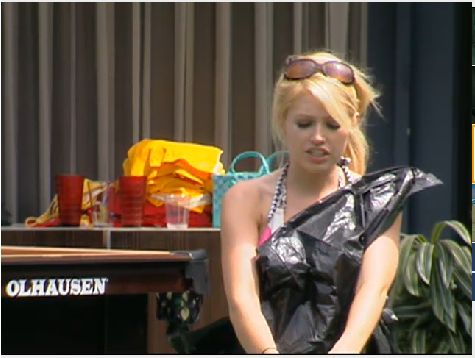 3:30pm Rachel asks Britney and Monet if they want to hear a funny story?! Rachel says that her dad never noticed that she got implants. Monet says well dads dont usually look at their daughters that way. Britney asked Rachel what size she was before and Rachel said a C-cup. Rachel says that she was trying to hide them when she first got them by wear a sweater. They've now put dish soap all over the slip'n slide. Lane tells Annie that the guys are going first so she should go to the end of the slide and open your legs…They laugh. After Matt takes a shower under the outside shower and Rachel says Yeah Matt you're taking a Have Knotty shower!! Rachel says shes going to try the slip and slide next and says get ready for some boobies to slip out! Monet tries it next and after she goes Rachel tells her to put more boob into it… lol Britney says shes going next. They tell her to get all wet first and to wash the dirty off.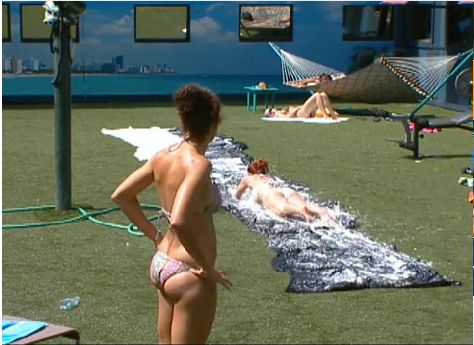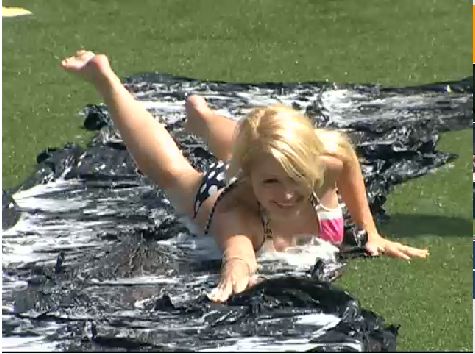 3:35pm – 3:50pm In the bedroom, Brendon is telling Rachel that he really wants their friendship to be a genuine experience and not just for votes or whatever. Brendon talks about how it's nice to have someone they can trust someone and go to someone to talk to in the house. Rachel says that Brendon is her knight in shining armor. Brendon says I'm a romantic, so that's what I want to be. Brendon tells Rachel that he's attracted to her all all kinds of levels. …and that he would really like to take her out on a date or something. Brendon says that if he had met her in Vagas he might not have gotten the opportunity to get to know her because is intimidated by her. Brendon says that right now hes much more attracted to the inside of someone. Brendon says that hes going to go try the slip'n slide. Rachel says you go do that. Brendon says yeah I hope America doesn't get to see my junk before you do. Rachel says yeah we don't do that, not before marriage. Brendon says yes, religious or not …especially for 15yr old girls that might be related to him. Brendon says that his niece is the 9th grade class president and won 10th grade class president too so she is following in her uncle's footsteps.

Try the Live Feeds 3 Day FREE Trial
Share it YO!!
Tweet