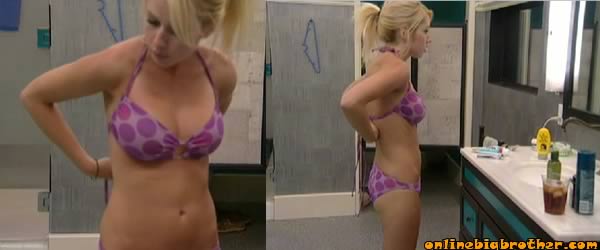 9:20pm Bubble Bath Brit and Rachel Each has a glass of wine, Rachel's holds about 6 litres. There getting along chatting and laughing at what happened in the house today. Rachel tells brit about the conversation she had with brendon in the hammock and how he says he doesn't care about money then says he wants a prenuptial. She adds that brendon says he doesn't care about the cash yet he always talks about all the money he's going to be making once he's done his Phd. Brit just hopes he's not the type of guy thats 35-40 and still "not ready for marriage".. Rachel starting to get a bit tipsy.. talking louder, laughing more (oh the pain) They bring up Kristen and how she thinks she's better then everyone else. Rachel thinks she a gold digger. Brit brings up what kristen was saying about text messages and voice messages with guys she's dating, they agree that any date with her is a bad date. rachel says that during here HOh week her and Kristen were fake friends and kristen told her all this mad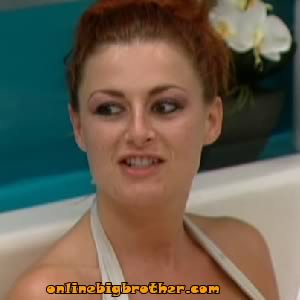 shit about hayden. Brit bashes Kristen wearing bikers boots and burps, Rachel says she hates other girls and the only reason she latched onto Hayden was because he was week one hoh. Rachel now makes fun of kristen being a major giggler.. (BARF) rachel points out that Kristen and Kathy sure spend a lot of time together. Brit says that kathy does that sort of thing, she's really fake. Points out how Kathy was like Rachel's servant during rachels HOH "rain". Rachel says that Kathy was talking mad shit about brit and Monet during that week and was throwing matt under the bus more than once. Brit knows that Kathy is fake and will float towards whoever has the power it doesn't bother her. They agree to put kathy and kristen up if they win HOH this coming week. Rachel asks her if kathy is staying. Brit thinks theres a lot of votes to keep kathy but she won't say who… rachel starts to bash brendon you'll need to flashback to it… the conversation lasts keeps going past 10:16pm they really spend a lot of time bashing Kristen. its the same thing Brit and mOnet were saying about her, Burps, drinks beer, hikes pants up high, eats spiders (that ones new), wears makeup when she shouldn't. Rachel says she'll throw up if Kristen makes it to jury house the same way we all throw up when we see rachel on the feeds.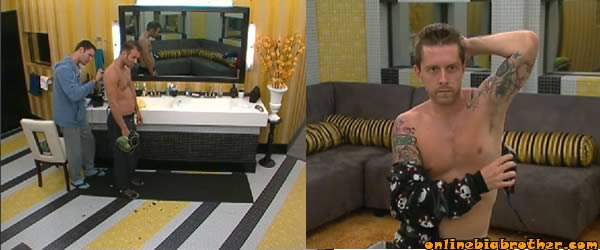 9:35pm Brigade keeping it hairless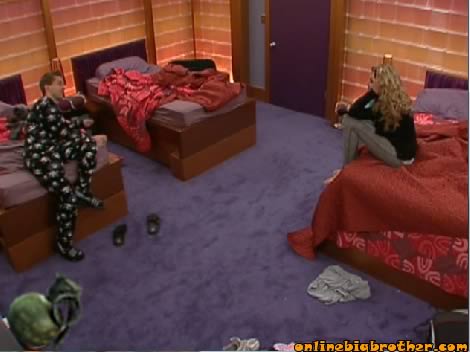 10:05pm Taj Kristen and Matt he is explaining to Kristen his plan to get Rachel to quit Big Brother 12. He thinks if they are all on board with it there might be a chance.. At the very least he thinks it'll make for entertaining TV. Kristen is totally game for it and she was actually considering it herself. Matt explains that they need to get brendon out first then if they can get the witch to quit they save themselves a double eviction.. which is something they both know is dangerous.

Onlinebigbrother.com is around because of your donation every year the site costs us to host the images and run the 3 servers needed to handle the traffic. If you like the site then please consider donating to keep the madness going. Thanks!