7:30pm HOH Andrew and Matt Andrew is questioning if there is other pairs in the house as tight as B/R. Matt says he thinks theirs pairs but B/R are the close ones. Andrew continues on saying that he needs 4 or 5 votes and he thinks he has them just needs to work them a little harder. Asks MAtt if he knew about any other alliance if he would keep it a secret or would he try and break it up. Matt thinks if there was any other alliance as tight as b/r he would try and break them up. Matt asks if there's a secret alliance that Andrew knows about. Andrew says he's not really sure if he can trust Matt at this moment he needs to see what happens. Andrew wishes the vote would be more based on individuals then a house vote.
He reminds Matt that he's a team player and that he'll do the right thing if left in the house but he needs to get those votes to stay. Andrew says he'll be going after the 2 tight alliances in the house. Matt calls Andrew the BB12 bounty hunter, Matt thinks he knows of a 3 person alliance and there of course the B/R alliance. Matt really wants Andrew to tell him about this alliance that he knows about. Andrew won't.. he gets a little agitated by the situation He tells Matt straight up if he keeps Andrew in the house he'll tell him about the secret alliance.. Andrew tells him for your survival in this game you need to know about this alliance. matt keeps on trying to figure out about Andrew's secret alliance but he won't budge. Andrew begins to leave upon leaving warns Matt "Be Careful who you talk to" , matt chuckles at the camera.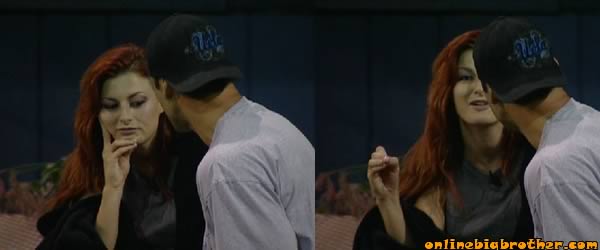 8:25pm Rachel and Brendon fight lets hope theres blood Rachel starts off telling him that he's not giving her enough space. He defends saying there no were to go in this house. She thinks he's just making a big deal about nothing because theres cameras around, she asks if they can just drop it and talk later. Brendon says they are in love why is she acting like this. Rachel brings up a conversation they had in the kitchen, which involved a prenuptial agreement she says it's not the only reason she is mad.. Brendon asks her to tell him what is wrong he's not going to walk around all night trying to figure it out. Brendon wants them to be together and for them to build a life together (barf.. sorry threw up in my mouth) Rachel insists she doesn't want to talk about it. Brendon asks if she thinks he's selfish because he believes in prenuptial, he says he's not and if she knew him she would know that. Rachel snaps back "well apparently I don't know you then" Brendon pleads for her to tell him whats wrong.. "you told me you loved me please let me know". rachel says he told her he loved her to and that their love is real, she doesn't want to get hurt because she's been hurt before, "It's selfish for us to continue to talk about it". Brendon interrupts her tell her he's sorry for what he said he doesn't want to fight. She snaps back at him for interrupting her, "i'm trying to talk..i've been hurt in the past and i'll tell the stories to you 3 months". Brendon again tells her he loves her.. she explains theres different levels of love.. brendon is confused, she tells him not to question her.
She tells him she wants him in the game and outside the game. Brendon asks we love each other right?.. because I love you.. Rachel doesn't say anything back, tells him he's too sensitive. She tells him she loves him to and they kiss.. She tells him she's not perfect he tells her he's not either.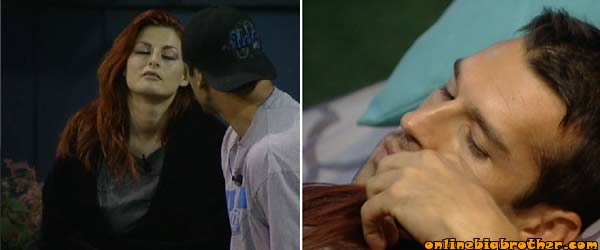 9:08pm Brendon and Rachel in the hammock Snuggling I turned the audio on and hear him saying this "I'll wake up really early every morning and cut you up fresh fruit everyday… She says "hmmm nooo" ….mute

Onlinebigbrother.com is around because of your donation every year the site costs us to host the images and run the servers needed to handle the traffic. If you like the site then please consider donating to keep the madness going. Thanks!
Share it YO!!
Tweet