7:45am Big Brother wakes up the houseguests. Britney and Rachel are up and in the storage room talking. Rachel tells Britney that she doesn't know who to nominate, besides the obvious. Then asks her what she thinks? Hayden? Britney says that Rachel has to think about the votes, do you think it will be a better day? Rachel says that she tried to apologize. I don't even know what happened. Britney says don't worry about that. Rachel says that she is worried about… (The feeds cut out to the we'll be right back screen.)

SEE what they CAN'T show you on TV! 3 Day FREE Trial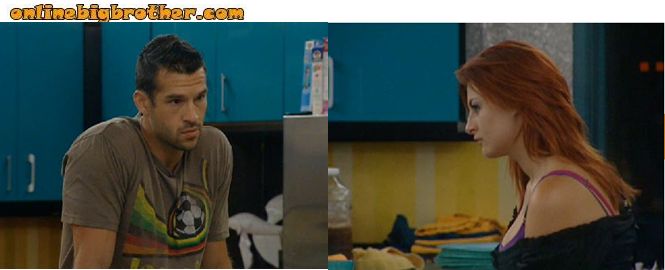 8am The houseguests are talking about a Luxury competition that will be happening today. Matt says that the diary room said that they will have an early competition today. They talk about whether the luxury competition will be where the winners get to watch a movie. Matt says it will be something you would never go and see in your regular life.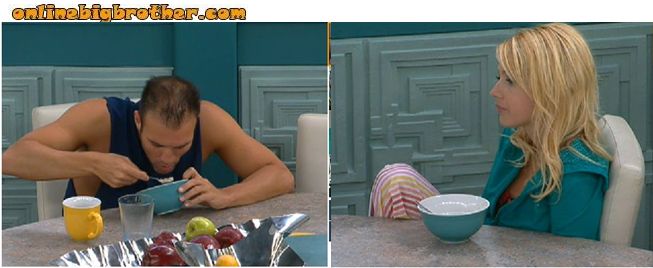 8:30am Enzo says that he is feeling so good right now, that he's feeling like competing right now!? Ya know?! Enzo says that he is feeling so good that hes gonna go drop a deuce right now. Brendon says that he knows what he means. Kristen is eating breakfast at the table with Enzo. Enzo says he really feels like he is gonna win something today. He says that being a have not really mentally beats you down. Brendon and Enzo complain about the cots in the have not room. Kristen is doing the dishes … Rachel comes over and tells Kristen that if she would like to talk she would like too. Kristen says okay. Britney asks Enzo how he slept last night. Enzo says he slept amazing …that he is ready to drop a bomb in the toilet and compete.

Britney busts Enzo for snapping at Julie Chen last night. Britney says that Julie was joking with you and was waiting for a funny response from you and you took it all wrong. Enzo says that he and Julie are tight and that she knows he was joking around. Enzo says that he needs to watch what he says … that hes in recovery and that is the first step. Enzo says that his body is just in amazement ….it went from a third world country to the Taj Mahal! Enzo ask so when are we gonna do this …like 10am? Brendon says that they usually give them an hour or so after they wake up before the competition starts.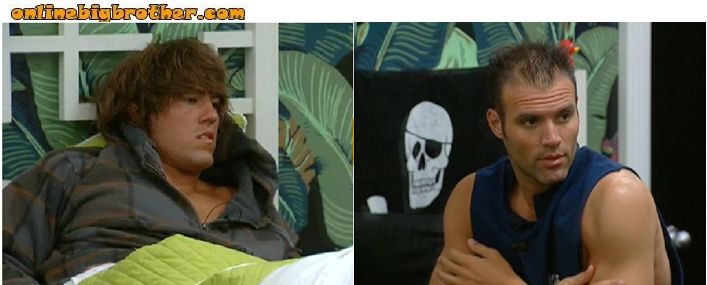 SEE what they CAN'T show you on TV! 3 Day FREE Trial

8:50am Enzo says that Hayden will win a member to fill in his alliance because he lost one the other day. Hayden asks …so your taking a phone call. Enzo says hes gonna win it all!! Hayden says you can only win one thing. Enzo says ohh..I'll win a car. Enzo asks Ragan what he wants …a BJ! Ragan says he wants a letter. Enzo says that he wants a phone call. ….or a car depending what it is… Lane and Britney come and join in on the conversation. Britney says that it's her goal this week to trap Lane by excusing herself when Brendon is around so Lane has to listen to his stories. They discuss what the luzury competition will be like.  They wonder if it will be a messy competition and if they will have to dress up for it.  The discuss what prizes they think they might win.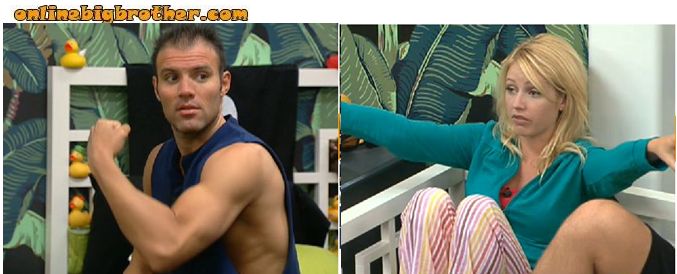 9am – 9:15am Brendon is talking to Rachel telling her that they need to play their cards right and that she needs to be nice. Brendon says that there is a lot we can do, we can shrink the target. Brendon says that he thinks the way Rachel has acted towards Kristen will turn the house even more against them. Brendon tells her to be the bigger person so that more people are on their side. He says that if we play our cards right it can buy ourselves another week. Look at Matt he played his cards right and look it bought himself another week. Brendon says that if she is really struggling to be nice to Kristen then just don't talk to her. Brendon tells Rachel that they need to make friends in this house. Rachel says well then, go make friends, let me be the bad guy and leave me alone. I'm going to fight and win everything I can. Just give me 10 minutes. Brendon tells her that she can't win everything, and that he is on her side. Brendon tells Rachel that they should not be worried about being targets this week they have HOH. Brendon says that if we play our cards right, nobody will come after us. I want people to say we are really nice. Rachel asks Brendon what game are he's playing? …people are not nice, every HOH gets worse. Brendon yells because your attitude is FUCKING THIS, FUCK THAT!! Brendon says this is a social game… you need to remember that. Rachel gets really upset and starts to cry. Brendon tells her not to cry. Rachel tells him not to tell her want to do…. And that she wants him to leave her alone. Rachel curls up under the covers and cries. Brendon tells her that he is on her side and that he loves her. Rachel tells him again to leave her alone. Brendon tells her not to worry about people like Kristen. Rachel says its not even about that!! Rachel says just PLEASE LEAVE ME ALONE! Brendon gets up and leave the HOH room. Rachel then hides under the covers and cries….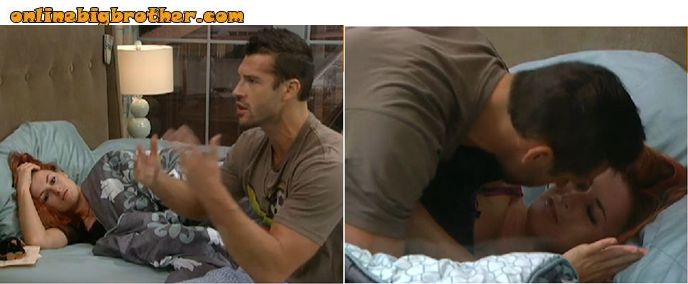 9:35am Ragan comes up to the HOH room to talk to Rachel. Ragan tell she that she need to get out of this and be happy. Rachel is upset because she says that she is fighting so hard to be here and she feels that Brendon doesn't appreciate her. Ragan tells her she needs to get out of her funk. Rachel says that she feels like there is an obvious person attacking her and Brendon keeps saying be nice, be nice… He's not sticking up for me. Rachel says that Brendon isn't sticking up for her. Ragan says no sticking up for someone in the real world and being in here are two different things. If you stick up for someone in here you then become a target. Ragan says but he is sticking up for you. Rachel says that Brendon is being too nice to Kristen by offering her coffee and he doesn't need to do that. Rachel says that she should be happy that she won HOH and she isn't. She says that outside the house she is the happiest, nicest person.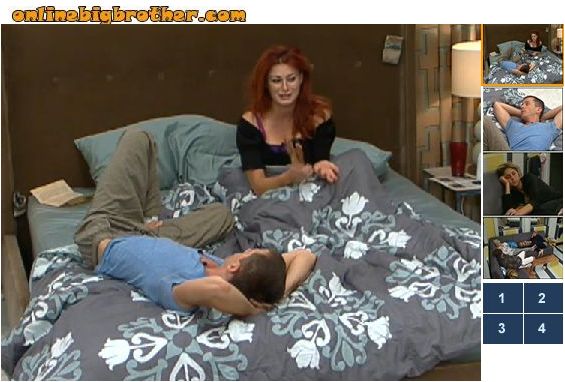 Watch all drama on FLASHBACK! FREE3 Days TRIAL
9:45am Rachel says that Brendon isn't being supportive and understanding and that she just needs him to be a friend. Rachel says that she is trying to win things to guarantee the safety of their friends …. Like Me, Brendon, you (Ragan) and Matt. Rachel says that Brendon is being so mean, and that she doesn't want him to tell her what to do. That she is trying to keep him and our friends here. Ragan defends Brendon and says that he just doesn't want her to make mistakes. Ragan says that the more nicer you are, the more gracious you are, the more positive you are, makes things so much better. Do not allow yourself to fall down the rabbit hole of negativity? Rachel cries and says that she is trying so hard, and that she told Kristen she would talk to her later. Rachel says that Brendon tore her down and wasn't being supportive at all. Rachel says that she just doesn't know. It makes things ten times harder. I feel like my back is against the wall. Ragan explains that women and men communicate differently and that he is trying to find a solution when all you want to do is vent and have your moment and be over it. Ragan says that you just need to get some of these emotions out.  Ragan compares communicating and fighting to the Real Housewives of New York.  Rachel is feeling better after listening to Ragan … She thanks him and tells him that she is so glad to have him here in the game with here as her dictionary, and therapist…