9:40am The cameras switch to the bathroom where Kristen is crying and Kathy is comforting her. Kristen says that she is sorry that she is crying and for Kathy to not tell anyone. Kathy tells her not to worry.
Rachel says that she had asked the diary room if she could start calling people into my room, but that they said no because they are doing the competition early. Rachel asks Ragan to send up Hayden to talk. As Ragan is leaving the HOH room Brendon says we don't know where we would be without you in this game, and then says final three. Ragan leaves. Rachel says to Brendon please don't say that!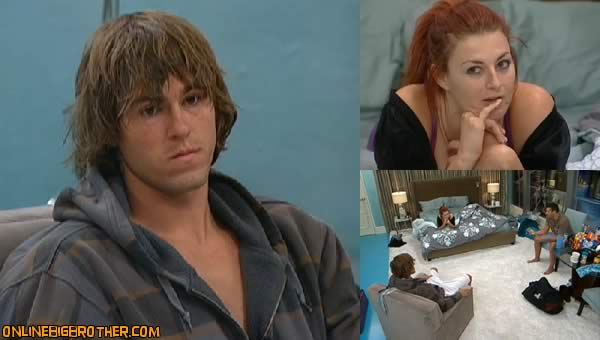 SEE what they CAN'T show you on TV! 3 Day FREE Trial
10:20am Hayden is up in the HOH room talking to Brendon and Rachel. Hayden apologizes about getting into an argument with them before. Brendon says that he understands and that things change in the house day to day. Brendon says its testosterone …you know we are athletes. Rachel says that she really likes Hayden and that she doesn't want to put him on the block, not today, not tomorrow, not next week. Rachel says that she really appreciates Hayden for saving her the 1st week and doesn't know where the falling out came from, that thought they had a deal. Hayden says that anyone would have put Brendon and Rachel against each other in the HOH competition and that he would have on been on the outs with the house. Rachel says that she doesn't see him as a target because he hangs out with Kristen, and that she knows they have a bond. Brendon says he wants to put aside personal stuff and play. He asks Hayden what he wants. Hayden says that honestly, the two of you in the jury house would be great for me. Hayden tells Rachel and Brendon that someone told him that Brendon and Rachel had said they were planning on putting up Hayden.
Hayden says that he cant say who told him that. Rachel says that she really wants Hayden to tell them who is talking shit behind their backs, because who ever it is, is a dangerous player. Hayden says that he doesn't want to throw anyone under the bus. Rachel says well, I think you should because I promise you that I will not say anything. Hayden tells Brendon and Rachel who he was told Brendon and Rachel would put up Hayden/Kristen, Lane/Kristen, Kristen/Britney. Hayden then brings up how Brendon has been saying that he was going to put up a strong couple that fell off the surfboards early. Hayden looks at Brendon and asks him, you don't remember saying that?! Brendon brushes it off and says he doesn't know what he is talking about or understand what he meant by two people by falling off early in the competition. Hayden asks again so you never said anything like that. Brendon says no. Brendon then asks if Hayden was talking to Enzo. Brendon says that he is not going to lie, that he talked to Enzo about people falling early or throwing the competition, but I never said that. Brendon and Rachel say that they will be talking to everyone and seeing where they stand today. They say that anyone who says they are playing for what the house wants isn't playing the game. Brendon says that he swears to god that he didn't say anything like that. Hayden says so this person totally fabricated this whole story? Brendon ask are you going to be tell us who you are talking about, you are going to have to say a name at this point. Brendon assumes it is Matt saying these things to Hayden. Brendon asks so it was Matt then? Hayden says didn't say any names. Brendon says that Matt is slipping back to his old ways. Brendon tells Hayden that it will not leave the room. Hayden says again I didn't say any names. Brendon says that it must be Matt pushing his own agenda.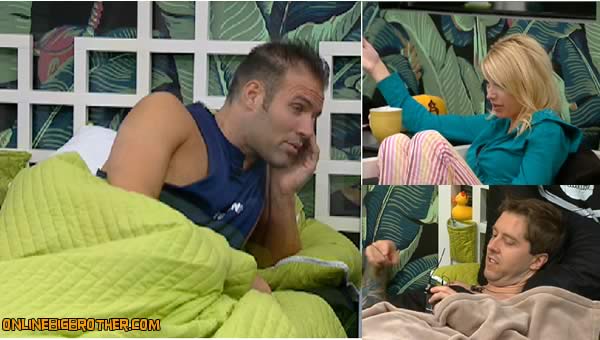 10:15am Enzo, Brit, Matt and Lane We gotta start winning some shit yo.. talk about the luxury comp and possible nominations
11am The feeds cut to TRIVA…

Share it YO!!
Tweet