SEE what they CAN'T show you on TV! 3 Days FREE No Commitments
6:05pm Hammock Rachel and Brendon Rachel says she's found out from Brit that Matt will not be voting out HAyden. rachel is now second guessing her whole Matt/Kristen/Ragan alliance theory. She asks Brendon if he thinks that maybe it's only Ragan that is fighting for Kristen. She thinks it's odd because Ragan and Matt are so close you would think they had a similar strategy in the house. Brendon thinks they're going to vote the same way. Rachel now thinks that Brit has been given false information from Matt. She believes that MAtt was talking to brit the other day and was trying to get a feel for her place in the game when he caught on that she was going to vote out kristen he said the same thing back to her.
Rachel asks why would anyone in this entire world want Kristen to be here? Brendon tells her it adds drama to the show. Rachel wonders that maybe there is another reason why production wants her to stay.. maybe theres another twist surrounding Kristen. Brendon says they probably want her around because she's part of the second showmance. Rachel tells him that doesn't make sense because one of the 2 will be going home so "they" (cbs) is losing their showmance regardless. Brendon says that you and Kristen don't get along that creates drama and that is what people want to watch. Rachel said she didn't like the BB seasons with a lot of drama, she uses BB10 as an example, saying there was too much yelling it bored her. Brendon tells her they need to go with their guts in this game when he first met Kristen he knew not to trust her. He tells her that they are the underdogs and America see them like that, even though Rachel gets "a little much" he still thinks they are seen as the fighters. Rachel says that it's sad if America doesn't see her for who she is she doesn't think the people watching the show think less of her or think that the "Power" has gone to her head (fuck she's on crazy juice i swear).. Brendon leaves and ragan comes to talk (Whispering). Ragan thinks that Production is planting seeds to get things going. Rachel tells him that production is always playing devils advocate during the DR sessions.. *production tells them to stop talkign about their DR sessions* She tells Ragan there is no way Kristen has the votes to stay she's just wasting her time now campaigning. ragan says production was hinting that there was a missing alliance in the house and that what got him thinking about it. After thinking about it all day he doesn't believe it. Ragan says he'll tell Kristen she doesn't have his vote tomorrow.. he's not looking forward to it but figures the truth is best and knows Kristen will appreciates it.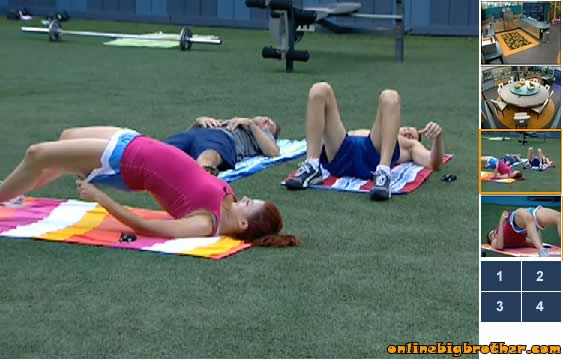 6:50pm backyard matt, ragan and rachel working out. Kathy and kristen on the couch talking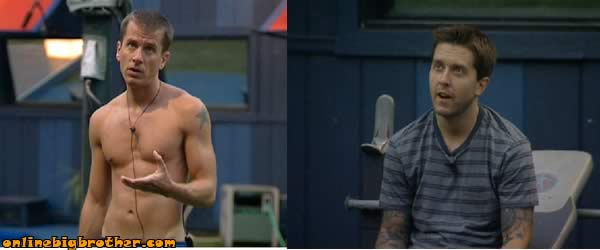 7:50pm Backyard Working out ragan is telling Matt that after he quit smoking he gained 25lb of muscle. Matt is amazed that he only weighed 115lbs. ragan says he has always been very slim. Matt asks about protein shakes. Ragan use to drink them but they got "Just too tiring to drink" Matt wonders what he means by tiring, Ragan explains that he hates being a slave to diet just likes eating whatever whenever.