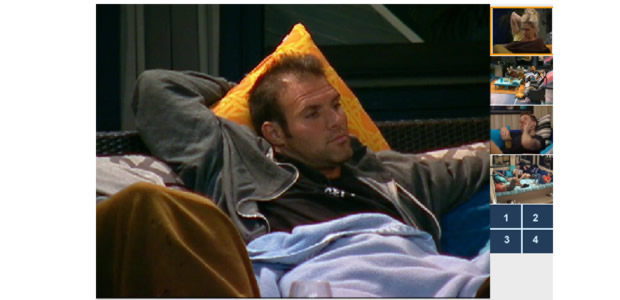 12:25pm Have nots room, Enzo, Monet, Lane and Brit. Monet is pissed matt has been put up and she knows theres no chance for her to stay. Lane says that they told him Andrew may be going up. Monet says they keep bringing up that I won the 10 grand thats a bullshit reason to put me up. Lane says he's sorry, Rachel and Brendon Lied to us. Enzo calls the other 1/2 of the team as a bunch of fucking floaters. Most that otherside is going to be doing our laundry and doing our dishes when we win HOH. Enzo tells them "GAME FUCKING ON" Monet is trying to tell them that Matt is on the other side.. Enzo isn't sure about that. Monet asks them if she can get the votes will Enzo vote for her. Brit Jumps in and says she will. Enzo "You do what you have to do you campaign get your votes and talk to me" Enzo wonders why the fuck would Matt want to go up as a pawn "i would never do that" Monet thinks something is up. Enzo keeps saying that the house is split and is game on.



12:30pm Palm room Matt and Monet Matt is saying that he's a bit worried about this week. "it's a long 3 days anything can happen" Monet thinks Matt has nothing to worry about. Matt tells her he's going to campaign for himself but he's not going to slander Monet he doesn't want things to be awkward. Monet agrees she doesn't plan on playing dirty she mentions that she is thinking about walking out. Matt "Your going to pull a chima it must be the hair". Monet "i'm not even going to talk to rachel right now.. I'll slap that bitch in the face" You can hear Rachel in the background Monet: "SHUT the fuck up you stupid bitch"

Onlinebigbrother.com is around because of your donation every year the site costs us to host the images and run the 3 servers needed to handle the traffic. If you like the site then please consider donating to keep the madness going. Thanks!