Watch it happens as it happens!! Superpass 3 Day FREE Trial


4:30pm Palm Room Matt, Monet, Brit and Rachel Brit is talking about how kathy has been screaming at her tells her that she's fake, doesn't talk to anyone and when she does she mean. Matt "WOW Kathy is getting mean" They agree that it must be Kathy saying the lie. Matt says it makes sense.. He hopes that they can find out who told Rachel this and thinks that Ragan will find out for them.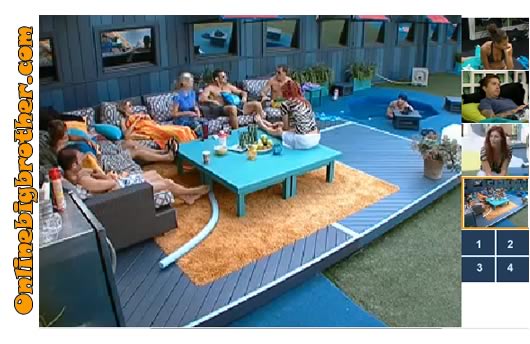 4:31pm Backyard pretty much everyone but Andrew, Matt, Monet and Brit ragan asks them for a summary of what happens and so they start telling him. Everyone has a bit to say. Kristen says that someone said Britney is saying that Kristen is voting to keep monet. Brit had asked kathy if it was her saying that and Kathy flipped out and started screaming at Brit.. Brit started to cry. Brendon tell them how pathetic it is that Brit always cries "when in doubt Cry" Ragan asks if there was yelling.. Brendon says no none at all, Kathy agrees. Enzo says "well no there was a bit of yelling between Rachel and Monet" Rachel i think she was like that because she was about to cry, Rachel goes on to say that she never uses the Bitch word not even when they try to get her to say that in the DR. (Apparently Monet said that Rachel called her a bitch)Enzo says she is going home so there no use them fighting about it "the votes should be 9-1" rachel "no 8-1". kathy says she did talk to Monet this morning but no names were spoken and it was more of an apology/ decent conversation. Talk changes to making dinner tonight.. everyone laughing at rachel and Kathy attempts to make enchiladas last night.

4:45pm palm Room Ragan and Hayden Trying to figure it all out. They think that Brit and Monet planned this to make people wonder about Kristen. Hayden says there no way Kristen would of flipped it's insane. ragan agrees..

Onlinebigbrother.com is around because of your donation every year the site costs us to host the images and run the 3 servers needed to handle the traffic. If you like the site then please consider donating to keep the madness going. Thanks!
Share it YO!!
Tweet