Watch it happen as it happens!! Superpass 3 Day FREE Trial
5:15pm HOH Brit and Rachel Brit is telling her she wants Monet to stay because they are friends in the house but she has not gone around trying to get votes. She hasn't thrown anyone under the bus or talked about people behind their back. She likes both Monet and Matt. Brit plays dumb says she has no clue how people are voting, she can assume that Monet is going home based on what she see but to be honest Brit is in the Dark right now. Brit knows that Rachel doesn't like Monet and she doesn't want Rachel to not like her just because she's friends with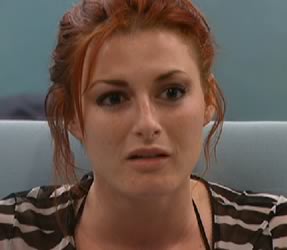 Monet. Rachel says she doesn't play the game personally she plays it strategic, "I just want to have fun everyday while i'm here" Brit tells her there not fucking way that she was telling people that Kristen is voting for monet. Brit doesn't know where all this mistrust and speculation is coming between them. "to be honest I wasn't going to put you or Brendon up if i had won HOH" Rachel says she heard that Brit was going after Brendon and that is why she put Brit and MOnet up in the first place she wants to protect Brendon as long as she can. Rachel says that there has been a few people in the house that has come up to her and told her that Brit has been asking for votes to keep Monet. rachel adds that someone told Brendon that you've been saying that you'll put Brendon and Matt up next week if you win HOH. Brit is shocked "why would I do that i don't even want Matt gone this week and he's up against my friend" Brit really wants to know who is saying all these things because that person is telling lies and brit wants to avoid them for the rest of the game. rachel wants to expose this person and get it all out in the open so they can get the truth out but she doesn't feel right doing that (How convenient ) Brit says she doesn't want a big blow up she just wants to know who that person is so she can stay out of their way. Rachel brings up all the shit Brit and Monet have been saying, "Monet is telling people that Brendin and I run the house.. WERE HOH"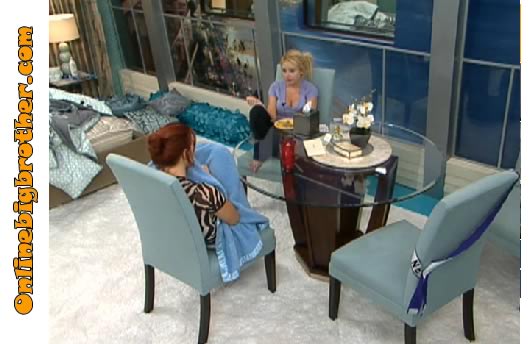 Rachel says that she doesn't know why they are not getting along. She thinks that if they had met outside of the house they will be friends, Rachel goes on and one about how similar they are and how their backgrounds are the same etc etc. rachel and Brit agree that they are not each others targets right now. Brit "I've seen peoples true colours this week theres a lot of people I want gone" Rachel goes on about how hard it is being HOH and how she feels like the entire house is against her and Brendon, "this house is crazy". Brit "I've been trying not to talk game or step on people's toes and not cause any scenes or be dramatic, and to keep everything under control, I don't know who's lying but it's driving me crazy" Brit says she's been 100% honest with rachel and she wants her and rachel to trust each other. Brit confesses that Monet's the only person she trusts and she wants to be able to trust more. Brit says that at least Rachel knows the person spreading all these lies is. Rachel says that it has been Matt that is telling her shit about Brit and Monet. "He said that you said Kristen is flipping the vote" Now it megins.. Brit starts throwing Matt under the bus big time.. She says that Matt is gunning for rachel and Brendon, Matt has said this all in front of groups of people, Matt said that anyone to ally themselves with a showmance is stupid, Matt says sthey need to break up the showmance.. Brit continues "Matt told a group of people that they need to throw him the HOH and he'll take out Rachel" Rachel acting like she knew Matt was going to do it. Brit nodes and Keeps going "matt told me and a group of people that his main objective is to put Brendon and rachel up, "He said He'll go after Rachel first then take care of Brendon" Rachel says she wanted to put up Andrew put everyone was trying to talk her out of it then Matt walks in and volunteers to go up as a pawn.. Brit "why do that unless you got something planned" Brit goes on and on about Matt its insane. The girls decide to go talk to brendon on the hammock they hug it out and head outside.



6:11pm – 6:22pm Backyard Brit, rachel and Brendon Rachel tells them that this has been matt plan all along he wanted the drama to be crazy to put some heat on other players. rachel agrees she brings up earlier in the week when Matt was trying to talk everyone into putting Brit up because he thinks shes the sabetour. Brit points out that now that they think about it it's obvious he's been playing both side off the entire time. Rachel agrees, "he's shitting his pants right now cause he knows, "I hope he wears a diaper" rachel thinks he's being stupid because he's on the block why would he rick causing all this when he still could go home. Brit "exactly is so confident that he's staying he playing the game rachel" (brit is good holy shit) Brendon comes in and rachel fill him in.. brendon says they need to think about all this and figure it out don't make any snap decisions and keep your mouths shut for the time being. Rachel says that monet will come after me for sure though. Brit tells her that monet is smart she'll do anything to stay int the game she's responsive and could agree to a deal. Rachel it'll be tough to switch the house to keep her.. not sure even if thats the best thing to do right now. Brit understands Monet is up she's going home, "watch out for Matt next week though". rachel: " do you have any clue how hard it is going to be to flips the votes back.. i doubt we could do it. what do i do call Matt out in front of the entire house right now?".. Brit tell her that they need to think about it but in her opinion it's only Tuesday and they have some time to think, she gets up and leaves.

Onlinebigbrother.com is around because of your donation every year the site costs us to host the images and run the 3 servers needed to handle the traffic. If you like the site then please consider donating to keep the madness going. Thanks!
Share it YO!!
Tweet