SEE what they CAN'T show you on TV! 3 Days FREE No Commitments
3:00pm cabana room Ragan, Lane, HAyden They're talking about being naked in front of the life feed cams. ragan says he forgot once in the beginning of the season and was completely naked in front of the camera. Enzo says that they caught him once but all they got was his butt. He tells them that his butt is like a tiger because it's covered in stretch marks. Enzo tells them he was cornered by Brendon. Brendon told him that 'they' (Brit, ragan, matt) are going to peronal. He's worried that they will try to keep him her to be malicious. Enzo says he's been trying to talk Brendon into hitting the exit button and walking on out. Enzo thinks he better become a have nots she he doesn't have to sleep in the same room as Brendon. Ragan is not looking forward to Brendon's eviction speech, the diarrhea that will spew from his mouth will make Ragan ill. Enzo says that Brendon is going to toss them all under the bus, it'll be his last ditch effort to get voted out. They start talking about how big of a douche Brendon's been, Lane: "in Texas a boy like that would get his ass kicked". Ragan: "I've seen a lot in my life i've had people come up to my face and yell DIE FAGGOT.. when brendon calls me a cockroach and says i'm LA fake it doesn't phase me one bit". Enzo and Lane starts to joke about the DR. Enzo says he's been in the DR 4 times today, they have a separate room for him, ESPN, pizza, he knows where Lebron went, he knows who the sab is, he's got a comfy couch. They are talking about the fans that are out there and how R/B will probably have few friends. Ragan explains that the cbs site has a poll that shows you week to week the popularity of the houseguests and he bets that the first week B/R must of been at the top but after week one they probably dropped to below zero. Lane says he doesn't care what the people out there think of him when he goes back home he'll have plenty of friends.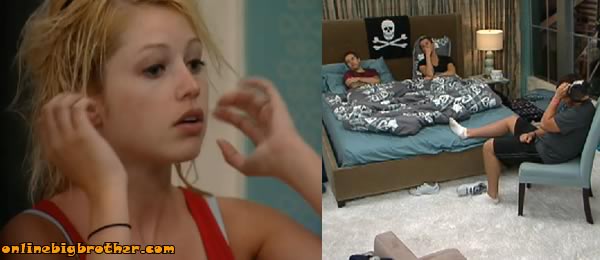 3:58pm HOH Lane, Matt, ragan They got another Sab Message the message told them that someone has received ad power voted by the fans. Lane doesn't see America wanting to keep B/R thats why he doubts they have the power. Ragan isn't sure he thinks they could of been give the coup de'tat. Lane thinks that perhaps America gets to vote who the sab is. Lane adds that the message said "don't sweat it someone on the block is leaving". Matt thinks most of the message was probably bullshit because the message said "one of them is not necessarily going home because true love conquers all "…"Thats not true love at all". Brit joins them. Lane tells her Rachel and Brendon are really excited because they think they got the voted power. Lane: "rachel is so convince that America loves her". Brit: "You think america wants her to stay?. Lane: "NO I think she thinks, and that is why she's so happy all of a sudden" They all agree the most likely person to go up on the block if Rachel has the coup d'etat will be lane and ragan with the target being ragan. brit and matt cannot go up this week because they have POV and HOH. Brit thinks that maybe they gave Rachel a power that will only benefit her. She says that if Brendon goes this week because of some wizards power it still isn't the end of the world because she'll broken. Brit explains that you guys will still talk to Brendon like you do now but not a single person will talk to Rachel she will not have a single soul in the house. Brit: "She'll probably come talk to me but I won't say 2 words to her" Brit knows rachel will be good in quizzes but she's sure Rachel will just give up if Brendon's gone and she's stuck in the house with noone. There looking at the HOH TV, They make a comment about Rachel's short dress and they all saw her "crack" during the sab message. Lane comments on how Brendon's posture keeps getting worse and worse.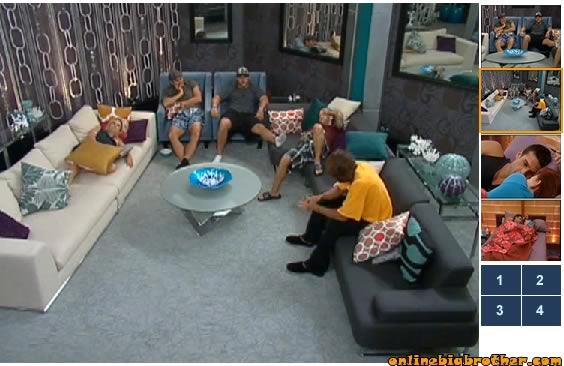 4:21pm Living Room kahty + BRIGADE Talking about the sab message and the special power. Enzo is speaking in code so that production doesn't get after him
GBs = goodbyes
BGs = BRIGADE
Lane to Enzo: "if I find that the GB had anything to do with love conquers all i'm going to get hostile"
4:32pm Taj b/rThey are both happy that the sab message got all the other houseguests running scared like little cockroaches. rachel starts to fake cry and says she doesn't know if she can survive with Brendon gone, she doesn't know if she can win HOH. Brendon tells her that after the show he's not going to leave her he's not going to let her go. Brendon tells her he loves her over and over.. rachel: "I love you" Brendon: "you are my soul-mate" Rachel:" says me to" they talk like brendon is leaving on Thursday, Brendon tells he not to trust LAne he's with Brit not Hayden and Enzo. (it will be epic when rachel goes home tomorrow GRENADE).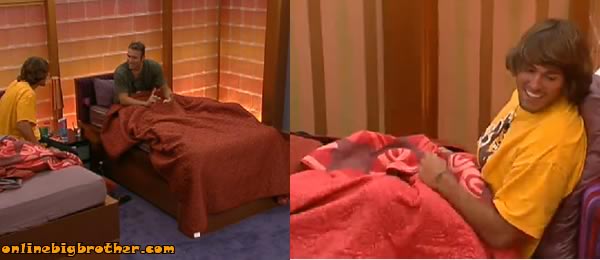 5:08pm hayden and Enzo Hayden says id B/R have the coupe d'tat they will put up ragan and Brit because they can't put brit and matt up. Hayden continues if Rachel can only save herself then she'll put Ragan up and we vote Brendon out. Enzo says that will be perfect, they both are happy with the progress they are making being "Friends" with B/R both of them think they are safe for the next week regardless. Hayden says that rachel thins kshe's 100% sure who the sab is and it's not Lane. Enzo mentions that brendon thinks it's Lane. Hayden and Enzo both agree that B/R will be coming after them next week so they have to be ready to take them out quick if they both stay this week. Hayden says BRit is much more dangerous than Ragan because Brit knows everything in the house including the players family's. Enzo says he wants to get BRit and Ragan out more then Rachel right now. Hayden explains the double eviction to Enzo, he's sure that one of B/R will be going home then it's double eviction. Hayden: "after double eviction it's the brigade against Kahty and someone else". They don't know how the brigade will break down at final 4.. Enzo: "Well worry about that later"
5:12pm Kitchen B/R making dinner (She's covering her boobs whats going on?)