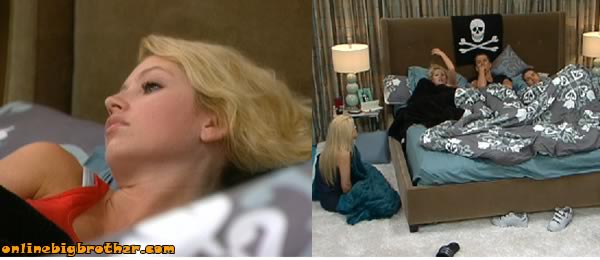 SEE what they CAN'T show you on TV! 3 Days FREE No Commitments
5:47pm Kathy, Brit, Ragan and MAtt Brit tells them this week will not be double eviction. She explains that they made taped messages today for the show tomorrow and if they were to do a double eviction there would be no time for taped speeches. Matt isn't sure he thinks they might just do things to through them off. Brit points out how Rachel's mood has changed today, Matt thinks she got the new power, Ragan isn't sure he thinks she's just excited because of the sab message and she thinks she has the wizard powers. kathy leaves. they start talking about the sab message again. Brit and Matt both agree that it doesn't matter what power Rachel gets as long as one of them stays up on the block they will vote that person out. Matt tells them to not worry one of B/R will be going home he's sure of it, he doesn't think production would mess with the game that much by keeping both of them. Brit thinks that Rachel will be a emotional wreck of Brendon LEaves. MAtt isn't sure he doesn't know what the hell goes on in Rachel's mind she might turn into a super player and win HOH right after.
matt: "just don't start anything with them and it will be fine just ignore them"
Ragan: "there going to be drinking tongiht and they'll be super annoying"
Matt: " Yeah I know they're annoying but only 24 hours then one of them is gone"
Brit leaves. Matt and watching Brendon cook food and are amazed at how much food he is wasting, Ragan: "why does he waste food like that" Matt: "I dunno he's a BLANK idiot"
6:00pm Feeds cut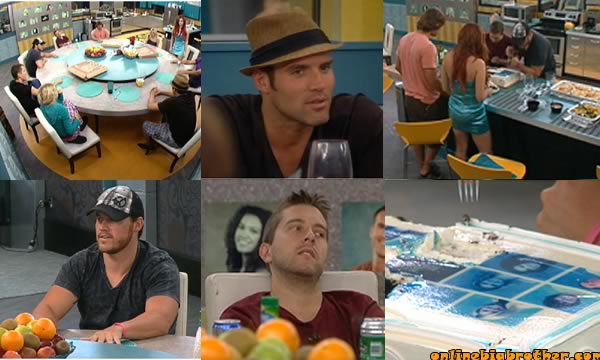 7:27pm Pizza party is over feeds come back
Everyone getting talking about how awesome the pizza and drinks were. Ragan is alone in the HOH
Share it YO!!
Tweet