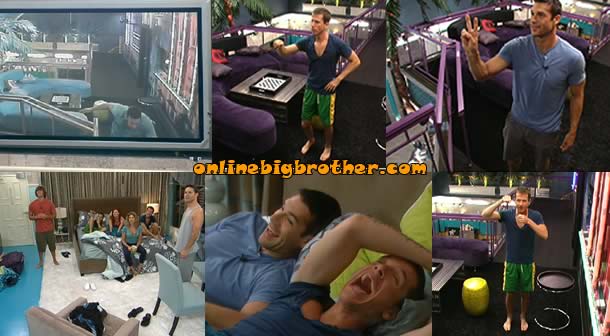 9:25pm Charades HOH Matt, KRisten, Andrew, Rachel, Brendon, Ragan are playing charades using the spy cam. The mime goes outside and does it in front of the HOH cam while the others inside HOH try to guess what it is.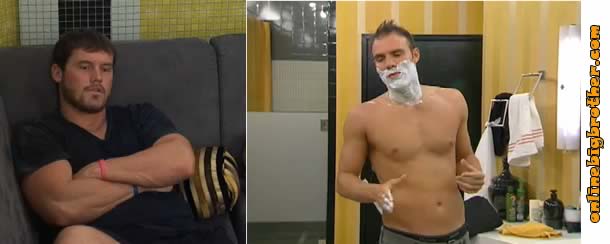 9:26pm bathroom Lane and Enzo Enzo Found hair on his face, if you caught him earlier he was shaving his entire body.. He's whispering to Lane that they should have the votes to keep Matty, but they're starting to get worried that the mean girls are working on some peoples emotions trying to get their votes. They think she's starting to be able to work Kathy. They're not worried though they count through the votes and they have 5 locked (Lane, Enzo, Hayden, Kristen and Ragan)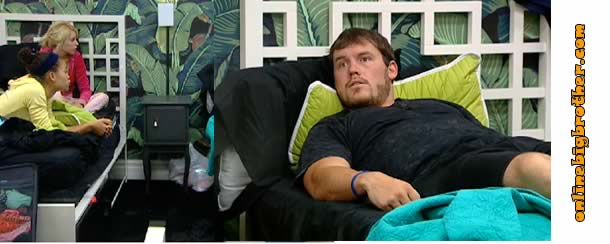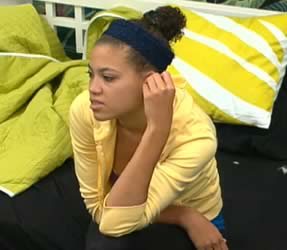 10:10pm Palm Room Lane, Brit and Monet Brit is complaining that she wants Monet to stay. She explains that they need Lanes and Enzo's vote for Monet to stay. Lane doesn't look too convinced, he asks about Andrew. Brit says they have Andrews vote locked up for Monet to stay, she tells him that Andrew hates Matt because he heard that Matt is going to put him up. Brit adds that Rachel told her up in HOH that she hates Matt more than Monet, and That Brendon is pissed at Matt for the whole thing. Brit is worried that if Monet goes then all the girls in the house will come after her. Monet chimes in and says she wants people to vote for what is best for them not what they think the house is going vote. Brit says they have Brendon, Andrew, Kathy, Lane and her self they have the needed 5 votes. Brit brings up that hayden is in a showmance with Kristen, she says she's been watching them lately and there is something going on between them, She says that her target is Kristen if she wins HOH. Brit points out how big of a bitch Kristen is because she gave it a honest effort to get to know her and Kristen just snubbed her. Lane just listening.. looking a little shocked he says he hasn't heard many people talk about voting against Matt… Lane leaves to go get booze..
Monet says that she's going to go to Hayden and ask him what she needs to do to get his vote. Monet tells her that the other night she was staring at the memory wall and was looking at hayden's and Kristen's pictures and she's convinced they are related, "Look at how their eyes are spaced". They start planning out HOH.. just in case monet stays. The plan is to have Brit win it so she can nominate some people that gave their votes to Monet. Brit says that Kathy can only be counted on for the remainder of this week (she means bb week so tomorrow is the end) Brit says that her nominations will be Kristen and Kathy with a backdoor on Brendon if the opportunity arises.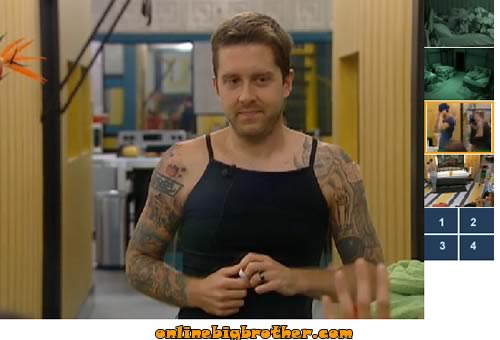 10:20pm Bathroom Ragan, Meow Moew, kathy, Brendon and rachel talking about past HOh comps that were endurance based… Matt walks in wearing Annie's shirt…
Share it YO!!
Tweet