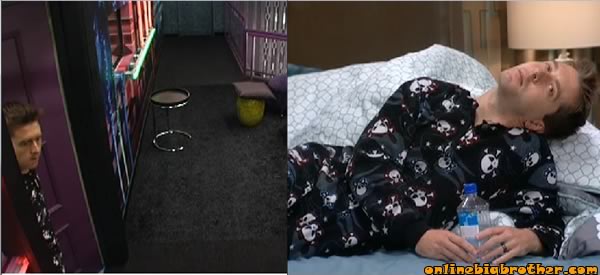 11:40pm Up in the HOH room Rachel is talking to Kathy. Rachel says she is upset because Brendon said his parents probably won't like her. Rachel says that she doesn't understand why they would not want someone like her to love their son. Kathy wonders if it's about her boob job. Rachel doesn't want to discuss it in detail. Kathy thinks Brendan could be wrong about his parents opinion of Rachel. Rachel thinks her parents will love Brendan. Rachel says that she blogged about how much she loves and cares for him. Rachel says that she hopes she isn't being portrayed as a cocktail stripper type person. Rachel says that she is not going to do anything else in the house because her parents are watching too. Rachel asks Kathy, if you saw me on this show would you want her son with me? Kathy says that she would absolutely fall in love with Rachel. Big Brother says Rachel you not allowed to talk about your diary sessions. Kathy leaves to go down stairs.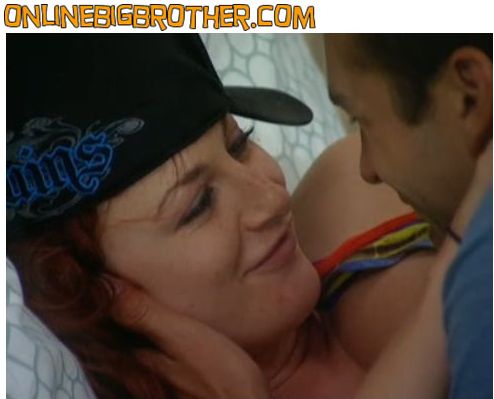 SEE what they CAN'T show you on TV! 3 Day FREE Trial
11:50pm Up in the in the HOH room are just Rachel and Brendon. Rachel tells Brendon that she isn't going to sleep in the bed with Brendon anymore. Rachel says that she is not a Jezzabell, and she doesn't have big boobs on purpose. Brendon says that he loves her and his parents will love her. Brendon says that he is still going to school. …and the feeds cut out to the we will be right back screen. Brendon says that when the camera crew came to his house, he says his family had to be forced to smile and be happy for him. The feeds cut out again. They are now kissing. Brendon says you make me very happy, that's what is important and they will like you. Brendon tells Rachel that with his father nothing is ever good enough and that he is always waiting for Brendon to fuck up. Rachel and Brendon start making out again. Brendon tells Rachel about their future plans. Rachel says that she already knows that she is not going to be able to live without him. They kiss more. Brendon says that she always knows what to say. Brendon says that he knows he can't live without her either. …And more kissing. Big Brother calls Brendon to the diary room. When Brendon goes down stairs and walks past the houseguests in the kitchen they joke with him about being interrupted. Brendon says to them that there are no diary room sessions all day and now its one after the other. When Brendon comes back he asks Rachel if she wants him to be her boyfriend. Rachel says Brendon you already are! Brendon says that he is an old fashioned kind of guy. Brendon asks Rachel if she will officially be his girlfriend? Rachel says yes. Then they make out some more. Brendon and Rachel agree that they won each other's hearts. Rachel says thanks Big Brother; we won the best prizes ever! Brendon says to Rachel not only are we on Big Brother 12, but our love story is the centerpiece to the show. Rachel says and we'll have this on DVD. Brendon says can you imagine being able to show this to our grand kids… wouldn't that be crazy.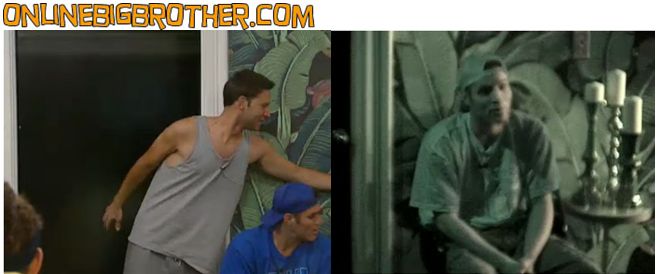 12:20am In the bedroom room, Britney, Hayden, Matt, Enzo, Monet, and Lane are talking. All of them are talking so loud that Kristen and Andrew can't sleep in the bedroom next door. Andrew gets up and goes into the other room and turns out the lights on everybody talking. Matt asks Hayden what his percentage odds are on staying. Hayden says good. Matt asks is it like a 100% for him staying. Hayden says yeah. Ragan gives Matt the thumbs up sign, then holds up 6 fingers like he's going to get 6 votes. Ragan thinks that the order that they all get called in will be revealing. Enzo says this HOH will be brutal. Grenades were dropped last night; there was blood on the wall at the meeting. Britney comes in and they talk about Matt being called Ronnie. Matt talks about how the diary room manipulates the game and Britney agrees. They then start talking about foods they wish Big Brother provided, like canned beans, brats, bread crumbs, chilli dogs, chicken nuggets. Britney says that she never eats healthy saying that she is going eat the worst of whatever it is every time.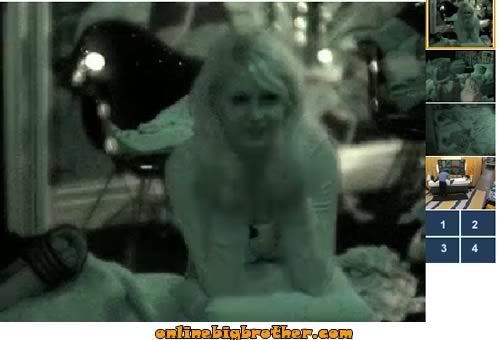 Try the Big Brother 12 Live Feeds for FREE

1:20am Matt, Lane and Ragan are talking and joking around. Ragan says that he wonders if there is anyone the audience just hates this season. Lane says that he thinks Kristen is the least liked by America, that she is hard to get to know but now that he does really like her. They say she is really quiet but they like that about her. Ragan says that he thinks the viewers can spot insincere people and that's why Natalie was so unpopular. They don't think they have a Natalie this season. Ragan says that he can't wait to see how Big Brother cuts and pastes everything together into the show. They wondering if there's someone in the house who isn't who they claim to be and that it would be kinda cool if there was. Ragan says that Lane probably has a British accent. Lane says yeah, and that his tattoos are magic marker. Talk turns to HOH and how hard the position is. Matt thinks after this week it may be easier because lines will be drawn and if he goes he hopes they continue to have weekly house meetings. Ragan asks them if they were like whoa?! ..when they went in the diary room and heard Julie ask them to cast their vote… Lane says that he is dumbfounded, that it's amazing that someone so high up (Julie Chen) knows his name. Lane says that he is just from a small town. Matt mentions the thunder of applause they heard when Annie exited the house. Ragan says he doesn't watch After Dark or the live feeds because he loves the slick way BB edits and produces episodes. Ragan starts talking to Lane about Annie. Lane says that he did spend some time with Annie and it's hard for him to see someone as an outcast. Lane says that he knew from the get go that he was going to vote her out though he never let her know that, he did it because he said he knew she was going home and so he wanted to make her time in the house good, he wanted to see Annie happy. Ragan says that he felt bad when Annie shunned him when she left the house; he purposefully made sure he was by the front door when she left. Lane says she didn't hug a lot of people he also says that distancing herself from Ragan was probably part of her being saboteur, she couldn't get close to him. Lane thinks that Annie is going to hate him the most because she was closer to him than anyone and he didn't even give her a vote. Lane tells Ragan that the first real conversation they had was after she got nominated. Lane says that he really didn't know much about her before that.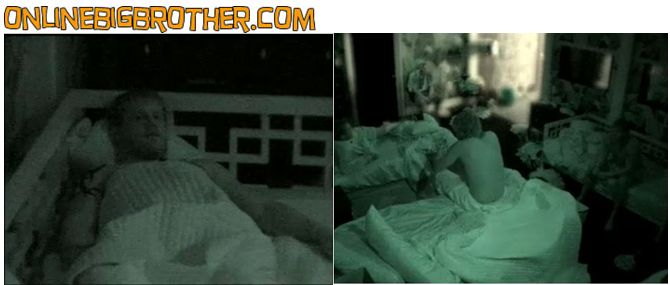 Lane thinks that Annie will give everyone a hug after the game is over. Ragan says he saw Rachel as forthcoming and honest the week she was on the block and he just didn't see that from Annie. Lane says he didn't want Annie to feel lonely but says getting close to her could part a target on his back. Lane says that he didn't care he could have a beer or a wine with her all day. They subject changes to other Big Brother shows. Lane says that the other houseguests on Big Brother UK come out of the house as superstars; it's a bigger deal over there. They talk about the differences between Big Brother UK and Big Brother US. Ragan says that this show is huge in Canada. Matt starts to talk about talking to the Entertainment Tonight Canada chick….(and the feeds cut to the we will be right back)

2am All the houseguests are asleep…