SEE what they CAN'T show you on TV! 3 Day FREE Trial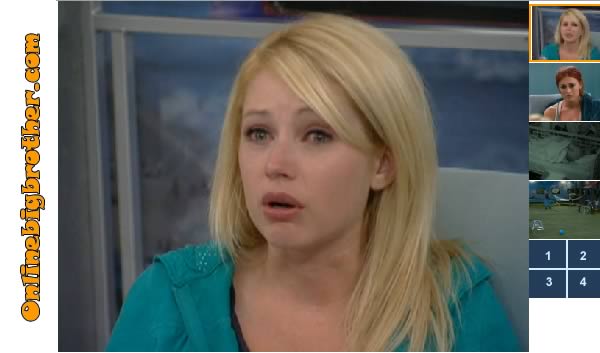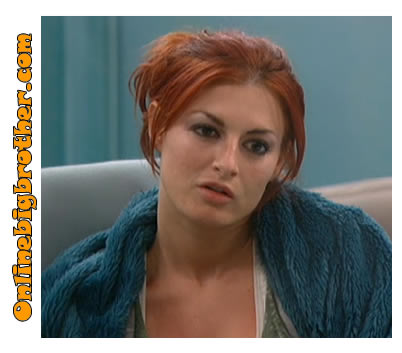 9:05pm HOH Brit and Rachel Brit is crying up a storm telling rachel how hard it is for her right now. She explains that she's going to be doing a lot of crying this week and it doesn't mean she's mad this is just how she handle it. She swears on her boyfriend that she doesn't have any alliances. Brit tell her that there is a person that has backstabbed her completely and Rachel should watch out and to not trust anyone like Brit did. Brit says that she's not stupid she knows that two people have to go up and that Rachel won fair and square. Brit really wants them to be able to talk through all it she doesn't want it to be awkward. Britney tells her that her and Monet are friends but they aren't "Playing the Game" together. She explains that you can have friends in this game that don't have any connection with the game. Brit brings up the other houseguests treating her like a Leper because she on the block she just wants people to act normal around her. She swears she won't act all crazy and fucked up like Annie did.
Rachel Asks her Who would Brit pick to play for her in POV. Brit says she doesn't know "Honestly I don't think a single person would take me off"…"I haven't won anything yet i'm not holding my breath". Rachel tells her she can't say anything for certain but she thinks that the house will vote her way and her way will be Monet going home. Brit asks her what if Monet gets POV.. Rachel explains that there is this person playing the game that is playing it at a level that she feels is not good for anyone. this person she'll put up. Brit asks who it is. Rachel telsl her she rather not say but this person is someone both Brit and Rachel trusted. (i wonder who it is?) Brit says she doesn't fully trust anyone the only person she "Semi" trusts is Monet. Rachel says she's never talked to Monet, "Not once has she come talk to me". Brit again tells her she has no alliance with anyone else. "I've never had that conversation like Ohh we're playing
together.. Annie tried to have it". She expalins that poeple think she has stuff going on with the guys becuase she sleeps in the jumaji room and plays Pool with the guys. She reiterates "I don't trust anyone"
Brit tells her she doesn't like Andrew If she wins HOH he's going up and going home. brit knows he's friends with Rachel but she just wants Rachel to know that who her target is she's not going to get revenge for getting put up. Rachel explains that she likes Andrew but knows that people have to go home. She feels sorry for Andrew because everyone was teasing him and not being "Humane" to him. Brit butts in and says she agrees but Rachel has to admit that Andrew can be really mean at times. Rachel knows he's mean. Rachel tells Britney that she realizes she can't change her nominations, but if she could she probably would of changed them a bit. She mentions again putting up another target. Brit works her over and over about not trusting anyone. Brit makes it sound like she's usless in the game.


M: "Theres one person in this house that bad mouthed and back stabbed us".. "I thought I could trust them but now after today seeing how they acted means they proabably threw us under the bus to save themeselves for one week.."
R: "I'm not going to lie a, few people did say a few different things about you and brit"… "of course people are going to bring up the 10000 but I don't think that is a real reason"
M: "I didn't even go for it, did you see Kristen she really tried to get it"
R people were telling me about you and brit i felt so bad about these nminates I DID NOT WANT TO DO IT it's so hard and so fast.
M: "I know i expected people to say bad thing and this person in particular must of said bad thing and i trusted them"
R: "I'm scared of you were going to come after me and Brendon"
M: "Mo it wasn't my intention to go"
R: "this person you're talking about is a boy isn't it"
M: "No I thought it was a girl"
R: "ohh "
M: "If it was a guy i have an idea about who it can be"
R: "I know the person now it's kathy. I never grouped kathy as a friends with you i would group you with brit and maybe enzo and lane".
M: "No we have never had an alliance"
They hug is out and Monet leaves.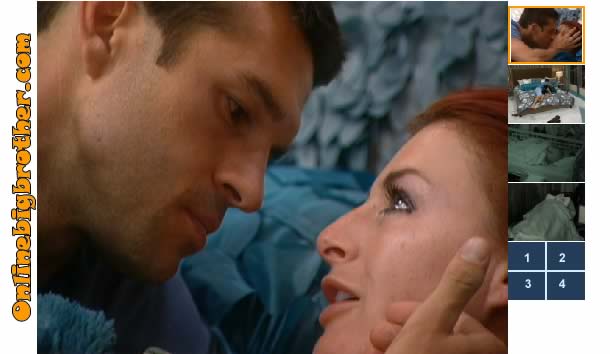 10:28pm HOH rachel and Brendon rachel breaks down in tears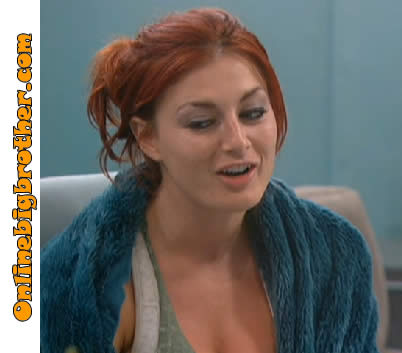 Rachel: "I didn't know monet and kathy are best friend and now kathy won't look at her in the eyes.. I just can't imagine someone doing that to a friend"…."she says that Kathy won't talk to her"… "If your friends your with them then you stick by them when their down"… "I know this is a game but thats not decent".."Monet says that her and Kathy would talk every night in the cabana room" rachel is getting pretty upset about everyone throwing each other under the bus.. Brendon just holds her and gives her the odd kiss. Rachel: "lane and brit where friends and they were so quick to throw her under the bus"…Brendon tells her that it's a game and everyone cries when they get emotional. Rachel starts to bawl she says the reason these girls are crying is because of her, she feels like she made a mistake. Rachel continues saying she really likes Britteny but she doesn't trust her as a game player. Brendon tells her to just think of this as a game. Rachel: "Brit will break us up" Brendon tries to comfort her "I know this is hard but this is why I like you if you where cold and calloused i would not like you".. "if you left this house i would be sad and i would be crying and thats pathetic ".. Brendon tells her he really doesn't like Brit. He explains why, they were sitting on the couhes waiting to go live and were told to sit back so we could be in the shot. I move a pillow that she was propped up on so that I would be in the hot and she yelled at me and told me to put it back. Brendon says that she's a little bitch.
Share it YO!!
Tweet