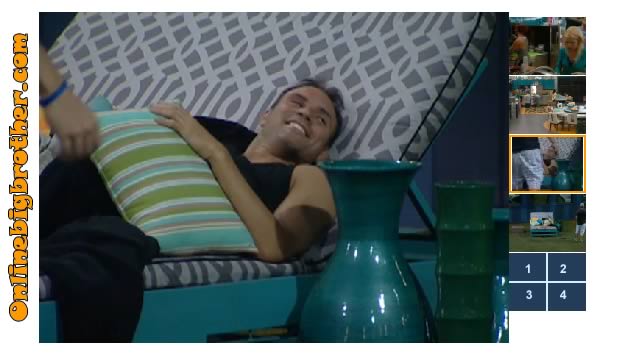 8:30pm Backyard Hayden, Lane and Enzo Walking around Lane and Hayden are playing with the lawn toys. Enzo tells them how he's playing this game ruthless now he's doesn't give a rats ass if he's backdoored on slop and fucked. He tells them he's has to start wearing sunscreen "i have 6 v Enzo on the lounging chair. Enzo "I'm actually ****** 0ff right now" Hayden "it's so small we can't see it" Enzo "no i gots a hardon and i'm ****** 0ff". They briefly talk about the have nots comp and how the other 2 teams ganged up on brit. They wonder if Brit is the real target not Monet…cams flip to Kathy and Kristen on the couch.
8:20pm Kitchen Brit, Monet, Rachel, Brendon, Matt and Lane preparing food. Brit is joking htat she's going to start stealing a bunch of stuff to sell on ebay. She warns them that now that she's on the block she'll double her stealing efforts.

8:40pm Palm Room Brit and Lane Lane is telling her how stressed he was because he thought he was going up. Brit tells him that she knew she was going up and that Lane is being stupid ti think he was ever a target. Lane goes on to say that 4 or 5 people came up to him this monring and told him his name was mentioned in the HOH. Brit explains how crazy he is she says that Rachel told her that she's not the target, "do you think if I wasn't getting nominated she would say that?… she would of said I wasn't going up if I was safe" Monet joins them.. Lane asks her hows she holding up. Monet says she's upset Lane tells her he thought he was going up. Monet says she never heard that but she knew this morning when she was going up from how Rachel talked to her.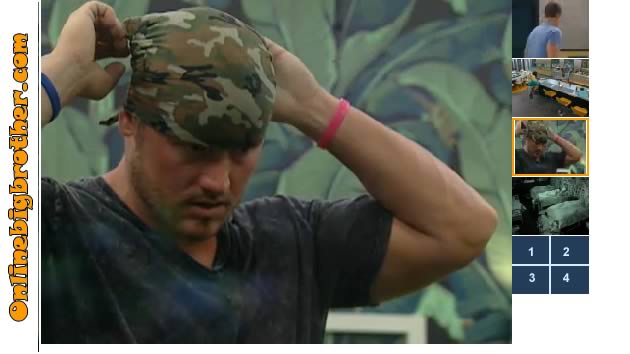 8:45pm Palm Room Lane and Matt Getting ready for war There talking about whos going up next week and getting ready to work out tonight. Zane is putting on a bandanna saying "i'm on the rag tonight". Matt says he's putting up one of them two Lane tells him they need to win HOH and it'll be them 4 against the other 3. They joke around that if they need to lose a member they'll try and talk Enzo into going home Matt "We'll tell him he's gotta go home so the others can advance"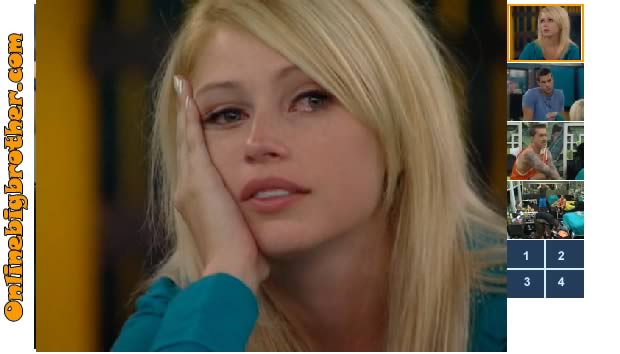 8:50pm Kitchen Breakdown Brit's crying Brendon telling her it'll be alright



8:55pm Monet and Brit in the Cabana Room hating on everyone They're pissed and start bitching about the house while they do their nails. They call kathy a Dirty Hag becuase she never went to talk to them after they were nominated. . over the PA big brother tells Kristen to move her microphone. Brit: "Kristen please lower your pants" Brit: "There riding up your ass" Monet "why the fuck does everyone ask us how were doing "We're fucking doing GREAT we're on the block!"
M: Enzo can be trusted but he's got a big fucking mouth
B: Big fucking mouth
M: Oh this is stupid stupid people
B: Like what are we suppose to do
m: those people act like we have lporasy
Brit bring sup that she only respects the people that came up to them and consoled them.. Enzo and Matt, "the rest of them can suck my nuts" They both comment on lane not coming up to them like he did with Annie.
They talk about there hair and nails and head out side.

Onlinebigbrother.com is around because of your donation every year the site costs us to host the images and run the 3 servers needed to handle the traffic. If you like the site then please consider donating to keep the madness going. Thanks!
Share it YO!!
Tweet