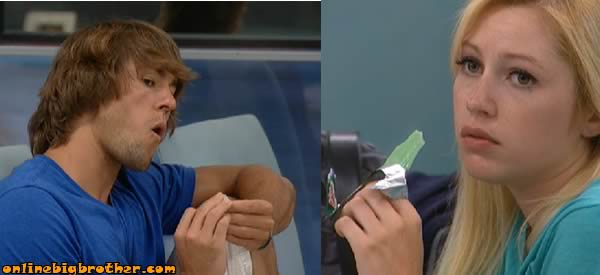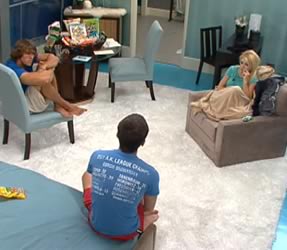 3:40pm HOH Hayden and Brit They are wondering if it'll be a house decision or will it be left up to chance. Hayden says he's on the fence he likes both of them.. he goes on about how it's hard this year because theres not a single person that he hates. Hayden says he likes Brendon, Rachel, Kathy, and Andrew. He ask Brit where she at with the vote. Brit says there's advantages to keeping both. Brit thinks that Andrew is a very strong player and getting him out might be a good idea but on the flip side Kahty is a douche and is allied with B/R. hayden says that having Andrew around might be a good idea because he's such a strong player and will therefore be targeted by everyone. Ragan come sin and starts preaching. He says it comes down to honor or strategy, He thinks that the only people that should be here are the ones that are fighters in the comps and Andrew is the bigger fighter. He says that the honorable vote is for Andrew because he's a fighter the strategic vote is for Kathy because she's pathetic and weak. Brit adds that Andrew isn't targeting her but neither is kathy… she thinks. Ragan brings up about hopefully it being a house vote (What is up with this year and everyone wanting to vote with the house cmon people fuck shit up vote with some balls. Meow Meow you supposedly got a pair go use them) Hayden adds that there may be more people in the house that are going to keep kathy. Hayden says this is a hard vote he can understand why someone will vote either way.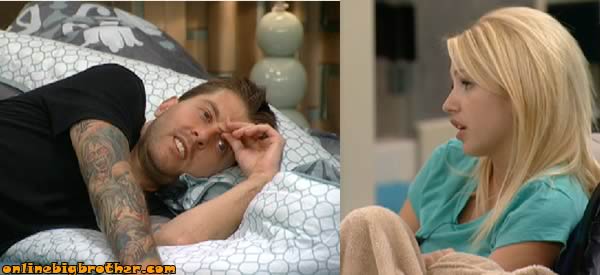 Ragan and Hayden leave 4:09pm Matt goes up into HOH. Matt tells Brit that Kathy's vote towards r/b is more dangerous than Andrew being a strong competitor. Brit brings up her theory's about there being a pair in the house. they both agree that Andrew will be gunning
They start talking about Kristen and Hayden being the pair. Matt is shocked that they have the same birthmark. Brit says she's going crazy trying to figure out if hayden and Kristen are pairs, "we already know they are good friends in the house.. but seriously they have the same birthmark, curly hair… i could go on forever"
brit: i heard rachel talking bad about Kathy
matt: this is how i see it, before Rachel won hoh Kathy wasn't close to the,
brit interrupts "I know she was close to monet and I" Matt continues that after Rachel won HOH Kathy attached herself to r/b and everyone noticed now r/b are trying to distance themselves from her but Kathy is still attached to them. so even though r/b (or BG/B i guess) want nothing to do with Kathy she will still help them out because she crazy that way. Matt tells her this should of been a easy week to be HOH.. Brit "When you announced the nominations everyone in America was like WHAAAAT" Matt laughs says this house is getting to him he's making stupid decisions. He asks her how many people does she think would put her up if they win HOH. We wonders were what Andrew would do, Brit says that Andrew would either put up BG/B or he would put up her and rachel, "I wouldn't put andrew in a safety box but i wouldn't put him in the un safe box"



Brit asks if rachel and Brendon win now what will they do? Matt : no fucking clue.. they say maybe the floaters but now Brendon is going off about the people that dropped early in the comp.. "I dunno man… Brendon is such a whiny bitch anyways he'll complain about anything"
Matt: "America has to love them theres no way that all this crazy shit happen "
Brit" america hates "boy george" and Brendon and that it's good for ratings."
Brit explains the seasons where it was the nerd heard and everyone hated them but they couldn't get them out of the house… Matt points out that the nerd heard won.. (Argh don't remind me)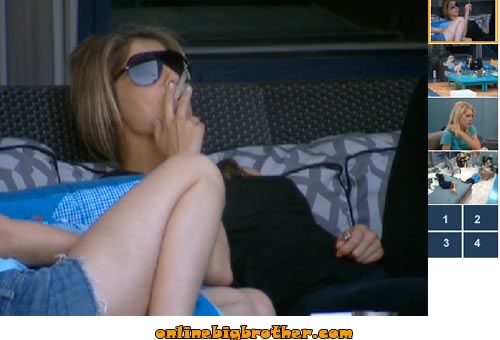 4:50pm backyard couch kathy and Kristen smoking Kristen says she's smoking because she's pissed off big time at what happened this week.. she wishes she had competed in the competition.

Onlinebigbrother.com is around because of your donation every year the site costs us to host the images and run the servers needed to handle the traffic. If you like the site then please consider donating to keep the madness going. Thanks!
Share it YO!!
Tweet