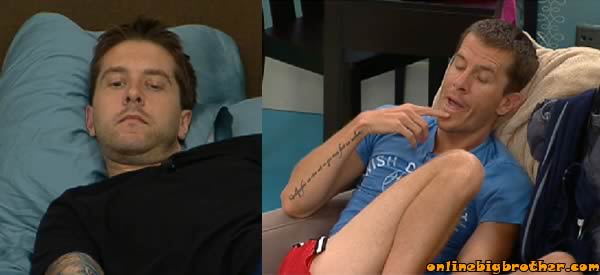 2:45pm Ragan telling Matt thinks that R/B will not comes after Matt he's almost 100% sure. He'll go after them if they try and take matt out and ragan is sure they now it. Ragan reminds Matt that in essence he saved B/R because he didn't put both of them up. ragan says if your trying to find the easiest path to 500K then keep kathy but if you want a strong fighter to be in the house then Andrew is the one. Ragan sepuclate that Kristen will vote to keep Andrew (as he was saying that Kristen was telling Andrew at the chess table that she is voting to keep him) Matt says he has trouble reading Kristen but from the conversation he believes that she will vote out kahty. Ragan tells him that Hayden and Kriste are genuine people but they are really good at playing the game. He goes on about how they both attached themselves to the nominated people so if the nominee sticks around till the next week and wins HOH they'll be in good standing. ragan thinks it's a lot like how Matt played last week but they're better at it and are more subtle. Ragan says his mind has gone in a complete 180. Matt says he could Argue for and against both of them but doesn't know what to do. Ragan says that ultimately it comes down to 500K and matt has to pic the person that will help him get that money. They start to count the votes They think it'll be 4vs4. Ragan ends the conversation saying that he's pretty sure that Andrew has something going on with boy George and Brendon possibly and alliance.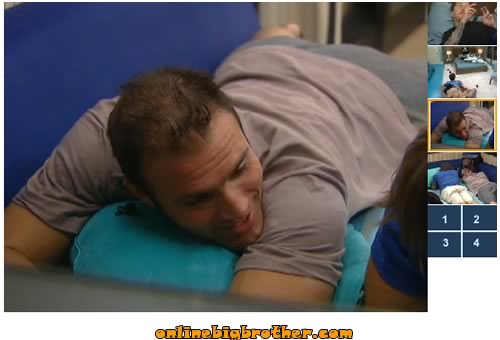 2:49pm Enzo, Hayden . Enzo why the fuck did matt do that why didn't he put both up. Enzo is telling him that Andrew absolutely HATES Rachel. They are trying to figure out who Brendon and Rachel would put up if they win HOH… Enzo tells him that if Ragan wins HOH he might put up the brigade, "he's only tight with Matt". He asks who would Kristen put up. Hayden doesn't know.. Maybe Rachel he says.. Enzo "That would be cool" Hayden "Actually i'm not sure about that" Enzo "We gotta put those FUCKING TWO UP we're here to win" Enzo keeps asking "WHY THE FUCK DIDN'T MATT PUT BOTH OF THEM UP" Hayden he was playing it safe. Enzo "He was already safe because then one of them would of gone home for sure it would of been 4 vs 1. Kristen joins them and enxo explains how Andrew is super pissed at Rachel. He's pretty sure Andrew is going to blow up. Hayden advices that they calm Andrew down a blow up is something they don't want. (no it's something we want) … Kristen comments how she wishes she could of played in POV… Enzo says it looked intense but a lot of fun. He wanted BB to let him host it the way he wanted to but they made him do things. Each player had names Brendon the Brillant, Matt the magnificent, Boy George, Lane the Marvelous, Andrew the great and Enzo the amazing. Sounds like everyone had a fun time with the comp however the houseguests found it to be one of the hardest to date. Enzo yells "I want to wear my amazing ENZO costume for halloween"

3:00pm Taj Room Brendon and rachel
Rachel telling brendon she doesn't want to go after Matt becuase everyone was telling matt to put them both up and he didn't he gave them a big chance and now people are mad at matt for it. She's positive that Kristen's plan is to take out the girls but Rachel will not let her, She's going after Kristen next week if she wins HOH. They discus where ragans loyalties are and both of them are starting to worry, Rachel seems to be sure that Ragan will put them up Brendon thinks Ragan is still on their side. brendon says they have so few people on their side the last thing they need is more targets.. he thinks he'll take Brit off his hit list and try and get out a stronger player, "He need to work on our numbers"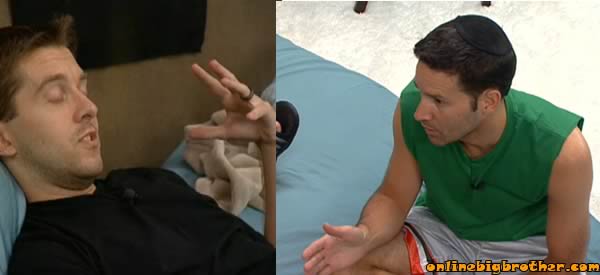 3:10pm HOH Matt and Andrew. Matt is telling Andrew that he is not going to go around telling people who to vote for. If someone asks him who he's leaning towards he's going to say that he feels like kathy is a vote for Rachel and Brendon regardless. Whereas Andrew wlll place his vote strategically. Andrew chimes in that he HATES Rachel. Matt tells Andrew if he comes up with any ideas on how to campaign he will help Andrew out he wants Andrew to stay. he wants to see where people vote. Matt doesn't want to see people bashing each other this week.

Onlinebigbrother.com is around because of your donation every year the site costs us to host the images and run the servers needed to handle the traffic. If you like the site then please consider donating to keep the madness going. Thanks!