Watch all drama on FLASHBACK! FREE3 Days TRIAL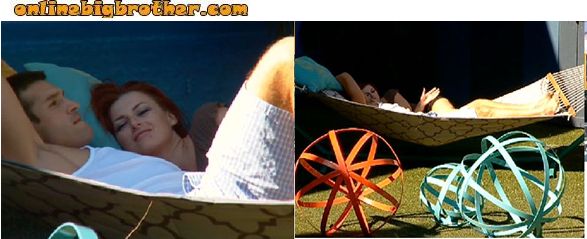 5pm Rachel and Brendon are in the hammock talking. Rachel and Brendon talk about who they have on their side of the house. Brendon tells Rachel that she needs to get people to talk before the HOH competition.  Brendon thinks Rachel needs to talk to Britney to make sure Britney won't come after them.  Rachel says that she doesn't trust Hayden any more. Rachel says that she would be friends with Kristen outside the game but Kristen is playing the game. Rachel agrees. Brendon says they're also only here because of Andrew. Brendon says that he talked to Andrew last night, and Andrew said he would throw the POV for him to win.  Brendon says that Andrew threw the competition for Brendon but that no one else suspects he did.  Brendon tells Rachel Andrew told him last night Andrew's been pretending not to like Rachel so that people don't suspect Andrew is with Brendon and Rachel. Rachel says that Andrew is doing a good job, and she really thought that Andrew didn't like her. Brendon feels he knows Andrew pretty well and says that Andrew is weird, different, but he's sure Andrew wouldn't put the two of them up.  Brendon asks whether Rachel is having second thoughts about whether Ragan would put them up. Rachel doesn't think Ragan would, especially not her, not sure about Brendon. Brendon says that he thinks Ragan would put most anyone else up before the two of them, aside from Matt, since the others are untrustworthy and the two of them would not go after Ragan. They also remember Ragan saying it helps him to have both of them in the game.  Rachel says that they are only here because of Matt, and most of that is probably only because of Ragan influence.  Brendon says that Ragan isn't going to vote you and me off. Brendon says that he plans to turn Enzo against the others who dropped early in the competition. Rachel thinks Brendon needs to be careful about that. Brendon agrees, and says that he isn't going to try and make an alliance.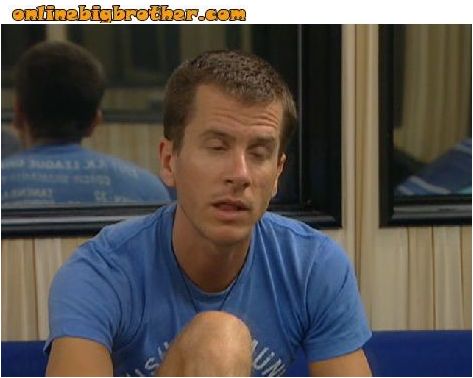 5:30pm Ragan is talking to Andrew about how Ragan really wants Andrew to stay over Kathy.  Ragan says that he believes in the golden rule and doing the honorable thing.  Ragan says that he looks at this week and see how hard Andrew worked in each and every competition. Ragan then tells Andrew to please not say anything to Kathy.  Ragan says that he doesn't want to hurt her feelings.  Ragan says that he wants to keep Andrew in the game. Ragan says that he wants the fighters to stay in the game. Andrew says that he likes that. Andrew says well, you are a good friend with Matt.  Ragan says that he thinks Andrew needs to know who has his back. Ragan says from what he has been told by Rachel and Brendon they want you here. Ragan says that Matt is more of an ally to you than you think.  Andrew asks so who wants me gone?  Ragan says that he doesn't know, that he is just telling him his observations.


Rachel and Brendon are still talking in the hammock. Rachel comments that her boob implants aren't even and don't match. Brendon tells her that he thinks they look great. Brendon starts talking about how everyone is probably saying that they should just do it already. Rachel says were not going to… And Brendon says I know, not until we're married.

5:50pm Ragan, Enzo, Lane and Britney are playing a two on two game of pool. Matt is working out on the elliptical.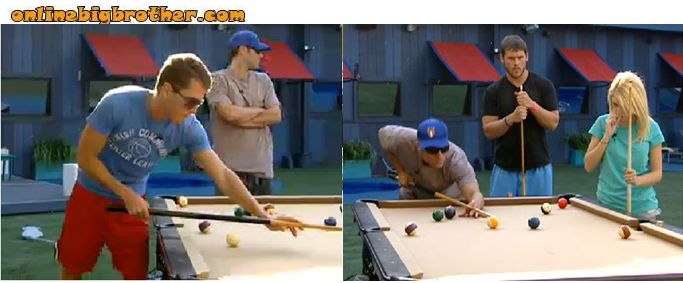 Onlinebigbrother.com is around because of your donations. Every year the site costs us to host the images and run the 3 servers needed to handle the traffic. If you like the site then please consider donating to keep the madness going. Thanks!
Share it YO!!
Tweet