8:45pm Taj R/B Rachel crying because she's not ready to leave Brendon. Brendon tells her to be strong he will protect her in the real world she's amazing and smart she'll be ok. Brendon tells her she'll be ok in the house without him she knows the game better then anyone and she's tough. Bren: "who's house is this?" Rach: "my house". They tell each other how real their love is and how Crazy into each other they are. Rachel says what he's doing for her is special and she thanks him. lots of crying and its real for a change they are both positive Rachel is staying.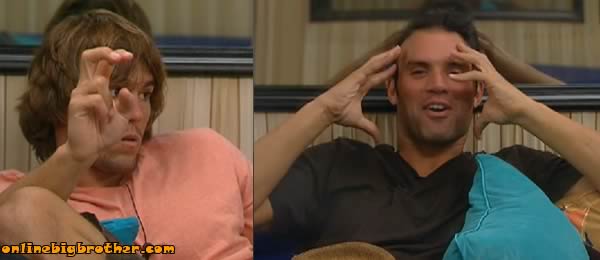 SEE what they CAN'T show you on TV! 3 Days FREE No Commitments
8:55pm BRIGADE There talking up some mad game Enzo talking to Lane Matt talking to Hayden it's a giant mess. Brit walks in to ask Matt if she can use his tub, Matt says sure but he'll ask Rachel to go up ans join her btiy cringes. They talk about the possibility that Rachel has wizard powers. Brit doesn't really care as long as it only extends to Rachel. Brit: "honestly if rachel gets to stay thats fine by me Brendon is worse for my mental state then Rachel".."i would rather deal with Rachel's psycho fakneness" … "But game wise Brendon should stay". Brit Leaves. Enzo to Lane: "yo dude your getting in deep with her yo" Lane laughs
Enzo is exhausted with all this running around behind people backs fake friendships and alliances, Enzo: "lets bring the brigade out yo this shit is exhausting yo.. having to be friends with that dodo "
lane: "you see that red on that camera right now that's America's fury you'r cracking man… Come back to the Brigade"
MAtt: "Don't do it man don't crack"
Lane: "you're getting in too deep with Brendon … TOO DEEP"
Matt asks them if Rachel's power means I have to put someone up should I put a brigade member up so it looks like we're not in an alliance. Hayden, lan and enzo all agree they'll take MAtt out.. they all start laughing. Enzo asks Hayden what he's going to do tonight when Brendon is all over him asking him who he'll vote for. Hayden says he's voting with the house and the house wants Rachel to stay. Enzo: "when the vote is 6-1 and brendon comes up to you what are you going to say to him?" Hayden says he'll just tell him he was pressured by the house to do it. They talk about how Brendon is going to hound them tonight, nether of them are looking forward to it. Ragan joins them tehy talk about HOH comp, the sab, vote, B/R. They start joking around about Just the Tip. Hayden offers Enzo a guest appearance tonights (episode 4 is tonight)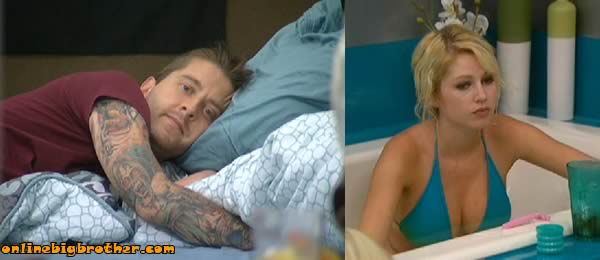 9:21pm HOH bathroom Matt, KAthy and BRit. Brit's getting reassurance from Matt that Rachel is going home unless a secret power is played. They all think that Rachel does have a power. Matt tells them that the power will most likely just be enough to save her from being on teh block so he'll need to put someone up. He doesn't want anyone to be offended if he puts them up because he's so confident that the house will vote up Brendon he would put himself up if he could.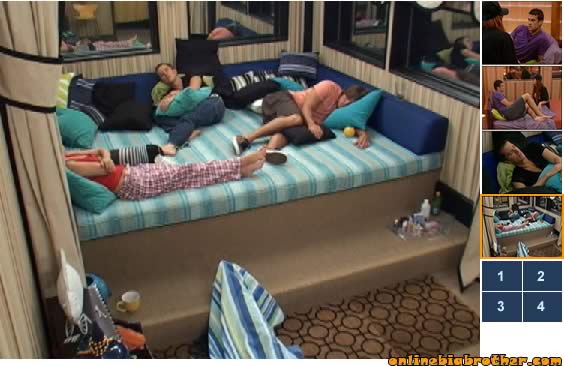 9:40pm CT Brit, HAyden, Ragan, Enzo Laying around doing some B/R bashing. Kathy about Brendon: "he's just getting sloppy left overs " Brit: "What from Vegas.. there going to break up 2 weeks after this show is over" Everyone agrees with brit.
9:57pm Enzo and Lane in the bathroom laughing there asses off
10:13pm Enzo's getting his hair cut by MAtt, Lane trimming his own hair. In the Taj Brendon is quizzing Rachel getting her ready to play in the HOH tomorrow night.