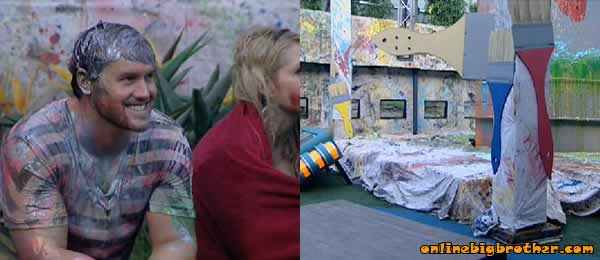 6:55pm Brigade wins their 3rd HOH… Everyone is excited beside b/r lots of laughs. Rachel immediately starts striking conversations with Matt. We find out that Kathy is a have not so she must of been the first to drop.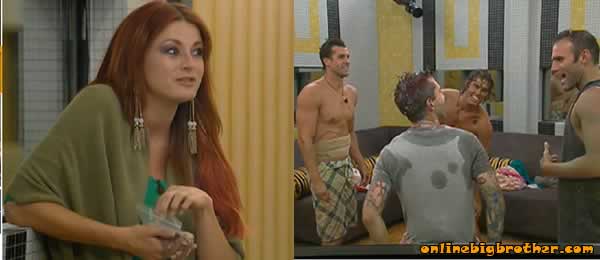 7:05pm Storage Room Matt, HAyden and Enzo There all congratulating MAtt, Hayden says "those 2 are squirming now" (b/r) Matt: "Good they should be". Enzo: "We're putting them up right" Matt: "Of course" Matt explains to them that he didn't want to win HOH he wanted Ragan to but Ragan wants to compete next week so Matt took it.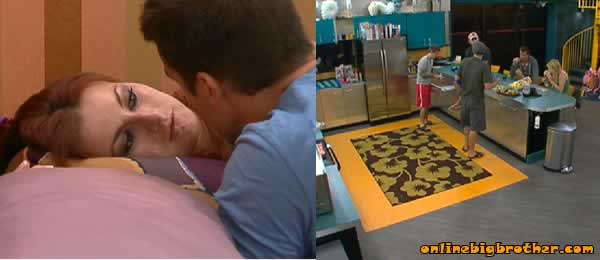 7:34pm Taj Room Brendon and Rachel, He's telling her not to worry he's going to win POV and protect her. Brendon isn't 100% sure that they will both go up he thinks Matt might put up Kathy. Rachel tells him they are both going up. Brendon tells her not to quit they have to get out into the kitchen and start to fight.

In the kitchen everyone is rehashing the comp and talking about how Brendon is complaining about it being rigged for small people. Matt brings up that the bars to hold on where high so that benefited tall people.
Brit mentions the drop order for the HOH competition
Kathy
Eenzo
Brendon
Hayden
Lane
Brit
Ragan
Share it YO!!
Tweet