SEE what they CAN'T show you on TV! 3 Days FREE No Commitments
7:38pm Kitchen Matt tells HAyden that if B or R (whoever is left) wins HOH next week then he's going up for sure they need to get the Brigade (in particular HAyden and Enzo who are on good terms with B/R) to start working them to put up Kathy, Brit or Ragan up with him.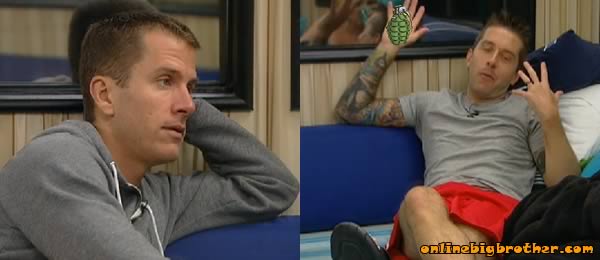 7:44pm Cabana Room ragan and MAtt Matt is telling him it was a good idea for ragan to drop because next HOH will be a quiz. Ragan thinks that Rachel might be a much stronger player. Matt agrees, but he points out that Rachel might be the person that emotional collapse when Brendon leaves or she might get stronger.. neither of them can figure out what will happen. Brit joins them, Matt Jokes "i'm not sure i'll put them both up i might try another backdoor plan" ragan jokes that the plan is for ragan and brit to go up. Matt: "It's a fool proof plan". MAtt says he would love it if they (B/R) didn't win POV just so they can see them running around scared like everyone else in the house has been. Matt then points out how Rachel was only telling Brendon he was doing a good job during the comp so MAtt decided to ask, "Hey rachel am I doing a good Job". Brit laughs she remembers hearing that. Ragan mentions that Rachel would periodically give him a good job but it sounded fake. Rachel joins them followed by Hayden. General chit chat.
8:00pm Kitchen Brendon and Lane Brendon is complaining to Lane about them having 2 physical comps both geared for small people (you can see the rage filling in Lane's eyes). Lane says h'e hopes that their done with endurance comp for a awhile. First chance Lane gets he leaves the kitchen. Brendon stays to make dinner facing the pain of letting Rachel down alone.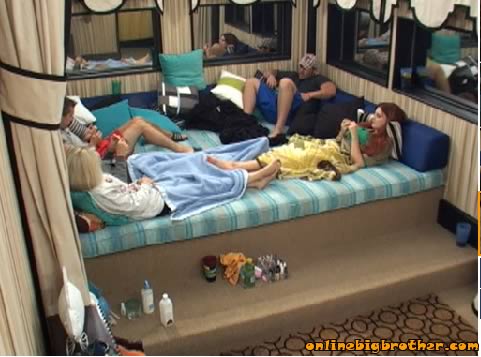 8:21pm cabana Room Rachel is talking about not being able to play in any endurance comps yet because they've both been the week after she won HOH. She doesn't understand why people think she's good at quiz comps. ragan tells her she is very good a quiz comps. Rachel:"I think I think very quick"