3:30pm Backyard POOL Matt, Lane and HAyden
Lane is wondering if MAtt thinks that the brigade has a good chance of being in the jury house. Matt says he's almost 100% certain they will all make it. Matt thinks the only way they are screwed is if B/R get HOH they put up Brit and Kristen and Kristen wins POV then theres a good chance one of them will get backdoored. They keep repeating how they have to win HOH.. if they win HOH they have nothing to worry about. Matt points out to them that after tomorrow there will be only 2 more eviction and if they can stay intact till then they will rule the house because they will have 4 votes. Matt: "Thats insane man we're getting close". He tells them he talked a bunch of brigade in his blog it was fun.. "I'm going to look like on arrogant prick if we don't make final 4". they start talking about being sorry for Andrew and how b/r fucked him over. Matt warns them that Andrew's speech is going to blast a bunch of people for real. He thinks they're going to be some serious damage control after. Lane tells them there is going to be a house meeting.. they can't wait.. Matt says he's pretty sure that b/r have told Andrew he's toast.. Andrew walks outside.
Watch Big Brother 12 see what they can't show you on TV.
3:40pm Hammock Hayden eating nuts
3:50pm Enzo explaining to the backyard how his hole is only so big and what he's trying to pass through it is much larger. Brit says it's like he's pregnant. Enzo goes on to explain the dimensions of his hole and the poo that is trying to pass through. Production calls a lockdown.. houseguests are pissed. Enzo goes on about his ass problems ""Its like a Stromboli is coming out of my A$$" everyone says that production will give him something they probably had to go get it.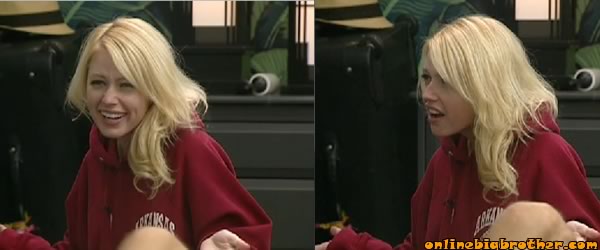 4:05pm Jamanji Room Brit and Ragan talking about the lockdown. They are thinking it has something to do with HOH. Brit mentions it'll probably be something they will set up and everyone can practice tonight. They joke about the HOH being tailored for B/r to win. Brit "it'll be questions like Build this enzyme" She says they always do a crap shot one like the golf ..shooting the ball thing but usually they do that week 5 or week 6 but lately they have been doing everything out of order…. Enzo walks in and tells them all about his inability to have a bowl movement "I'm pushing as hard as I can YO"

Onlinebigbrother.com is around because of your donation every year the site costs us to host the images and run the servers needed to handle the traffic. If you like the site then please consider donating to keep the madness going. Thanks!