1:55pm Backyard Pool Hayden, Lane and Brit Brit is sharing a story about when she was younger ans she knew these guys that would always brag about how much money and how tough they were. She went to a party at these guys house and decided to get the hell out of there but the guys wouldn't let them apparently the girls got pretty damn scared and tried to run to the car but one of the guys jumped in so they couldn't get away. Brit says her friend summer was trying to sneak out the bathroom window but these guys were really watching them they were trying to trap them. Eventually they were able to run away sneak out and "squeal" away. Brit says that even after they got away he guys were trying to contact them telling them to come back because they left there sweatshirt in the car. Lane shares a sexual story about meeting a girl and she took him up to her room and told him abou this spray that she has that numbs the back of your throat. So Lane tells her to go get the spray it could be cool. As it turns out they couldn't find the spray.. Lane was pissed off he doesn't think they had sex he thinks he just passed out.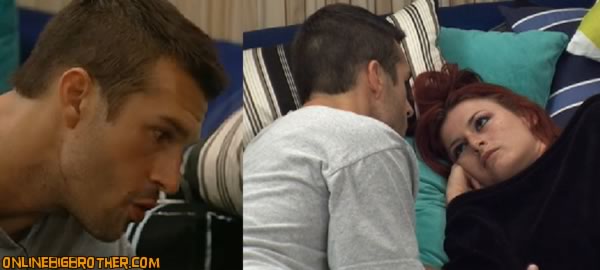 2:10pm Rachel and Brendon cabana Room Brendon is going over his talk with Andrew telling her all about the pep talk he gave him. Brendon feels like it not over yet for Andrew. Rachel chimes in that she's so pissed at Kathy right now she's about to go off on her. Rachel thinks they have a chance to sway Enzo's vote she wants them both to start working that angle (Yo meow meow ain't flipping yo). Brendon says they could get Hayden's vote but he is being controlled by Kristen, Rachel chimes in that thats why she wants Krsiten gone. Brendon and Rachel both think its stupid that Kristen tells everyone she has a man outside waiting for her yet she's screwing around with Hayden all the time. Brendon tells her he would of left Rachel alone if he knew she had a boyfriend doesn't think it is good of Hayden to do what he's doing… (these 2 are fucked if they think they can get haydens and enzos vote yo.. good for them 4 trying though) Brendon adds that the house meeting tonight is going to help there situation just like it did last week.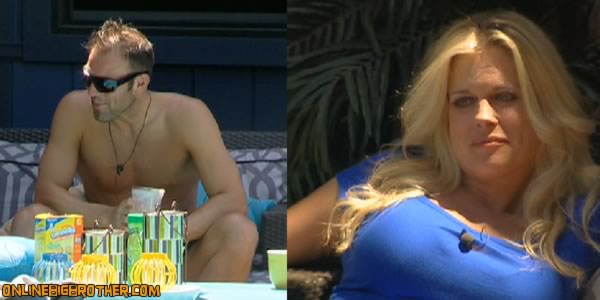 2:20pm Backyard couch Kathy and Enzo..yo Kahty isn't sure that Matt will save her if the vote is a tie. Enzo agrees he thinks it's kinda suspicious that Matt never put b/r up in the first place and now he's thinking he might cut kahty loose… Enzo points out that there is the possibility that Matt has something on the side with b/r. Kathy mentions how Andrew's been workign for votes lately.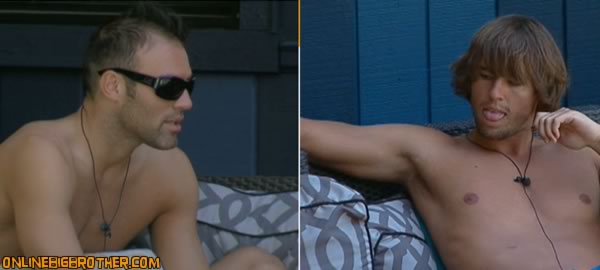 2:49pm Backyard Couch Enzo and Hayden
Enzo telling him there no fucking way he trusts Andrew thinks thinks the guy is crazy. Enzo doesn't think it's worth it even considering to keep the guy even if he really is after b/r cause you'll never know what he does day to day, he adds that KAthy isn't going to win HOH so they have nothign to worry about. Hayden thinks that Andrew is really coming after them otherwise why would Brendon be campaigning so hard to help him stay. Enzo thinks Andrew is close to b/r regardless of what andrew or anyone else says. Enzo is worried that Andrew is going to say something about Hayden and Kristen in hos speech or maybe something about another Brigade member. Hayden is Andrew is going to do it tonight during the "Meeting" Enzo makes a good point why they should keep him because Andrew does the dishes.