5:30pm Backyard Matt practicing with the golf clubs, Lane watching from the hammock A bunch of houseguests on the couch laying around. Theres little birds outside you can hear them on the feeds.. Lane tells MAtt that Brit has told DR about the little birds and they're getting rid of them. Matt doesn't think they will he calls it murder if they do.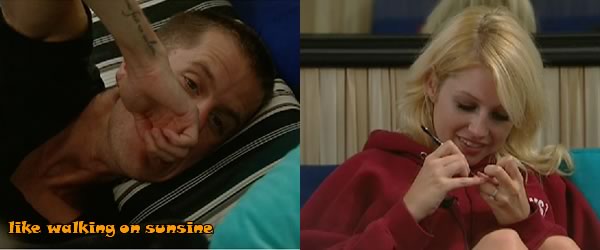 5:33pm Cabana room Ragan, Hayden, Kristen, Brit Brit tells them about her dog that ate a towel once. She says she had to induce vomiting in her dog cause it's such a small dog and it ate so much of her towel. Matt asks her how the fuck did her dog eat a towel. Brit explains that she was making somehting with peanut butter and wiped her hands on the towel minutes later it had eaten a huge chunk. She tell them about her friend who was trying to be a Broadway dancer and he had this belt that his dog (a pitbull) ate and the belt got wrapped around its intestines and died. Ragan brings up a show called "intervention" where there was this one girl that was addicted to huffing computer dusters every time she would take a huff she would say "Its like walking on sunshine" Matt there now he saw the same episode and they laugh. ragan continues tells them that he saw a episode about that same girl a year later and she's all cleaned up gained a bunch of weight and is doing well. Matt says "AHH now thats no fun" he's the only one that laughs out of the group… Brit says she say that show intervention once and they showed a girl who smoked black heroin.. or tar heroin. Matt goes on to explain to them that black heroin is basically byproduct crap and it bad for you. Ragan says "wouldn't it be funny if Rachel walks in here says I NEED A DRINK and starts downing the nail polish remover" I laughed so hard couldn't catch what comes next….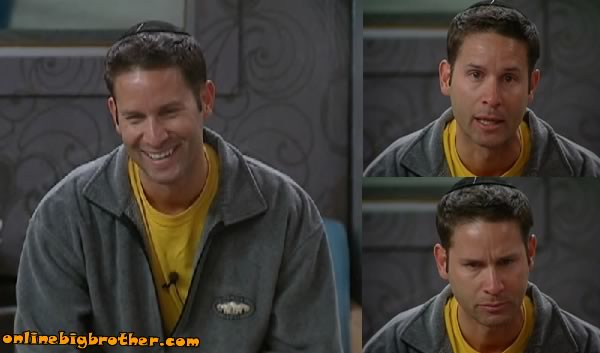 5:50pm HOUSE MEETING… Andrew sits in the centre of the living room tells Everyone that he's very sorry for losing it with Kristen this morning.. He understands she is close to Kathy and to some degree close to him. HE wants to apologize to rachel and Brendon for saying he's coming after them. he tells them he's so very grateful to be in the house and he knows that ever last one of them has sacrificed so much to be there. He explains that the week has been very hard on him, being on slop has caused him to act differently. He cries a bit and says he swears theres estrogen in the protein shakes because he usually isn't this emotional. He explains that he's a loaner and thats just the way he is. He tells them all he loves them and he now needs to go and pray. Everyone gets up and leaves hayden gives that house meeting a C and the last one an A (i give them both F for no fucking blood)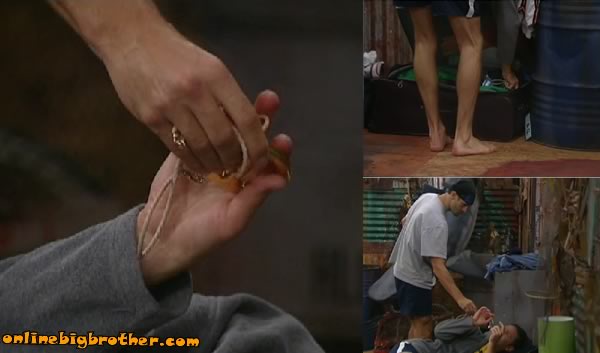 6:20pm Have Nots Room Brendon walks in and hands Andrew the POV says no matter what happens I want you to have this. Andrew says I can't take that they won't let me keep it. Brendon tells him yes take it.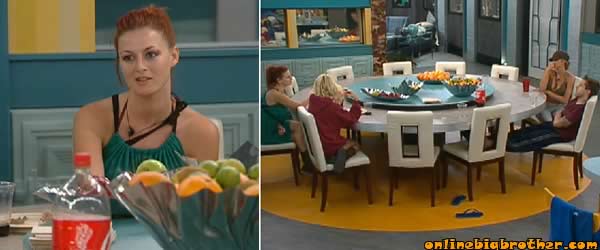 7:13pm Eating dnner.. Rachels talking about her ex boyfriends. Rachel "I like totally was in like love with him"

Onlinebigbrother.com is around because of your donation every year the site costs us to host the images and run the servers needed to handle the traffic. If you like the site then please consider donating to keep the madness going. Thanks!
Share it YO!!
Tweet