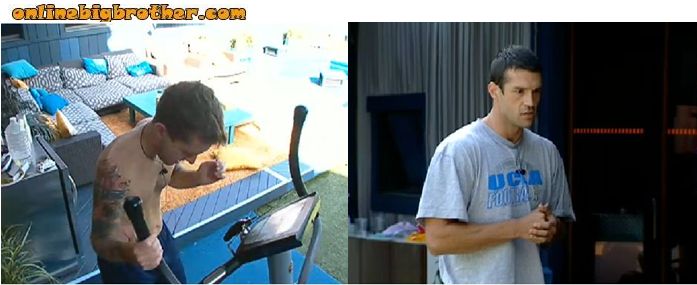 9am Matt is up, gets ready and then goes to the backyard to work out on the elliptical. Brendon is now up and comes out the backyard. Brendon says that he can't believe how people in this house show no loyalty. Brendon re-confirms his deal with Mat, where he won't put him up next week if he wins HOH. Brendon comment on how some people were saying yeah, we're going fight for HOH then during the competition and then they just took dives and jumped off. Matt tells him you just have to take it day by day, it is what it is. Brendon says that he understands this game changes day by day. Matt says that every other season by this time the house is usually divided but this season it's not like that. It's just different little small groups.
Brendon says that after watching the last HOH competition, he sees that people are just out for themselves and that's it. Matt says that this week coming up is important. Brendon says that several people here are two faced and he's going to fight hard for HOH. Brendon says that some people look at it like oh it's not me on the block, so who cares send whoever home, they show no loyalty. Matt mentions that after next week everyone goes to jury and Brendon says yeah he just doesn't want to be separated from Rachel. Brendon says that it's a shitty situation, one of us stays the other one goes home. Matt says yeah… why are you up so early …shitty sleeping situation? Brendon says yeah. They talk about being gassy and Brendon says that its hard to be romantic when your all gassy and farting. Matt says yeah.

SEE what they CAN'T show you on TV! 3 Day FREE Trial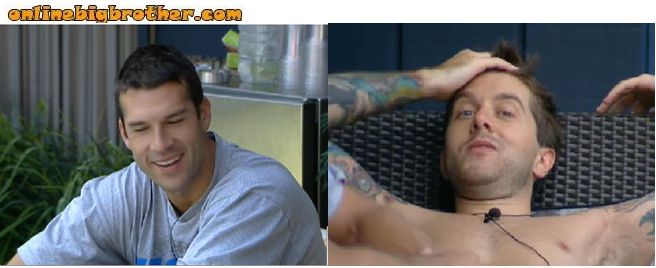 9:30am – 10am Brendon goes inside to get a cup of coffee and then comes back outside. Matt is finished on the elliptical. They sit on the backyard couch and talk. Matt says that he appreciates Brendon and Rachel not putting him up on the block next week. Brendon says thanks to Matt for not putting him up this week.  Matt and Brendon discuss the other peoples motives in the house.  Matt says that some people are here just to win something like some cash or a car, but that he is here to win the whole thing.  Brendon agrees and then goes off again about people being so obvious in throwing competitions.  Brendon says that Kathy is trying to pull on the houseguests heart strings. Matt says yeah, and it is one thing to say you want to be here and it's another thing to show that you want to be here. Matt says it's a mental game and if you tell yourself you can compete then you can! Brendon agrees. Brendon says that when Kathy was telling him her sob story he was thinking to himself I know, but Matt has the same sob story. Britney joins them on the backyard couch and Matt says that it was so awesome watching her get drunk and dance topless on the table last night. Britney says yeah, right! They laugh. Rachel comes out to the backyard and jumps on the elliptical. The other houseguests are getting up for the day, making breakfast and getting ready….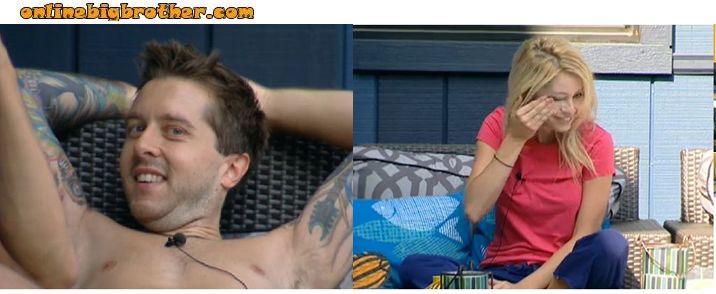 Onlinebigbrother.com is around because of your donations. Every year the site costs us to host the images and run the 3 servers needed to handle the traffic. If you like the site then please consider donating to keep the madness going. Thanks!