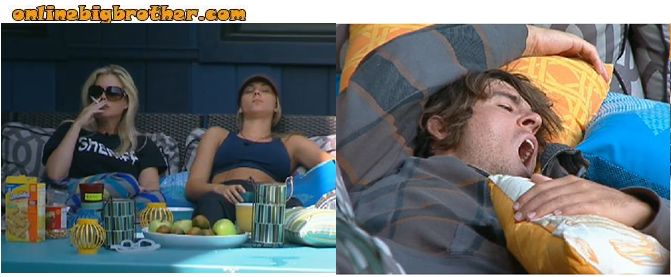 SEE what they CAN'T show you on TV! 3 Day FREE Trial
10:45am Out on the backyard couch Kristen and Kathy are talking. Kristen asks Kathy what's going on? Kathy tells her that her and Hayden are really the only two people that she trusts. Kristen says she knows. Kathy says that Rachel told me she would give me her vote, but that Brendon said no to her getting his vote. And that now there is this new found friendship between Rachel and Britney. Kristen says yeah. Kathy says that she is not saying this because she doesn't want to get in the middle of anything, but that she is just letting her know. Kristen says for protection reasons. Kathy says yes, well that she told Britney last night that you and Hayden have some sort of relationship. Kristen says oh really. Kathy says I am just telling you. Kathy says that was wrong, and that it bothered her, because she told Britney that, and if she and Brendon win HOH Britney will be the second one she pulls out of the block. Kathy says that it just blows my mind. Kristen says she said that about me? Kathy says no, she said that about Britney, that Britney would be safe. Kristen says oh! Kathy says that she was trying to say that you and Hayden have a relationship and that Brendon and Rachel aren't the only couple in the house.
Kristen interrupts Kathy and asks How so? Kathy says well, I said that wasn't true. Kathy says that Rachel said that she is going to vote for me (Kathy), so she is taking a risk by even saying anything to Kristen. Kristen says that she isn't going to say anything. Kathy says thank you, and that it's amazing, how an un-found friendship came come up. Kristen says that she won't say anything. Kathy says that it pushed a button of hers, why would anyone even say anything like that? Kathy says that it is just amazing how Rachel would do whatever it takes to keep them here, ..but you don't make something up about other people. Kristen says yeah, especially like what proof does she have ? …none! Kristen says none? Kathy says it is like saying you and I have a relationship.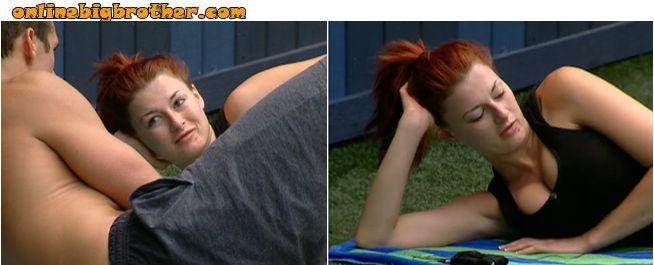 11:30am In the backyard Brendon and Rachel are talking. Brendon says that he knows Kathy is a genuine person and feels bad about sending her home because they are in a shortage of good people. Brendon says that he feels bad for Kathy because he thinks that Monet and Britney laid an emotional trap for Kathy and she fell right into it. Rachel says that she likes Kristin as a person, but that she thinks she is dangerous.They start talking about Britney. Brendon says that he doesn't understand how Britney is the way she is. Brendon says that maybe he doesn't understand Britney because he doesn't come from an entitled background. Brendon says that he can't believe Britney doesn't have more respect for people, especially since she is so well traveled and has studied other cultures. Brendon says that maybe it's because Britney reminds him of how his ex-girlfriend was with her family. He says that they had money and felt like they could buy their way out of things.

12pm Andrew and Britney talk about Disneyland and Disney cruises in the backyard.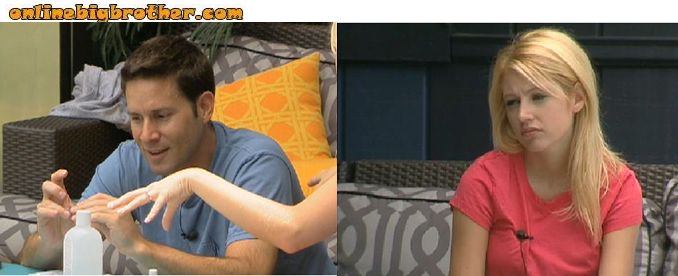 12:30pm – 12:45pm Kathy, Rachel and Kristen are all in the bathroom getting ready for the day… Rachel says that she would love a waxing kit. Kristen says she doesn't do it herself because she isn't good at it. Rachel tells Kathy and Kristen that she gets her whole face waxed because she can't stand hair on her face. Rachel says to Kathy isn't it crazy that Farrah Fawcett died last year from cancer. Kathy says yeah. Rachel asks what time of cancer she had. Kathy says that she thinks it was rectal cancer. Rachel says isn't it crazy how competitive people can beat that …like super competitors. They then talk about surviving cancer and losing their hair.