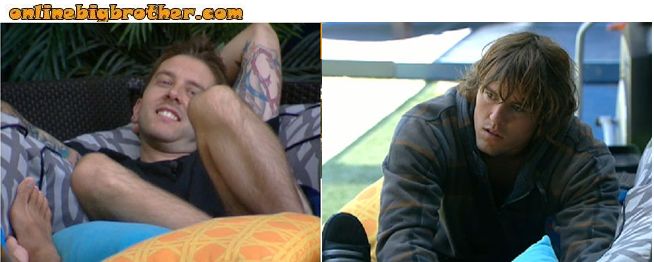 SEE what they CAN'T show you on TV! 3 Day FREE Trial
12:15pm Matt, Hayden, Lane and Enzo are talking on the couch about Rachel being drunk last night. Enzo tells Matt that Rachel was running around slamming doors, getting mad at Brendon and saying that she should not have voted out Monet, that she should have voted Matt out of the house. Matt laughs and says its going to be a good week for a backdoor. Hayden asks Matt if he is going to back door Brendon or Rachel. Matt say uuuhhh…I dunno Brendon… what do you think. Hayden says that he thinks it would be good to have Brendon nominated. They question if Britney won the POV if she would use it. Matt says that she would because she just told him that she wanted them out this week. Matt says that to not have them up on the block there is a chance the they won't be able to play for the POV, and no one would pick them for the houseguest choice. Hayden worries that both will play POV and one will win. Matt says no way! Matt says that if he nominates Rachel and Brendon wins the POV then neither of them are on the block and we're fucked. Matt says one of them is going home this week. Matt says that there isn't even any need to tell people to use the POV because he says that everyone wants Brendon and Rachel out. Enzo says yeah if one of them goes home it would look like such a dirty nasty plan …but if they don't we'll look like total fuck-ups.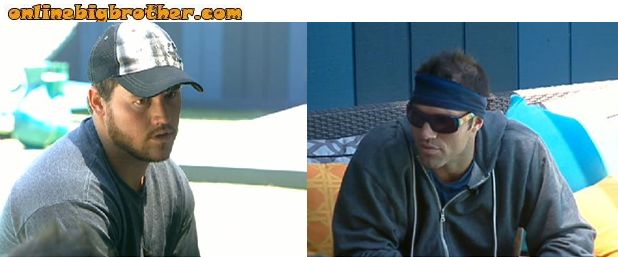 12:50pm – 1:30pm Matt talks to Lane about the conversation he had with Rachel and Brendon earlier. Lane asks if Ragan will be fine Brendon or Rachel leaving this week. Matt says that he had a talk with Ragan and he understands because of the way they treated him (Matt) last week. Big Brother calls for an outdoor lock down and all the houseguests come out into the backyard. Enzo and Ragan are working out while Rachel watches. Andrew and Kristen are on the lounge chairs. All the other houseguests are on the couch. Andrew asks Kristen if she got a modeling contract after how far she would go…? Kristen says what do you mean.. Andrew says UMmm.. never mind ..like sports illustrated or something… Kristen says Oh.. swimsuit is the furthest I'd go.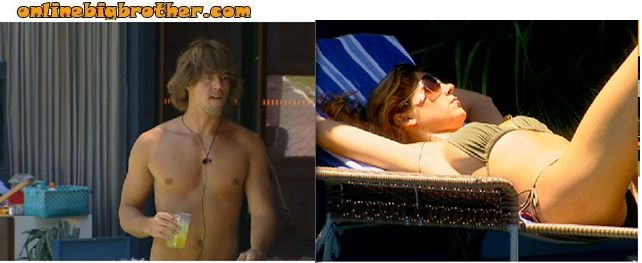 2pm The Have nots get their food choice for the week and it is Bok Choy and Baby Food which includes baby cookies and rice cereal. Rachel and Britney start cleaning out the fridge and wanted to move the baby food outside because it was taking up too much room. Andrew pissed off because that is all they get to eat and he wants his baby food cold. Rachel wanted a compromise but Andrew got mad because he doesn't have that much food he can eat because he only eats kosher food.




2:30pm – 3pm Brendon and Rachel are talking in the bedroom that he's not trying to side with Andrew. Rachel just wanted Andrew to compromise. Rachel says fine, I'm a bitch, I'm sorry. Brendon says no you're not. I'm just trying to explain to you why Andrew overreacted. Rachel says that she thinks that Andrew doesn't like her and starts to say this isn't the first thing Andrew's .. Brendon says Andrew is oversensitive in a lot of ways. He wants to talk to Andrew to make sure he's not upset with Rachel. Rachel just wants to drop it. Rachel felt like she just didn't want to waste food. Brendon says it's disgusting how much food is wasted in the house. Brendon says that he just wants to explain how Andrew feels, he says that Andrew doesn't have much in this house. Brendon says that he wasn't siding with Andrew. Rachel says it's not even worth her time to talk about it anymore. Rachel feels bad for Brendon being a have-not. Brendon thinks that a lot of people in the house don't know what it's like. Brendon says that he really doesn't like people being fake and throwing competitions. Brendon starts asking Rachel about how is is in her real life and whether she drinks every day. Rachel says that it's a part of her job. Brendon says that he is just worried about her health.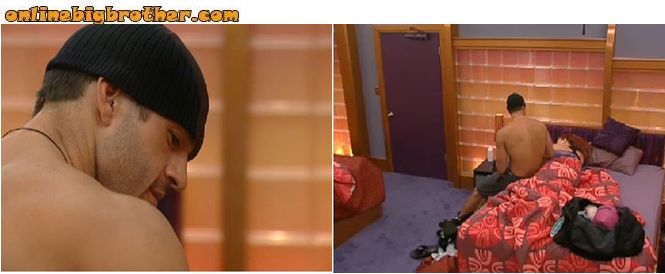 Share it YO!!
Tweet