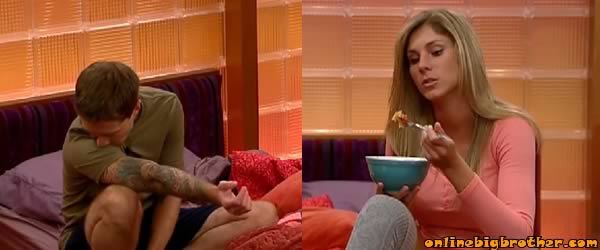 8:00pm Taj Room Kristen and Matt She telling him that Brendon is voting to keep Andrew in. Kristen tells him that Kathy asked her to talked to you and to find out where you think the vote is going. Matt says he wants Andrew to go home. He goes on to explain his entire "Plan" for this HOH. He was wanting to take out brendon at first but brendon winning POV kinda put a end to that. He admits he botched the job, "I wanted to cut off the head not the tail of the beast". Kristen admits that at first she was thinking of keeping Andrew but in light of everything that is happening her vote is with kahty to stay. She brings up how badly she wants to win HOH. Matt says the entire house has that same mentality right now. She says she can;t understand why people pray for sport games she thinks that it's terrible people down on their knees praying for football games, but she really is praying that R/B get sent home this week. Matt says he doesn't want both B/R in the jury house because they'll be talking mad shit in there trying to sway votes. They both agree that it's sad Andrew is going to be going home, Matt says it's all becuase of the head games R/B played on him. Matt says Andrew told him he has 4 votes, Kristen thinks it's more like 2. kristen tells MAtt that She is going to keep with the story to Andrew that he has her vote but she is very much going to vote to evict him. Matt: "unsolicited 5 people have come up and told me that Andrew is with B/T and this entire POV speech was Bullshit".."thats 5 votes to evict Andrew" Kristen tells him that there still a lot of time left and that people change their minds quickly in this house, 'Today is testimony to that". Rachel apparently asked Kristen today


who she would put up if she won HOH. Kristen told her she didn't know because of the chaos today. Matt tells her he's going to keep Kristen in the loop because he thinks that her and Hayden are on the shit list. Kristen knows she's certain that she'll go up if B/R win HOH. matt tells her if they can get Brendon out before the jury house Rachel will be so heart broken she'll probably volunteer to leave so she can spend the summer with him.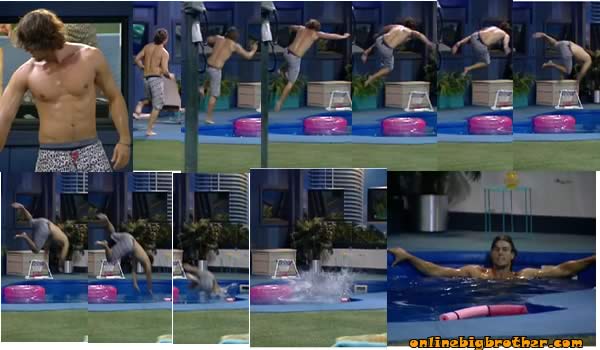 8:50pm all four cams, hayden, Ragan, Lane, Kristen and Andrew.

Onlinebigbrother.com is around because of your donation every year the site costs us to host the images and run the 3 servers needed to handle the traffic. If you like the site then please consider donating to keep the madness going. Thanks!