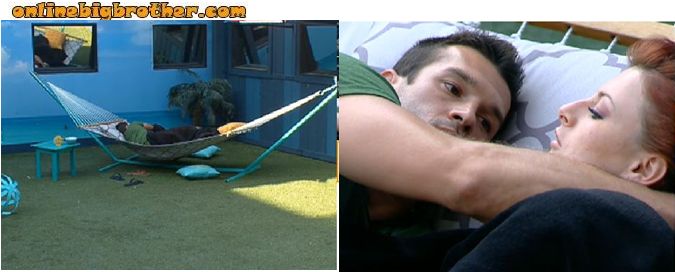 SEE what they CAN'T show you on TV! 3 Day FREE Trial
5:25pm Brendon and Rachel are talking in the hammock. Brendon asks if Rachel is still mad or if she is just trying to be. Rachel says that she is still mad. Brendon says well at least your honest. Brendon says that he likes her too much and doesn't like to see her upset. Brendon says everything I am doing I do for you and I. Rachel says then why am I not included. Brendon says you are …I just couldn't talk to you right before his speech. Rachel says please just talk to me first. Rachel then says that her and Britney are on the same page about Kristen. Brendon asks you are? Rachel says fuck yeah they are they both don't like her. Rachel says that they both want Kristen to go home. They talk about how no one wants to have blood on their hands. Rachel says that Enzo, Britney, Hayden and Kristen …all don't want to win HOH. They like being stuck in the middle without having blood on their hands. They talk about who's on their side and who they can trust. Brendon says the only one he really wants to take out now is Hayden. Rachel says that she never wants to talk about that ever again!! Brendon says okay. Brendon asks Enzo if he wants to play a game of pool. Ezno yells back it's hot over there old man.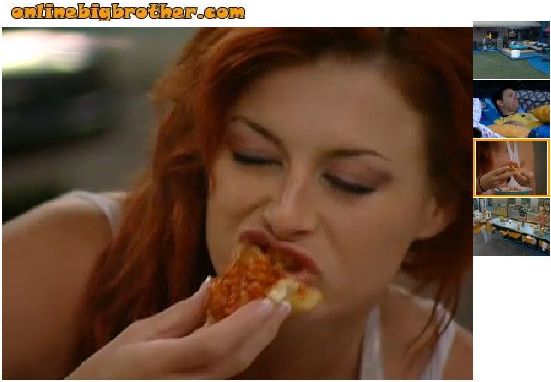 5:45pm Rachel and Kathy are alone in the kitchen. Rachel says sorry about earlier. Kathy says it's okay as long as it wasn't something I did to you. Rachel says no … its just when someone is being really stupid it makes me mad. Kathy says don't think nothing about it sweetie. Words are just words and people use them to hurt people. Kathy says that she hasn't heard anything other than what Andrew said earlier. Rachel says first it was Annie, then it was Matt and now Andrew.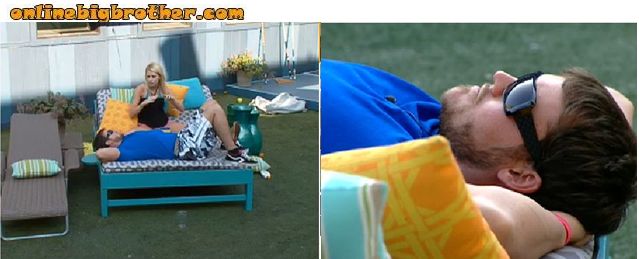 Lane and Britney are talking on the double lounger.  They are talking about Hayden… Lane says that Hayden doesn't have a personality, that he has a dry sense of humour.  Britney asks if she has a dry sense of humor. Lane says no, you can just be bitchy.  Lane says you have good come backs. Britney says that she doesn't want to be portrayed as Miss Prissy.  Britney says that she goes fishing and hiking and she used to play in creeks, catch tadpoles and kill stuff.  Britney says that she is not pink nail polish and tiaras, she is cool and I don't want to be prissy.  Lane says that he doesn't think she'll be portrayed as prissy.  Lane says that he will be portrayed as a hard ass because he pushes her to do stuff.

6pm Brendon and Rachel are at the kitchen table talking.  Brendon says he wants to say something but they are on TV, he then whispers something to her and she says BRENDON!!  Brendon then tells her that he loves her!  Brendon tells Rachel that he doesn't like to over use the L word because it loses some of its weight and meaning. Brendon says he doesn't like to have to say it all the time, that it means more when he doesn't hear it every few minutes.  Britney comes into the kitchen and tells them that it looks like they are having eye sex.  They laugh.

6:35pm Rachel and Brendon are in the lounge room.. giggling and making out.  Kathy comes in and straight up asks Brendon if he is going to send her home.  Brendon says that he doesn't know what he is going to do yet.  Brendon says its hard after what Andrew said.  Kathy says that she thinks she should stay after what Andrew said.  Brendon asks her if she has been told by people they will vote for her to stay.  Kathy says no … just Rachel and Kristen have told me that they will vote for me. Rachel and Kathy are giving themselves pedicures. Brendon gets up to leave. After he leave Kathy says that she tried asking Brendon and won't try asking again. Kathy says that she wishes Rachel good luck. Rachel says that she just doesn't know what Brendon is thinking… then says that she can't talk about it … and doesn't want to say anything else. Kathy asks if Rachel would change her vote now? Rachel says that she doesn't want to say anything bad about Brendon.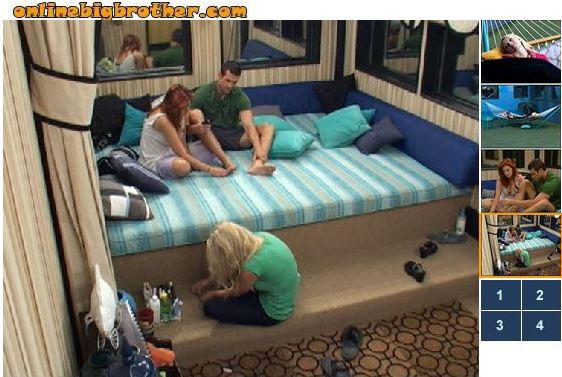 Onlinebigbrother.com is around because of your donations. Every year the site costs us to host the images and run the 3 servers needed to handle the traffic. If you like the site then please consider donating to keep the madness going. Thanks!
Share it YO!!
Tweet