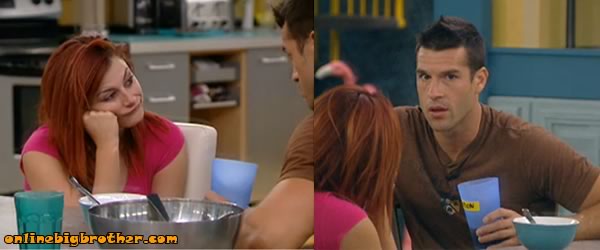 9:12pm Kitchen Brendon and Rachel They are discussing the POV competition, Whispering so the rest of the houseguests in the Jumanjii Room can't hear them. They're not sure what to think of Hayden's actions during the POV competition. Hayden took the veto from Kristen during and they thought it was kind of strange because it allowed Brit to take the POV from him. Brendon thinks Hayden may have been wanting to get a better prize becuase he knows he's safe against most people in the house that or he thought Brit would of kept her prize. Rachel says it all showed us that Hayden is really playing for himself, they both agree that he is greddy and kind told everyone that Kristen is expendable. Brendon says he wants to talk to Ragan but he knows Ragan talks to Matt and Matt is dangerous. Rachel tells him that she's going to spend some time with britenay and try and figure out where her trust level is with her.

FREE Live Feeds! Superpass 3 Day FREE Trial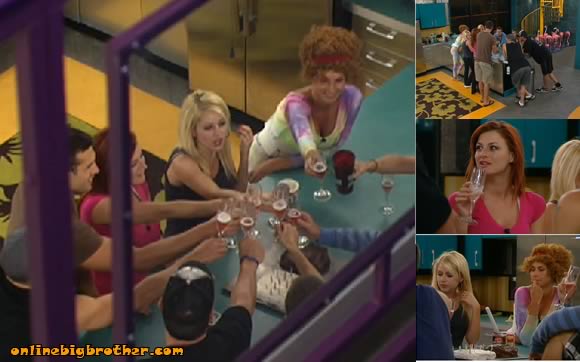 10:04pm For he's a jolly good gremlin

10:15pm Matt's party going on in the kitchen.. Hayden in confinement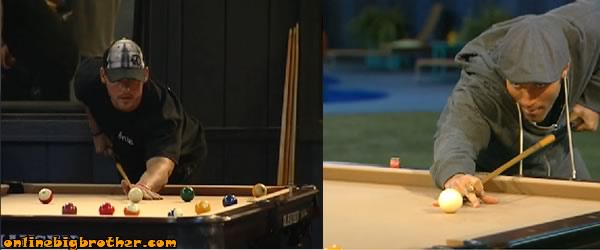 10:24pm Pool Table Lane and Enzo Enzo talking about how good that German beer was. Enzo asks what the fuck were they talkign about.. Backdoor? Lane says he heard they were talking about taking kristen off. Lane says he had talked to brit earlier in the day and she was asking him if he thought that kathy and Kristen would try to get her to use it. He told her sure they will she replied no fucking way will I use the POV. Enzo says he was talking to Hayden through the wall and hayden was worried about things outside the have nots room, worried about what kathy was saying. Lane tells him that he was talking to Kathy and she said that B/R want to backdoor matt ot me. Enzo what the fuck does kathy know yo. Lane if i find out they are coming after me i'm going to go off. Enzo "yeah me to yo".. Enzo: "Kristen was up there for a while with tthat Bitch.. what were they talking about"
10:45pm Have nots/Jumanji Lane and Enzo yo hayden telling him he's starting to think about next week. This week Kristen is gone there isn't anything they can do about it without losing a Brigade member. Next week Hayden is going to approach B/R and tell play the "I have no One card" He's going to tell them he's alone, that they need him, and if Brendon win he won't out hayden up. Once he can get brendon and Rachel to be his friends he's going to influence them to not put Lane up if Brendon wins HOH. This is going to distance himself from the brigade a bit put should keep them safe. He thinks the B/R will be after Matt. Hayden asks him to keep what he's doing a secret, "I hate talking to the wall man" Lane "no Shit" Lane wants to bring the brigade out soon he's sick of Brendon it's killing him. Lane:"He's walking around with her like their the shit" Lane wants to go up to brendon tell him to fuck off say where 4 in the jury house
Share it YO!!
Tweet