12:50pm Lane, Hayden and Kathy are making chicken salad.

1pm Enzo and Ragan have a quick talk in the have not room about who they should vote out this week.  Ragan says that he lives by the golden rule, and to do the honorable thing.  Enzo says that he was talking to Brendon this morning and it seems like everyone is on the same page to evict Kathy.  They talk about how they think the best thing is to get out the people that aren't good competitors.  Enzo says that Brendon said he would look like a hypocrite if he didn't vote out Kathy because he has been saying all along about getting out the weak players.  Ragan says that he feels bad but that it's the best option to vote out Kathy.  They both agree that Andrew deserves to stay more than Kathy does.  Their conversation end and they leave the have not room.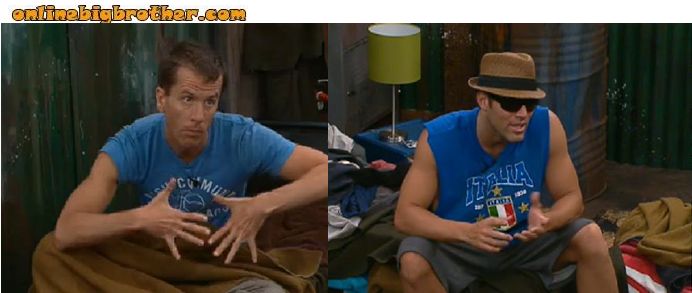 1:15pm Ragan and Andrew are out in the backyard. Andrew is in the pool pushing around the rubber ducky with his head resting on it and pretending to shoot things.  Ragan is lounging in the lounge chair beside the pool.  They are talking about being a have not and can't wait for it to be over.  They speculate on when the next have/have not competition will be and both agree it can't come soon enough. Ragan says that he thinks there will be a luxury competition on Friday where the winners will choose the have nots for the week.  Ragan gets up and joins Enzo on the backyard couch. Enzo complains that he is stuck eating crap and they're eating chicken salad in there.  Enzo says that he needs to get off being a have not.  Ragan says that he thinks people will be fair.  Enzo says that those people who haven't been a have not should step up.  Enzo says that he doesn't care if its one week on and one week off …just give him time to replenish.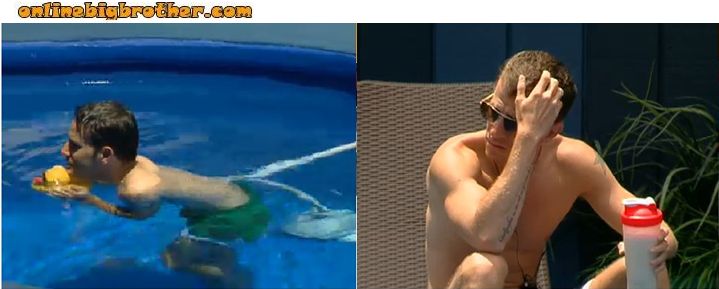 1:30pm Andrew is floating in the pool with his legs up on the edge of the pool.  Kristen is putting on sunscreen and laying out on the lounge chair near the pool.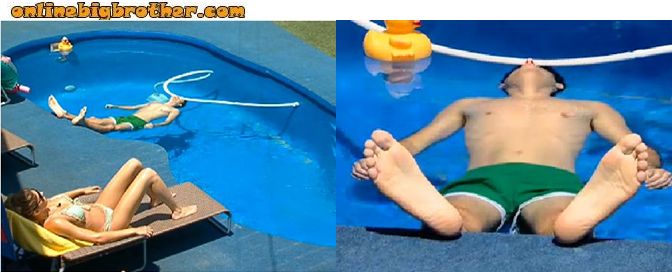 1:45pm Rachel and Britney are lounging on the double lounge chair talking about mini-mart food stores and all the food and drinks they love to eat from them. Matt starts burning ants with the magnifying glass and just as Britney says we're gonna get a Matt stop that from Big Brother… the live feeds cut to the we will be right back screen.

Try the Live Feeds for free! Superpass 3 Day FREE Trial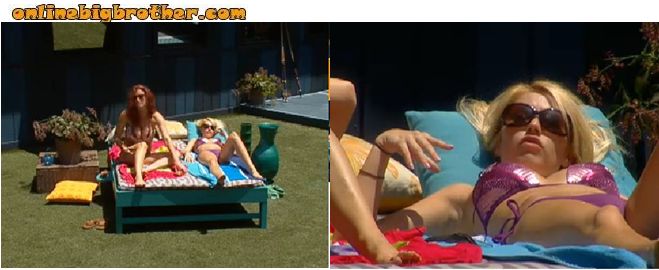 2:10pm Ragan, Lane, Enzo and Matt are hanging out on the backyard couch.   Enzo says to Matt stop touching me. Lane asks are you guys holding hands over there?  They start talking about winning HOH.  Lane says that he isnt sure who would be in his pictures.  He thinks a bug one with all his family together.  They ask him who would write his letter and he says that all of his family would probably write it.   Rachel and Britney are talking about when they thought they would be married and have kids.  Britney thought that she would be married and have kids by the age of 22.  She says that she wants to be married for 2 or 3 yrs first before she starts having kids. All the houseguests are just hanging out in the backyard and talking about random stuff…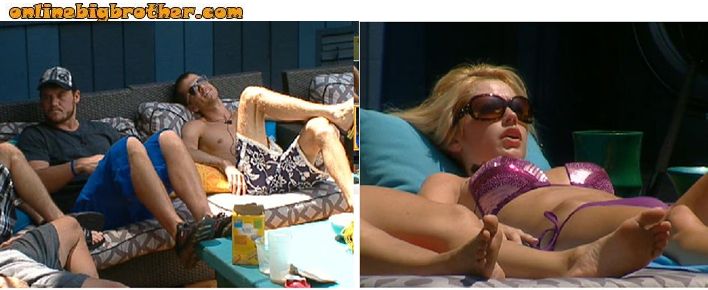 2:25pm Rachel and Brendon are sitting on the lounge chair talking. Rachel names off a bunch of things she wants to change about herself… like vinears, botocs, and lazer hair removal…. Brendon tells her that he doesnt need any of that and that he likes her the way she is. Brendon then asks her if she moves to hollywood is she still going to get all of that done. Rachel says of course she will. They talk about taking a vacation together once they get out. Brendon then starts talking about his schooling …



Onlinebigbrother.com is around because of your donations. Every year the site costs us to host the images and run the 3 servers needed to handle the traffic. If you like the site then please consider donating to keep the madness going. Thanks!
Share it YO!!
Tweet