11:30pm In the jumanji room Lane, Britney and Enzo are talking. Enzo says that he lets his wife pay for every thing because he is so broke. Britney says that with her last boyfriend she always paid for things. She would always pay for groceries or at least half. Britney says that with Nick they just alternate each week. Lane says that he is always the one to pay for things and that with one girl he dated they used to fight because he wouldn't let her pay. Lane says that he is they type of person to just show up with a new tv for you.. Lane says that he is the type of person that would rather buy something for someone else than buy something for himself. Britney says that she like to buy little things for people. Lane starts talking about Steamboat and says that you have to watch your stuff because people will steal your stuff. Like if you have a nice jacket …it will get taken. Britney says that where she is from you could leave your purse in your front seat of your car and no one will take it. Enzo says that where he is from you don't even have to put stuff down and people will take it. Britney says that at a bar you can just leave your purse on your chair ..there are not coat checks … Enzo says that you have to watch your money even if you just got a drink at the bar and your watching a game and your change is on bar if you go to the washroom …it will be gone.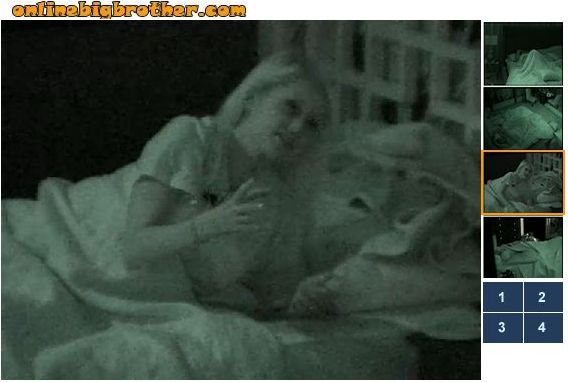 Britney says that in Arkansas you could leave $2000 on your front seat and nobody would do anything about it but in Little Rock they will break into your car. Enzo says that in his town they break into steal tom toms. Britney tells a story how one time her mom left her purse in the cart at Walmart and they drove away and fifteen minutes later realized that they forgot it and went back and it was still sitting there. Britney says that in Arkansas no one steals anything.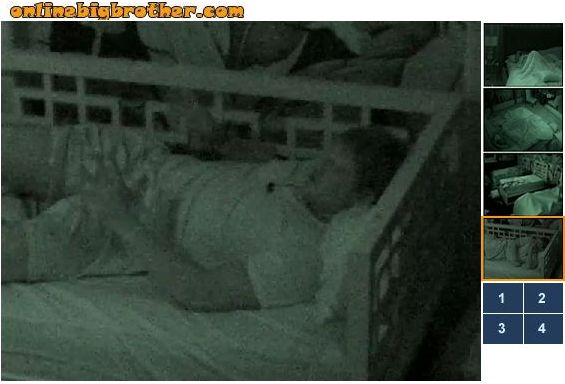 Watch the last couple weeks of BB12 on the Live Feeds!
Plus get the first 3 days FREE!

Lane says I had my whole car stolen. Lane says that at his dorm there was a patch of grass and they were practicing and all had their keys in a pile. Lane says that there was this one kid that had problems cuz he was in a wreck a long time ago and he left early and that he had been sitting near the pile of keys and Lane says that he didn't think anything of it. Lane says that he went over there and was like damn my keys are gone …but that he was like alright ..I have a spare. Lane says that he locked his car and the day after the next day .. HE stops and says oh actually we thought the kid took my keys so we waited and watched from my buddies room so that we could watch my car. Lane says that they lights flashed to unlock the car and there was like one black dude and three other kids over there next to him, so we darted back down there and went up to them and said where are my keys what did you do with them? Lane says that they threw something in the grass … Lane says that they bitched them out tried to frisk them and they called the cops. Lane says that the cops came and said what are you doing you cant just frisk kids on your own and Lane said that he has my keys. This dude is about to steal my car. Lane says that the cop was like well you have no evidence and its your word over his. Lane says that the cops didn't search the kids for the keys and they kids went off…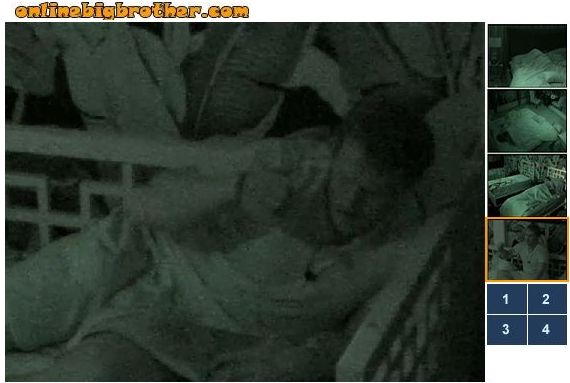 12am – 12:10am Lane says that a couple days later he was away hunting. Lane says that where he was hunting there was no cell phone service and when he got back into town he had like 15 voice mails asking if he had his car and then telling him that they think someone stole his car. Lane says that him and four other guys grabbed the one kid they suspected had stolen his car and took him to a room on campus and ….(Big Brother cuts the live feeds) When the live feeds come back Lane says that he got his car back and there were two machetes in the trunk and a bunch of his other things in it because the kid was living in his car. Britney asks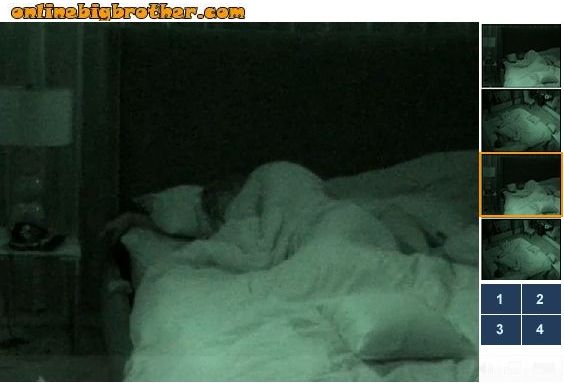 Lane what kind of car it was. Lane says that it was a Chrysler 300. Britney asks if it was covered by insurance and Lane says yeah. Britney asks him what he did with it after. Lane says that he traded it in. Britney asks what for? Lane says for another 300. Both Enzo and Britney talk about how nice Chrysler 300's are… Enzo talks about how his dad's car that got stolen once and that he had just gotten it. Enzo says that they suspected his of insurance fraud because it was a car that couldn't be stolen with out a special key. But that they eventually sided in his favor. Lane starts telling a story about how in high school he took a girl to this spot to do it … Big Brother switches all four cameras to the HOH room where Hayden is sleeping…

12:30am – 12:50am The cameras switch back to the jumanji room with Britney, Lane and Enzo. Enoz is talking about comedians and staying up all night downloading different comedians and laughing all night. Enzo goes to the storage room and grabs a bag of chips and then comes back to bed. Enzo asks them what their high schools were like. Lane says that his high school was all about sports. Enzo says that in high school he used to get high before, during and after school. Britney isn't saying anything. Enzo says that he was a bad student in high school and wishes that he had hit the text books like 10% more … because he was failing courses left and right. Lane says that he was always taught that all he needed to get were C's in high school and he figured if you were good at sports and big ..that you could go straight through college. Lane says that he got into trouble in college because SAT stuff kept coming up and he didn't know any of it. Enzo says that he tried to go to college and kept failing because he didn't know how to write reports. Enzo says that people used to do that shit for him. Lane asks Enzo if he got all of his stuff out of the have not room. Enzo says yeah. Lane says because they're going to be locking it up soon. They talk about how its day 64 in the house. They are excited for the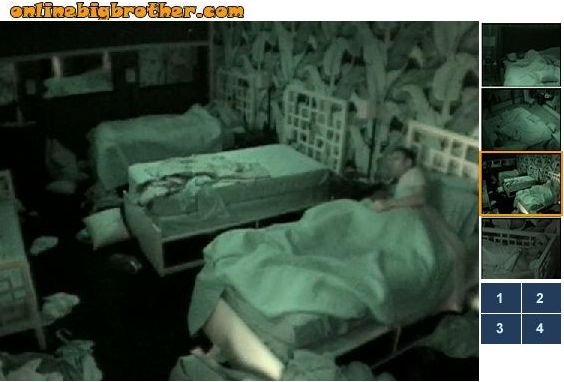 POV competition tomorrow. Enzo says that he can't believe they all hid their stuff in the kitchen. They talk about how Big Brother had to keep giving them hints and they still didn't get it and questioned it. Big Brother told them that the coins were not in the cupboards and so they were asking if they meant drawers too. Enzo says that big brother told them that they weren't in the fridge so Enzo was like …so they're not in the cool whip or ice cream? Britney laughs and then joins in the conversation. Enzo says that Hayden saved Britney's life for sure by taking the garbage out into the backyard because he figured if Hayden went through it then there was nothing in it. Both Lane and Britney agree. Britney says that if Hayden hadn't taken the garbage out into the backyard one of them would have gone through it again and found her coin. They start talking about what will happen after the show ends if they are paid to do other events and interviews. Enzo is asking if they are done after Vagas?! Lane and Britney tell him that they might have other stuff in LA … like interviews with Oprah, Jay Leno… Lane says that he is taking his mic off so don't talk to him. Enzo asks how can you guys go to sleep so early. Enzo is still eating chips Britney says you're still eating chips?! Enzo asks them again …so you guys are really going to sleep?! Neither Britney nor Lane say anything. Enzo asks so what are you jerking off over there? Silence… Enzo continues to talk and no one replies so he rolls over and says to big brother …shut off the lights!!

SEE what they CAN'T show you on TV! 3 Day FREE Trial
1:30am Enoz is tossing and turning … Britney, Lane and Hayden are sleeping….

1:50am All the house guests are now asleep..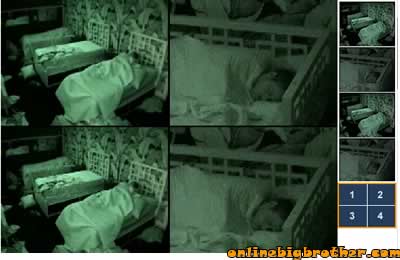 6:50AM All Houseguests Still Asleep

8:55am No wake up call yet… they're all still sleeping..