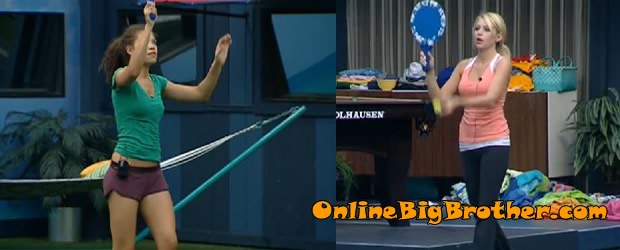 7:18pm July 14th Backyard Britney and Monet play badminton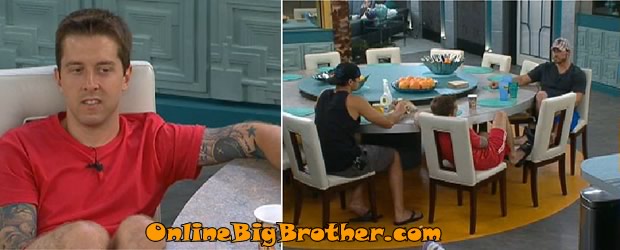 7:20pm Kitchen Lane and Brendon. Lane is telling him about his house in texas he says he lives in a retirement community it was pretty cheap. Brendon asks if he has a Home Owner Association. Lane says of course I do it's a retirement community. Brendon tells him that he's wasting his money on something like hat. Lane agrees they have all these rules that make no sense, like he can't have his laundry hanging out in the open and he can't park on the road. Brendon asks what happens if he doesn't listen. Lane says he got a ticket once for 900 bucks. Lane is planning on moving when the show is over.. he really likes his place but hates the HOA. Brendon talks about the housing bubble and how people mortgaged too much. Matt joins them and Lane proceeds to tell them about this land he owns that they call "Dead Man's Pasture". Matt asks why. Lane explains that a family was found dead in the back of a truck once in the field. Matt asks him about life on the ranch.. Lane says he doesn't know but he knows about cutting off bull balls. He explains that they wrap a thick rubber band around were the balls meet the body and after a couple days the balls just drop off and are collected. Brendon says he heard that Bull unit is worth a lot of money. Lane says not really the steer is worth a lot because there huge.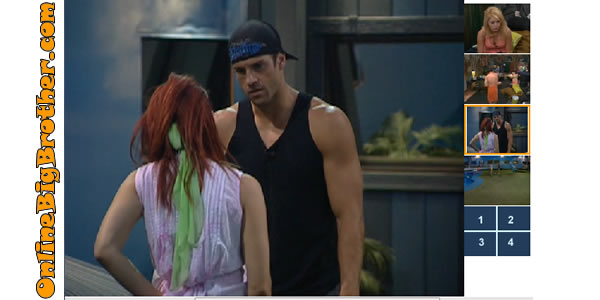 8:20pm Backyard Brendon and Rachel, Brendon is pissed at Brit and Monet.. he says the do shit around the house and when people do things for them they never give any thanks, he calls them spoiled and lazy. Rachel agrees, Brendon tells her they need to win HOH and put them both up and they need to convince the house to see Monet and Brit the same way they see them. Brendon is getting pretty steamed about this. He says just as roommate these girls suck.. he's also a little worried they will be going after Rachel and Him becuase they see them as a threat. Rachel just listens and nods.. they both continue to play gold while Brendon reiterates everything a couple times.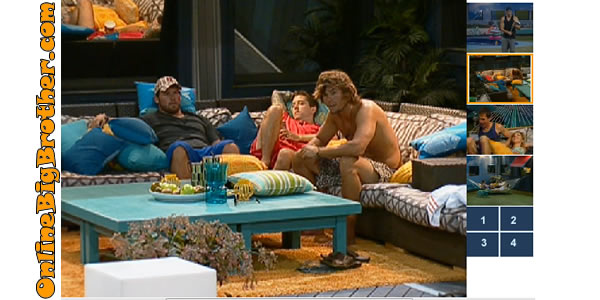 8:30pm Couch Matt, Lane and Hayden, LAne says Brendon is not athletic guy at all you can tell an athletic dude and brendon is not.. he's smart and he works out but he's not a athlete you see… watch him swing that club "hahaha"Hayden points out Enzo is more athletic but Brendon is smart so is more dangerous.. Annie joins them and Lane gets up to go .. as he leaves he pinches her and tells her to hit him back.. she says not. he says stop being such a little girl and hit me… she refusing both of them giggling.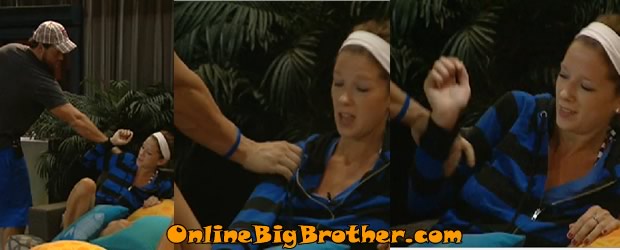 Onlinebigbrother.com is around because of your donation every year the site costs us to host the images and run the 3 servers needed to handle the traffic. If you like the site then please consider donating to keep the madness going. Thanks!