SEE what they CAN'T show you on TV! 3 Day FREE Trial
10:50pm In the backyard Hayden and Lane are sitting around the hot tub talking. Lane says that he will experience all three final HOH competitions. Hayden says that he doesn't think that he'd do very well at the faces competition because he isn't that good with faces. They talk about what the trips that they missed coming into the house. Hayden says he missed a San Diego beach house trip this summer. Lane says that he missed a river trip that he does every year. Hayden and Lane talk about being called the Beast and the Animal. Hayden says that he wonders if they will get called back for Big Brother allstars. Lane says that they have to we are the best alliance ever. Lane goes inside to get two more beer and Hayden talks to the camera. Enzo is in bed in the jumanji room. Hayden says wow I made to the final two maybe… . Lane comes back outside.  Hayden and Lane make hotdogs and throw the foot ball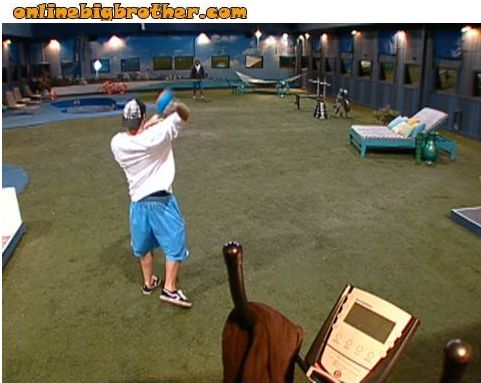 round.  They talk about how Enzo only stayed on the rope swing for nineteen minutes. Hayden says that you had to be mentally tough and that Enzo admitted to them today he wasn't mentally tough. Lane says, yeah Enzo's the smart one. Lane says that Enzo feels fine after nineteen minutes. Lane says he went two and a half hours and feel sore and we're in the same place. Hayden says counting the stipend we've made $50,000 to $60,000. Lane says yeah, I made some more on the wiener competition. Hayden says with the winnings from the competitions its more like $65,000 or $66,000. They start talking about how the big goal was making it to the jury house. They talk about getting sponsors to pay them to wear stuff at bars. Lane tells Hayden that you have to use the people you know. Hayden says that he hopes they get approached at the wrap party for sponsorships and advertising. Hayden says that he can't wait to eat a Brigade burger when he gets back to Texas. Lane says that he can't wait for the end and says that he will go up into the crowd when he gets out to shake people's hands. Lane talks about how the first and second place winner's travel together for trips and interviews.
12:15am Lane talks about how he thinks this was the best day in the Big Brother house.  Lane says that this was the best day.. no one got evicted.. they got a football, steak & Lobster, beer, and that he or Hayden are guaranteed $50,000!! Lane tells Hayden that he has gone into his bank and begged for a loan saying that he was hungry and that they laughed and told him to talk to his Dad. Lane says that he didn't want to ask his Dad for more money when he is 24 years old. Lane and Hayden head inside to the kitchen. They talk about how the people they know back home must be amazed that they made it this far. Lane says that all his ex-girlfriends are probably like, son of a BLANK!! Lane heads into the bathroom to take a shower. Hayden looks at the camera and says unbelievable! Enzo gets up from bed in the jumanji room and heads into the bathroom. Hayden ask him where he's been all night. Enzo knocks on the washroom door before going inside. Lane asks him why he just knocked? Enzo comes out of the bathroom and Lane asks him where he is going? Enzo tells Lane that he is going out into the backyard to jog. Enzo says that he feels like hitting something! Enzo goes out into the backyard. Lane tells Hayden that he can't believe he's going out there to jog right now. Hayden says to Lane that Enzo is a nutcase.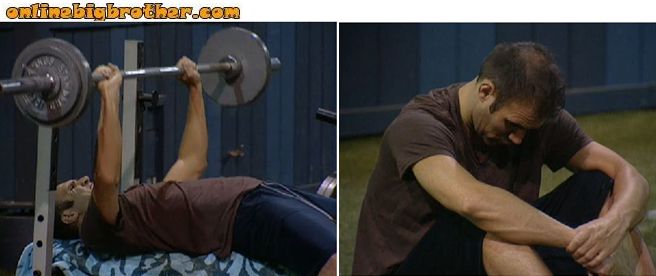 1:30am In the backyard Enzo is jogging around and talking to himself. Enzo says like those two don't have a BLANK deal already! Enzo says that the only way he could make the finals is by winning, its a wrap! Enzo says that it is his own fault! Enzo says that it's alright, there's nothing I would have done different, I made the final three and there is nothing I could have done different, it's a BLANK wrap. Hayden comes out to the backyard and tells Enzo that he is going to bed. Hayden says that he got a good buzz today. Hayden says don't beat yourself up dude. Enzo says it is what it is…. Hayden says that you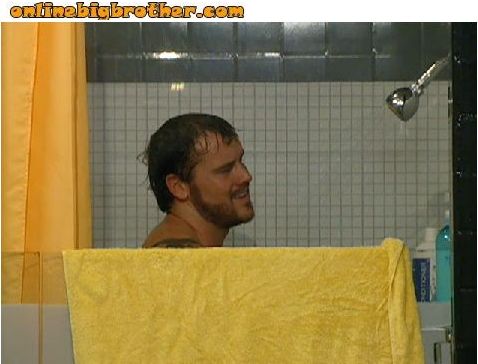 know I love you, good night man! Enzo tells him they deserve it. Hayden heads back inside while Enzo continues to jog. Enzo says to himself that he is ready to get the BLANK out here now! Enzo says that he wishes today was the finale. Enzo says BLANK!! Enzo starts lifting weights. Enzo says got to wait till Wednesday, BLANK!!!!
FREE Live Feed Trial!
Try it FREE for 3 Days!
1:50am – 2:35am Lane is finished his shower and heads into the jumanji where Hayden is already in bed. Hayden asks where Enzo is? Lane tells him that he was laying down doing crunches in the backyard. Hayden asks at 2am in the morning??? Hayden tells Lane congrats man! Lane says you too!! Lane says that we made it to the end. Hayden says if you had told him week one that he would make it this far he would have said you were nuts!! Hayden and Lane go to sleep, while Enzo continues to workout and pace around the backyard. Enzo then heads inside to take a shower and goes to bed…
7:45am Hayden, Lane and Enzo are still sleeping…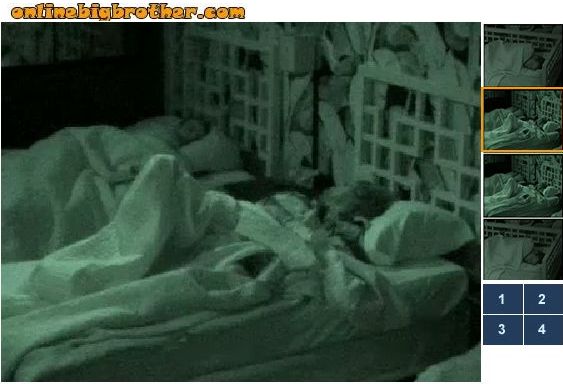 10am Big Brother switches the Live Feeds to the "we will be right back" screen…..
10:15am Surprise, surprise … when the feeds come back .. all three of them are still trying to sleep with the lights on…