TRY the 24/7 Live Feeds – FREE for 3 DAYS!!
9:20pm Kitchen Enzo and HAyden. Enzo saying he doesn't even feel like having his wife come to the finale on Wednesday.. Hayden ask him why, Enzo doesn't want to burden her any more she's been through a lot. (enzo is a broken man) Hayden leaves to take a piss, enzo start to get the pool table ready. Enzo says to the feeds: "I had a golden opportunity to win 500 thousand dollars…BLANK" hayden walks back outside breaks the balls then gets called into the DR. Enzo: "All I had to do was win 2 competitions and I would of won 500K… BLANK man… .. Now wifey has to go back to work…"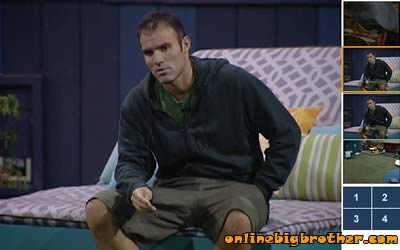 9:27pm Lane and Enzo Lane asks enzo if he's upset… Enzo: "I lost today man.. I had a chance to win 500K and i blew it".. Lane tells him not to be upset, lane says he's playing for 50grand no matter what happened today. Lane starts to play pool by himself…
9:33pm hayden joins them He wants to know if there rocking the brigade shirts tonight. Lane says he is they're final 3 the brigade did it. Lane says that Enzo doesn't want to wear his. Enzo tells them that his looks wack he needs to remake his. Hayden comes back wearing the brigade shirt and they start rehashing the comp with Enzo. Lane tells Enzo that he tore the covers off each picture then started to figure them all out, this way he has a rough idea of each one before he matches with names. Enzo wishes he had done that.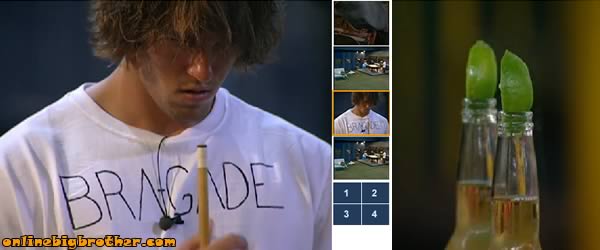 10:03pm Brigade Sausage party minus the meow meow
10:30pm Hayden and Lane in the hot tub Talking about becoming famous after this and maybe getting on the amazing race.. Hayden mentions how down enzo is they contemplate getting him but decide not to. They start bragging how awesome they are, how awesome the brigade is and how awesome they're secret mini brigade is. Hayden goes on about how millions of millions people watch them. ( Brigade this brigade that ) They start advertising steamboat, lane wants steamboat to hook them up because of all the free advertising they are giving them.
10:50pm the mini brigade is talking about sports… and things they missed because of big brother.