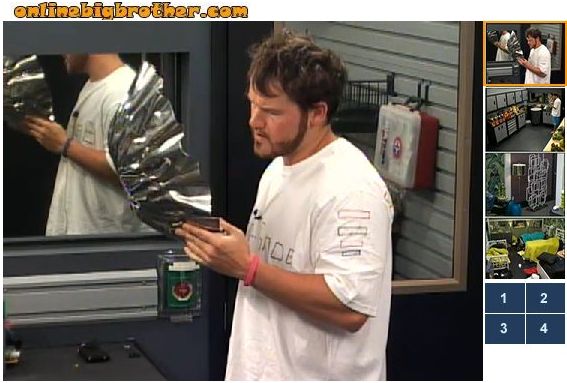 10:20am – 10:30am Big Brother production tells Lane to change his batteries for his mic. Lane gets up and heads into the storage room. In the storage room Lane finds that Big Brother has given back their pool tournament trophy. Lane is pretty excited they finally get their trophy back, after spending the entire summer playing pool with the other house guests. Lane admires all the names of the champions on it, Brendon Villegas, Hayden Moss, Enzo Palumbo, Lane Elenburg, Rachel REilly, Britney Haynes, Ragan Fox… Lane looks it over and then takes it to the jumanji room to show Hayden and Enzo. Lane comes in and says look at this. Enzo doesn't move or say anything. Hayden asks they gave it back to us? Lane says yeah. Hayden looks it over and says that they started the pool tournament on day 38!! Hayden says that they cleaned it for them. Lane gets back into bed and goes back to sleep. Hayden goes back to sleep as well.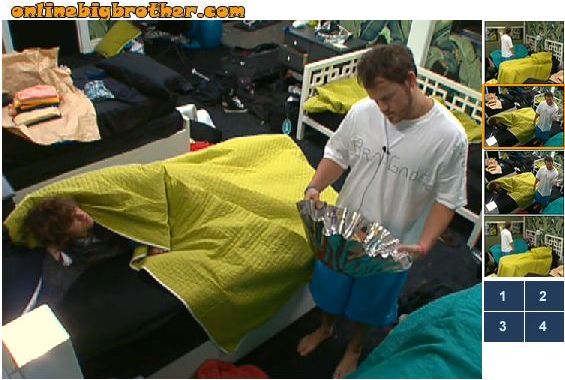 10:35am Hayden, Lane and Enzo are back asleep…

11:35am They are still sleeping…

12:40pm Dreaming of dollar signs….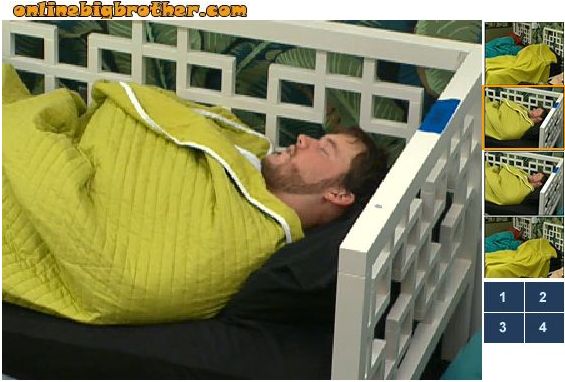 12:45pm – 1:15pm Hayden and Lane get up. Hayden goes into the kitchen to make a protein shake. Lane starts wandering around the house ending up in the backyard to do some laundry. Hayden goes to feed the fish in the cabana room. Not much going on mostly the brigade walking around doing mundane things. Both Hayden and Lane are now the kitchen talking about the morning wake up song. Big Brother tells Lane to exchange his microphone. Enzo is now up and in the kitchen. They are all cleaning up the kitchen. Lane grabs a bowl of cereal and heads out into the backyard. Lane starts talking to the live feeds.. saying MOM are you getting ready to come down here? When are you coming …Monday? Tuesday? How is your business going? Kristy what are you doing …are you coming down or are you too busy? Lane says Mom tell Bruce to start getting things ready…. you should have already been doing it! Lori I want to come to Nashville!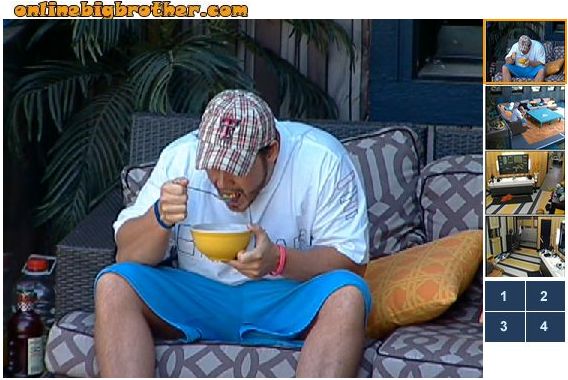 1:20pm – 1:40pm Hayden joins Lane out in the backyard. Hayden wants to pass the football. Lane says that his groin still hurts. Lane asks where Enzo is? Hayden says that he doesn't know. Hayden says that last night was fun. They talk about how they drank all the alcohol, 6 coronas and Champaign. Hayden says that they had lobster and hot dogs last night. They talk about how last night was the first football tournament. Lane and Hayden both says that they had fun last night. Lane asks when do you think our families come out. Lane says that he wonders if their families get a tour of the lot? Lane asks again where Enzo is? Hayden says that he thinks he went back to bed. Lane asks what is wrong with that guy. Hayden says that he thinks he is depressed and wants to see his family. Lane says that he bets they don't go to the morning show the next morning because they'll be having the wrap party the night before. They talk about how they signed a contract till the 24th so they think they will be able to go home then. They talk about how they think they will bring back the bra-gade to host a competition next season. Lane and Hayden toss the football back and forth on the couch. They talk about what family members they think will be at the season 12 finale. Hayden asks Lane if he had won the veto would he have gotten rid of Britney? Lane says that he would have had to. Hayden says that he knows it would have been difficult. They talk about how the finale is 5 days away. Then the conversation changes to talking about 9/11… Where they were at the time and what they remember…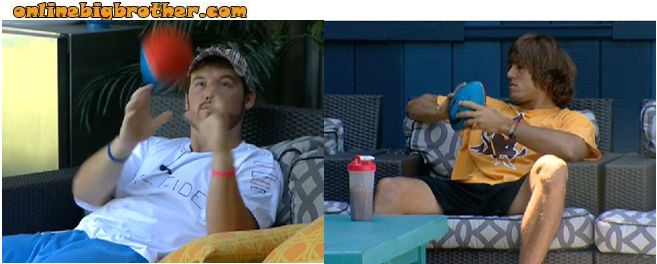 1:40pm – 2:10pm Lane and Hayden are still sitting out on the backyard couch talking about the finale, while Enzo continues to sleep. They talk about getting together after the show is over and Lane flying them to Corpus Christi. Lane says that he wants to work out today. Lane goes inside. Hayden says crazy crazy crazy … his hands are hurting from the competition yesterday. Hayden then gets on the elliptical to work out. Lane comments about how he cannot believe the summer is almost over.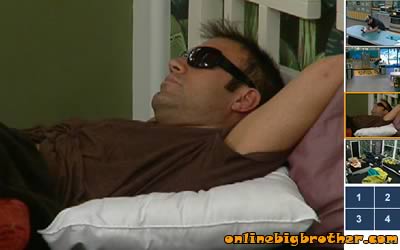 3:40pm Jumanjii yo Enzo by himself shaking his head muttering to himself how he blew it. The other 2 bra-gade members are passing the football around in the backyard. Lane wants to hold a huge party talks to Hayden about how awesome it is going to be to.