5:55pm Lane and Kristen Backyard Couch Lane saying that people calling other people floaters because they're not winning competitions is the biggest bullshit. He points out that some people may not want to win the early comps it's not the best strategy. HE allso thinks most but not all of the comps they've had were random and just based on dumb luck. Lane says that this game is so messed up you can't fully be yourself in here "In the DR it's your real self and in the house it's someone else".. Lane: "rachel is basing her entire game on that one player from previous years… whats her name… oh yeah that Janelle girl.. she's doing that whole floaters things because Janelle did". Kathy walks in catches the tail end of the Janelle comments and says "you know she's trying to be just like Janelle you know".. "I want to see who the real rachel is Yo know" Kristen if we were outside this house I would not put up with rachels bullshit. Lane thought she was going to hit rachel after last HOH he saw her hands ball up and they thought the security gaurds would be jumping over the walls.
Kristen wonders why rachel is coming after her and not hayden, Hayden is just as dangerous target in the house. Lane thinks it's because rachel believes she can persuade hayden whereas as for Kristen you've stuck up for yourself against her and now she's scared of you. Kathy says Rachel wants to get all the girls out because she thinks it benefits her. Land thinks she should want the girls to stay but her logic is all fucked up.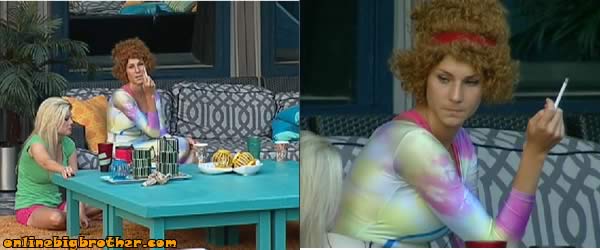 6:13pm Kathy and Kristen backyard couch Kathy tells her she's preying for a miracle she really wants her to stay. Kristen just hates that Rachel is getting her way, kahty knows. Kahty: "Rachel hates you because you stood up for yourself" Kristen: "rachel thinks I've given up.. but i'm not giving up BITCH". Kathy: "rachel works of intimidation.. she's a bully and when people stick up to her she folds" Kristen counting votes thinks that matt has a deal with B/R so his vote might be tough, she's going to work Ragan and Brit. Kathy tells her she has her vote. Rest of the house starts heading outside to eat dinner.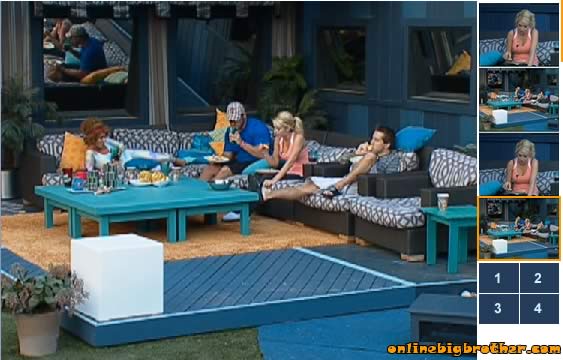 6:26pm Backyard 6 different conversations. enzo: "Fucking ants are biting me yo.. even the fucking ants backstab yo in here yo".. "It's bananas up in here is crazy yo"