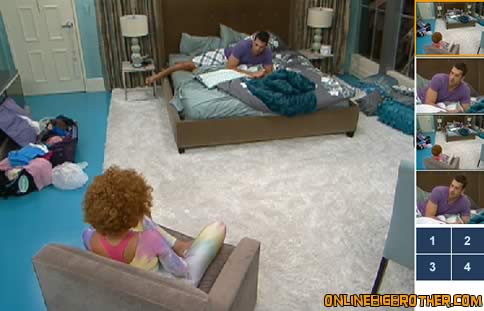 SEE what they CAN'T show you on TV! 3 Days FREE No Commitments
2:26pm HOH Brendon and Kristen Brendon asks her how she's doing, She says it rough right now. Brendon understands she's in a tough spot and he appreciates her fighting. She tells him she just wanted to be able to talk to him alone. She re-explains all her reason to Brendon tells him that she is a better person to have areound for following week then Hayden. She tells him that the vote is going to be close and his vote may be the deciding one. He tells her she's doing a great job and to keep it up. She adds that if Hayden stays he is going to ally with Enzo and Lane, If you keep her then she will ally with Kathy and Ragan. She asks him who he would rather be fighting against. She tells him that sooner or later Brendon and Rachel will be split up too much of the house will be coming for them. She is offering him protection from her so when he's flying solo he has help. Brendon tells her he understands her offer and he thinks it makes sense and is well thought out. He'll tell her his vote closer to eviction.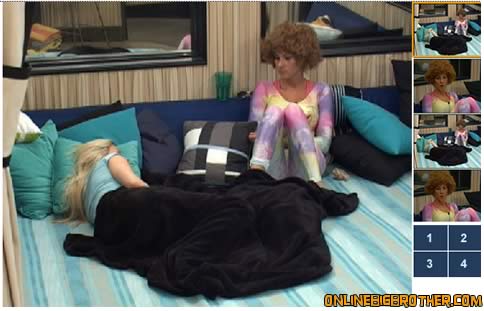 2:40pm Cabana Room Room Kristen and Kathy YOU KNOW Kristen reporting everything back to Kathy. Kristen thinks Hayden has Enzo, Matt and Lanes vote where she has Kathy and a good chance at Brit and ragan. She thinks she's put a convincing argument forward to Brendon but she's not sure how much he's able to think and play for himself. Kathy starts talking about her family….3:00pm Ragan joins them Kristen says she's talked to Brendon again by herself. Ragan asks if Kathy could leave and she does. With Kathy gone Kristen says she thinks Brendon is more scared about having 3 guys after him then me. Kristen thinks she'll still work for Enzo's and Lanes vote because she thinks she can convince them that it's more beneficial for her to stay then Hayden. Ragan doesn't understand the confidence she has with Lane he doubts she can get his vote.

SEE what they CAN'T show you on TV! 3 Days FREE Trial
Kristen says that lane understands the pros for keeping her here. She doesn't know if he plans to get the strong guys together or if he's jsut looking to keep floating. If he decides to keep me around then he'll be looking for something from me down the road. If Lane is keeping Hayden it's a automatic alliance between those two. Kristen thinks Brit is going to vote for her, Ragan isn't sure he thinks she has his and kathy's vote. Kristen explains reason why brit would vote for her, she scared to be left in the house with a group of alpha males. Ragan thinks the oppostie is true that Brit wants to be the only girl left she wants to be perceived as a weak player when in reality she's on of the strongest. Ragan instructs her to look at Lane and Enzo as 2 separate people because he believes they will vote differently. He tells her she needs to get a confirmed yes from one of her maybe votes and she needs to get it by Wednesday Night. Ragan is really suspicious of Lane, Kristen agrees she doesn't know if there a chance with Lane she thinks she has a chance with Brendon. Ragan tells her not to think that there will be any type of disagreement between B/R regarding Brendon's vote. They will vote as one he guarantees it. Kristen asks about Matt, Ragan hasn't really talked to him yet. She doesn't think she has a chance to get Matt's vote. Ragan stays silent.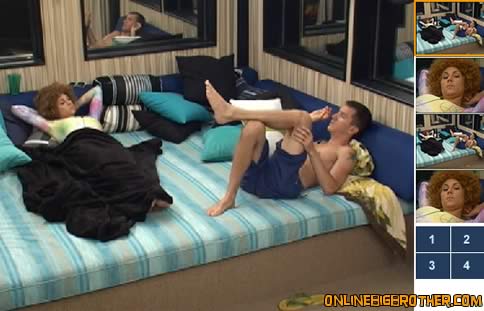 3:20 Cabana Room Conversation Continues Ragan wants her to elaborate on her conversations with Lane. He wants to know when he's planning on telling her his vote. Kristen he'll tell me closer to the date. Kristen thinks the vote is going to be close she really believes it. He starts to go over his explanation which he covered in the HOH conversation a couple hours ago. Kristen agrees with Ragan she's sticking with the same story with everyone because it's a solid argument. Ragan asks if shes talked to Brit yet. Kristen plans on talking to her tonight. Kristen see the house splitting after she leaves she's sure the guys will join up. If she stays there will be one less guy in their group .. Ragan doesn't think Rachel gets it. Kristen thinks she does it's just really hard for her to swallow because she's playing on a personal level and she can't fathom the idea of keeping Kristen after all the shit she's said about her.Ragan reminds her that a 4-3 vote when your on the losing end might as well be a 6-1 vote because people don't want to be associated with the losing side because it effects them later int he game… He tells her he will continue to help her and for her to not give up 3:44pm Ragan leaves Kristen alone int he cabana.