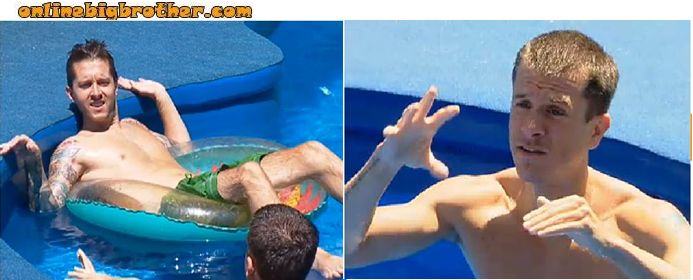 SEE what they CAN'T show you on TV! 3 Day FREE Trial
11:50am Rachel doesn't believe Kristen or that they can trust Ragan any more. Rachel says that Kirsten is going to align with Matt and Ragan. They still think that Kristen is going to fuck up their game. Rachel says that she just knows that Matt and Ragan will vote to keep Kristen. Rachel says that she guarantees it because Ragan came up here and was talking to try and persuade Kristen's side. Brendon says so Ragan is against us now? He is on their side now? Rachel says that Ragan isn't against them but that Ragan wants to have an alliance with Matt, Kristen and you and I. Brendon says get the fuck out of here …Ragan is blinded by Matt. Brendon tells Rachel that she should be careful what info she gives to Ragan from this point on. Rachel tells him that he needs to be downstairs all the time to watch the others. They talk about who would vote for Kristen or Hayden. Rachel telling Brendon that he has to win HOH this week. Rachel says that they need to get rid of Kristen, or they are fucked.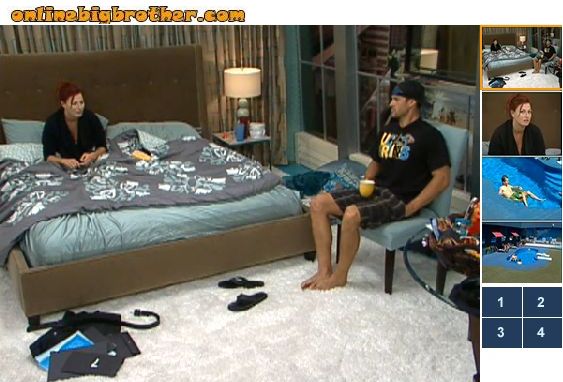 12:15pm – 12:50pm Brendon and Rachel are going over past seasons of Big Brother and then they start studying this season when and who won things. They talk about what has changed and what is missing in the house. Brendon tells Rachel to think about what she is going to say to Hayden when she comes up to talk to her.  Then Brendon asks if she would want to make an alliance with Ragan.  Rachel says no.  Brendon asks if there is anyone else in the house she would want to make an alliance with …. Rachel says no …not until he (Brendon) wins HOH and someone offers them a good deal.  Brendon asks but who in the house do you trust the most. 
Rachel says Ragan but he has an alliance with Matt.   Rachel says that if they evict Matt then Ragan is going to be pissed and then they wont be able to make an alliance with him because you can't when someone is mad.  Brendon asks her what she wants to say to Hayden.  Rachel says that she will say ha, ha, ha you're so dumb, you got manipulated by a girl.  Rachel says that she want to say that Kristen is campaigning against you this week …how does that make you feel?  Rachel says that Kristen is talk to other people and and trying to manipulate them into voting you out.  Rachel says that she would then say that she would never turn on Brendon … how does it feel to have someone so close to you turning on you.  Rachel says that they want to manipulate Hayden, without naming names, into looking at who Kristen is talking to that might vote for her.  Rachel says that when Hayden hears all that, he is going to say fuck, what a bitch.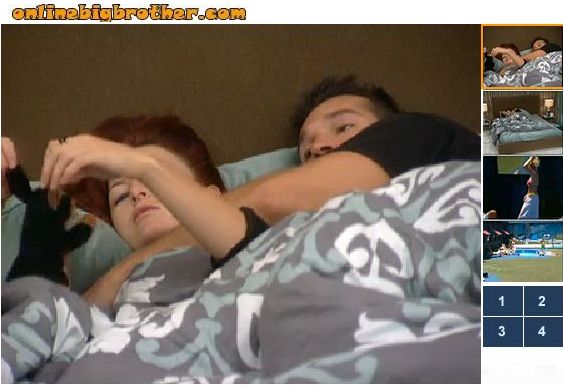 12:55pm All the other houseguests are laying out in the backyard. Britney heads inside right at the time when Rachel comes down from the HOH room.  Rachel asks if Britney is laying out side and that she will join her.  Britney says yeah everyone is outside laying out … she says that she is gonna make lunch now.

SUPERPASS 3 Day FREE Trial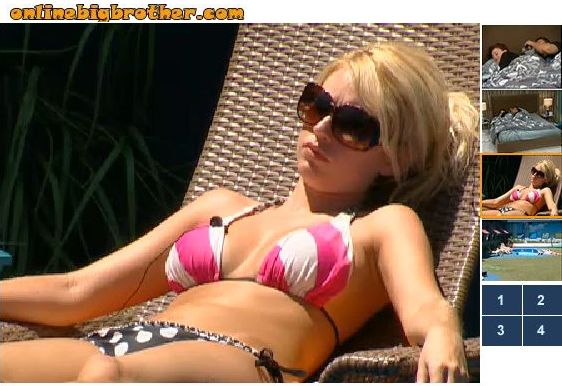 1:10pm Kristen and Hayden are laying out by the pool talking. Kristen tells Hayden that he smells good. Hayden asks What?! Really?! Me?! Like what? Kristen says yeah! Hayden says oh I put on deodorant on. They continue to talk about random stuff…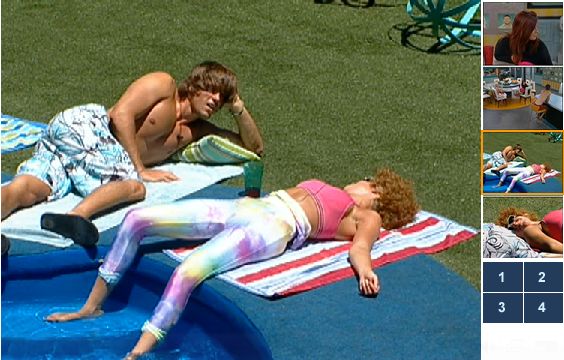 Kristen and Hayden both agree that Brendon is too good for Rachel and he knows it. Hayden says that he really wonders what Brendon says about Rachel in his diary room sessions. Hayden says you know how DR sessions go, they're either one way or another. Hayden says that he doesn't want to get into trouble and then changes the subject. Kristen tells Hayden that she would hire him as her pool boy. Kristen says that he is better than a pool boy. Hayden says that he will take what he can get.

Rachel and Brendon are back in the HOH room. Rachel tell Brendon for the second time that when he is talking to Hayden he should make the one week protection deal with him. Rachel tells Brendon make sure you do it. Brendon says trust me, I will. You couldn't say anything to Britney with Ragan in the room. Rachel says yeah, I don't think Britney wants others to know she is on our side for her own personal reasons. Brendon says that he is cool with that. Rachel says that she trust Britney as long as she doesn't think that, I don't know. Rachel says that we just have to make sure this house doesn't keep Kristen. Rachel leaves the HOH room. Brendon stays to take a nap.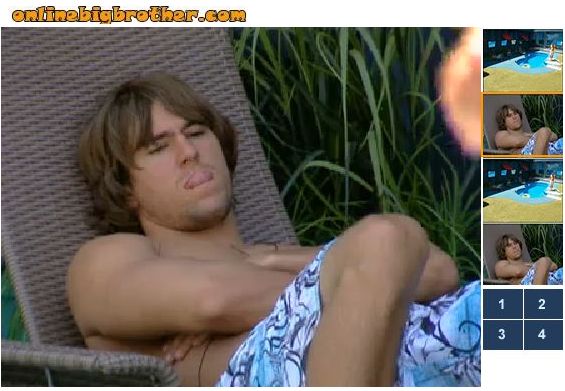 1:50pm – 2pm Hayden and Enzo are in the backyard talking about random stuff like how bored they are … when to take a shower and shave…. Enzo says that he is bored and that they should be allowed to have a pen and paper in here. Hayden says that they're not allowed because they could pass notes and people wouldn't know what they were saying. Enzo says I see that. They start talking about baseball and baseball player stats.