5:49pm Cabana Room Enzo and Kathy. They're talking about the double ecivtion.. they have no clue how it works.. enzo is in the best mood we've seen him in since matt won HOH, the guy can't stop smiling. Kathy brings up that it's coming to the point where they need to start thinking about jury votes. She says they need to have someone in the jury house that will vote becuase of game not personally. She makes a comment about how it would suck to live with some of these people for 6 more weeks. Kahty says enzo is going to make it to the end, Enzo "who knows this game is tough…looks easier on TV huh?" Kathy "yeah this game is much harder then I thought" Enzo "you really wanted to play in this one eh?" Kathy 'More then ever" Lane walks in says he heard them talking game.. (joking).. He says enzo's got the X on his back now he's the target cause he won a thousand dollar tv ..yo… Lane mentions that Brendon didn't do very good they wonder why not. Enzo says the game was hard/random and it was killer hot out there. They start talking about Kristen being in the DR room for so long.. Enzo thinks she's just letting it all out. Kathy mentions that she's probably getting fit into the unitard. They all agree she shouldn't be embarrassed wearing it because she has such a nice body. Kathy tells the guys about the unitard rules.. they have to wear it all the time, in showers, while working out, sleeping. Enzo can't believe it, questions if it's sanitary to work out and sleep in the same clothes. Rachel joins them "HEEEEEEEEYY! WUD UP!" she's worried about hayden being in the have nots for so long, comments on how they haven't done anything like this since the allstar season. Enzo says that their season is the turning out to be the allstar season… Brendon joins them with food.. they start to question some choices hayden and Kristen made in the POV.. Enzo says that some times people do things in at the spur of the moment, sometimes they make mistakes. They leave Enzo to go to the kitchen.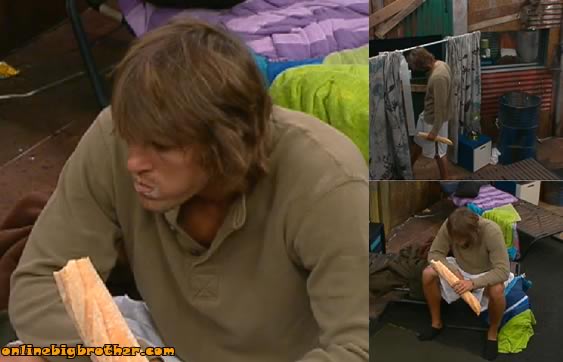 5:50pm Hayden locked in the have nots for 24 hour. hayden has a a giant stale baguette in his hand munching on it like some mountain man. They gave him a portable toilet and he has a bucket of slop. He talks to Matt and Ragan in the jumanji room through the wall. Ask Ragan whats MAtt doing, Ragan says that Matt has his hands down his pants all the way down covering his balls not the usual thumb out 4 fingers down… Kristen joins matt, Ragan and now LAne/brist in the Jumanji, Kristen isn't wearing the unitard. They're asking Hayden about his toilet. Hayden starts playing with the toilet and he thinks he's broken it.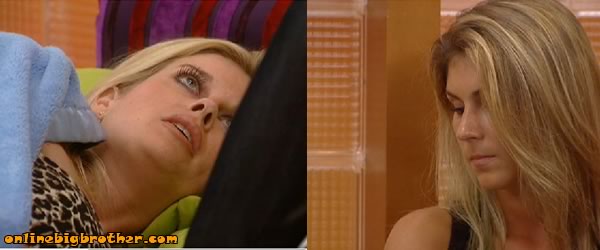 6:25pm Taj Room Kahty and Kristen Kristen wants to try and form an alliance with Brit so that she will keep kristen. She needs to figure out a way. She thinks her and Kathy should try and use the Monet angle telling her that monet woulnd't want her to not use is. Kristen says i'll tell her i will promise her anything in this game… kathy isn't sure thats enough. Last kahty heard that brit will not use the POV.. they both agree that Brit is terrified of Rachel and that is why she's not going to use it. kathy is shocked that brit is being a friend with red.. she wonders if it's just strategy on brits part. Kristen says she'll offer brit to never ever put her up and brit can use her as a pawn. Kathy says she's not scared of Rachel like the rest of the house, she'll help Kristen in any way she can. Kristen is going to try the financial angle telling her that if she doesn't make it to the Jury house she'll be in ruin financially and won't have a place to live. Kathy tells her she needs to talk to brit tonight and in private, they list off all the things she'll say to brit. They're not convinced that it'll work but Kristen has to try. Kathy brings up that Britney will ask who will be the replacement nomination. Kristen thinks anyone would win against her on the block but doesn't have a clue who would go up against hayden, they know brit is close with both sides of the house. Kathy goes on and on about how brit is scared of rachel but neither Kristen or her are. Kristen says she'll offer brit protection from Rachel…
Share it YO!!
Tweet