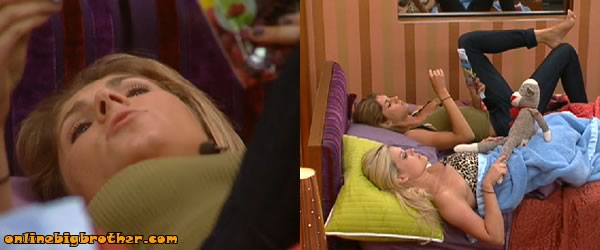 7:15pm Taj room kathy and Kristen Kristen has her deal all ready She'll offer to never put brit up while Kathy will work the Monet angle. She's convinced that will be better then any deal rachel can offer. kathy tells kristen she's going to be honest with her she doesn't think brit will use it she's heard brit too many times saying it, Kristen knows she doesn't think brit is a risk taker and she'll play it safe util she cornered. Kristen believes she would go out with a vote of 5-2 vote with the votes coming from Ragan and Kathy. Kristen calls brit a floater says she'll never stick her head out for Kristen. kathy: "I think Brit's been mind raped", Kahty thinks it'll be hard to get brit alone from rachel. Kristen is pissed at Andrew for what he said, "hayden and I are the only 2 honest people in the house and he made it look like we're liars" Kahty proposes that Andrew liked kristen in a relationship sort of way, Kristen agrees "Jews seems to like me" Brendon walks in to grab something, tells them about whatys he's cooking.. leaves. Kristen "I think deep down that Brendon is a very good person and I feel sorry for him being with her"…"That women rachel is crazy" kristen adds that she's pissed off that she'll be sent home by rachel everyone else in the house she's fine but not rachel. Kahty mentions that she's seen a lot of crazy people and rachel is one of them.

SEE what they CAN'T show you on TV! 3 Day FREE Trial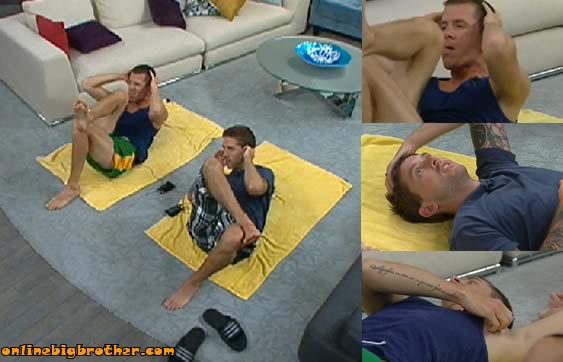 7:48pm Living Room Ragan and MAtt, ragan is teaching Matt all about how to build his abs up. Says it's a mix between consistency and diet, he needs to work his abs 5 days a week and watch his diest and after a year he'll see results..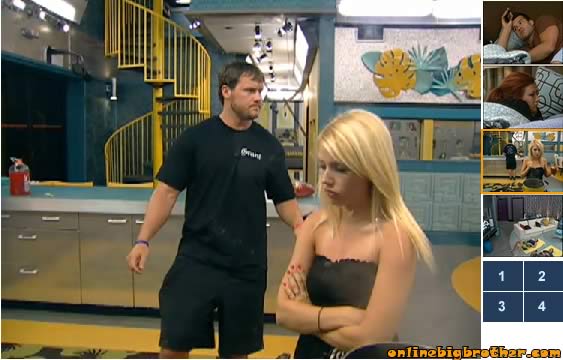 7:56pm Kitchen Lane and Brit There talking about how rachel has to go soon, Brit says they've been saying that for weeks. Lane: "In 2 weeks i'll reveeal who I don't like" brit " I already know who.. Brendon and rachel" Lane:" well in two weeks if there still here i'll tell them". Lane tells her that not matter what happens to them next week at least they know they'll be spending the rest of the summer in a badass house. Brit whispers that she has no intentions on using the POV, Lane:"good cause i'll go up". Theres a audio leak from the HOH room where Brendon and Rachel are talking mad game. They Want hayden, Matt and then Kahty gone in that order, Brendon wants rachel to offer up the 5grand to provide them with safety next week.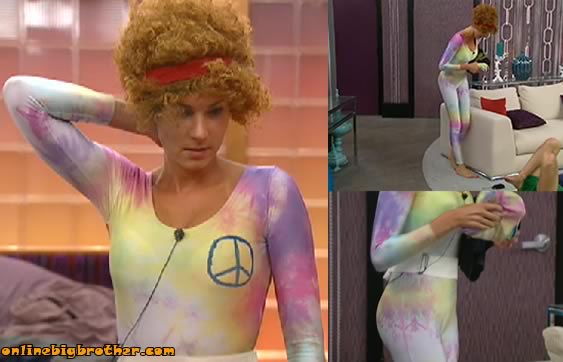 8:10pm Kristen gets the hippie tard and runs into the taj.. Just like everyone predicted she looks great.