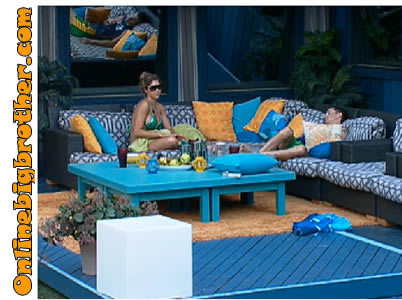 6:25pm Backyard Rachel telling Brendon how Original Ganatsa he is.. Feeds cut to the couch where Ragan and Kristen are talkign about how board they are.. Kristen keeps singing "all I wanna do is Libate and Gyrate.. Libate and Gyrate" Ragan really wants to go watch a movie he now knows why when previous season players were so excited when there was a movie even if it's one thats crappy.

6:37pm Kitchen Kathy, Brendon and Rachel making some food houseguests coming in and out getting food or puting it back.


6:39pm Have nots Monet is telling her that Rachel and Kathy have been trying to talk to her. "Rachel came up to me and asked me if i was ok" monet thinks she can get haydens vote i think i got lanes vote
Monet: "kathy is she fucking serious… and rachel keeps looking at me giving me dirty looks.. I have to do this I have to stay it'll be worth it seeing the look on her face" Brit tells her that she thinks they can get to Andrew.. he pulled brit into the storage room and told her he sorry for acting weird, "He sounded sincere"

Onlinebigbrother.com is around because of your donation every year the site costs us to host the images and run the 3 servers needed to handle the traffic. If you like the site then please consider donating to keep the madness going. Thanks!