Watch it happens as it happens!! Superpass 3 Day FREE Trial


3:20pm Rachel my dream job would be a science show called "Sexy Scientist" maybe a PBS show or somehting with CBS Kristen wants to be a fashion show host.. like "What not to wear" Rachel says "OH my GOD you would be perfect for that… you can show off your own fashions" Hayden wants to do something regarding sports, "hopefully with CBS".. (it's the same thing we see every year the houseguests think that now there on Big Brother all these great opportunities will come up. If the past s any indication unless their as big as Jeff/Jordon the best they can hope for is a web show and to be guest bloggers on some website)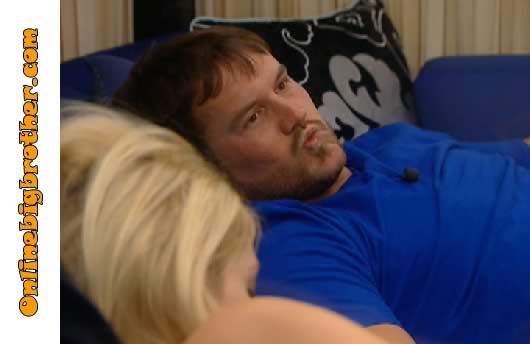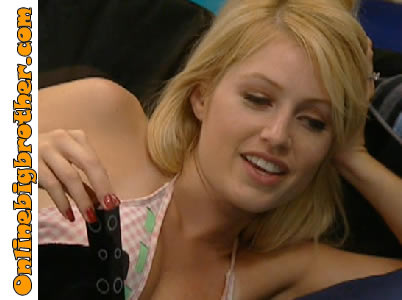 3:25 cabana Room lane, Monet and Brit Mild bashing Kristen about her botched boob job. Brit brings up she probably was pretty flat chested before so she probably looked worse before, Brit says that Rachel has a very nice body but it's just a weird shape. Monet thinks her chest looks pretty bad but probably better than before she had them implanted. Lane mentions that her eyes are kinda fucked up "She's always squinting" .. Brit wonders if Kristen is going to cheat on her boyfriend with Hayden. Monet doesn't even think that she has a boyfriend because she's so weird about it, "never talks about it and got really mad when people were asking" They go back to talking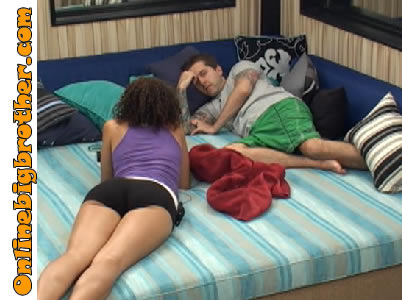 about bars in texas.. listing off a bunch of bars and the music they like. Lane leaves and they start talking about how they are going to get Hayden onto their side.. Monet lays out her speech, She's going to pull him aside and say that Matt is a better competitor and Hayden would get farther ahead if he kept monet around. Monet knows she has little chances to stay in the house but she's going to try her best. She decides it's no use being nice to Rachel until after Thursday, Brit don't bother she's not doing to do anythign for you either way. Matt joins them and asks Monet if she's done the diary room session yet and she says no "What are they trying to do wait until your all fired up.. they should of called you in right after the ceremony" Monet "no cause then i would of just cried".. Brit leaves and they talk about how shitty it would be to be the first person in the jury house being so close and then having to sit around until the end. Matt asks if she gets her money right away Monet says no they give me the 10grand and the stipend after the show. Matt "tahts shitty" Monet explains to him how she doesn't plan on being fake nice to rachel anymore.. matt says theres no point. They start talkign about the amazing race and surprise surprise they all plan on applying for the show.. (every year the players in BB talk about being ont hat show now more than ever because Jeff and Jordan were on it last season)



3:50pm Kitchen, Andrew, Lane and Enzo is cutting up fabric making some kind of outfit He's cutting off the sleeves in his shirt making bandannas out of the sleeve and giving one to Lane and himself.. He keeps talking to himself Brit joins them "You've cracked Enzo" , Enso says he doesn't want to sleep anymore he just wants to eat he doesn't want to work out he wants to start smoking cigarettes… its about to get dirty in here".."i'm about to start making gangs..making shanks with toothbrushes" Andrew tells him this is pretty much like a prison. Enzo stats making jokes about himself cracking "I'm going to fucking start cutting my flesh… stat painting my body with war paint.. i'll be camouflaged and sucked against the door no one will see me" hayden walks in and everyone laughing there shit off (It's funny as all fuck if you have the flashbacks dial it in 3;50 all 4 cams)



If you want to laugh go to this blog it's wicked https://bitchybigbrother.blogspot.com
Leave a comment and say Simon sent you you'll laugh I promise.

Onlinebigbrother.com is around because of your donation every year the site costs us to host the images and run the 3 servers needed to handle the traffic. If you like the site then please consider donating to keep the madness going. Thanks!
Share it YO!!
Tweet