6:33pm Taj Room Ragan, Kristen and Matt Talking about nominations, telling them if POV is used Brendon is going up because that is what the house wants. He adds that he'll take Andrew down if he wins POV. Kristen tells him she doesn't want Kathy or Andrew up there. Matt says GREAT i'll pick you for POV you can take one of them down. Kristen tells him that crazy shit is going to start happening now in the house. If she uses the POV she's going to have at least one person mad at her, either Brendon or Rachel. Matt says we gotta do this lets win this thing. Ragan and Kristen both tell Matt he made a logical decision and it makes sense.. Kristen doesn't look too happy.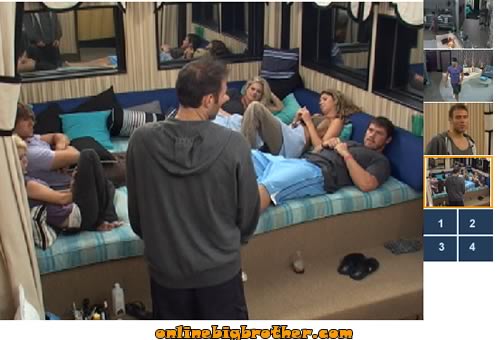 7:00pm Cabana Room Enzo is telling them that that he has negative nutrition right now and he's going to make his slop dish. Lane chimes in that shit is good. Matt joins them Enzo asks how he's doing with the nominations. Matt says that its tough but it is what it is. Matt now asks Meow Meow what does it feel like to get Backdoored. Enzo laughs says Kathy is going to get it. Matt says He'll yeah go for it. Enzo adds that Kathy should win the POV and not use it.. Kathy just laughs in the background.

Onlinebigbrother.com is around because of your donation every year the site costs us to host the images and run the 3 servers needed to handle the traffic. If you like the site then please consider donating to keep the madness going. Thanks!