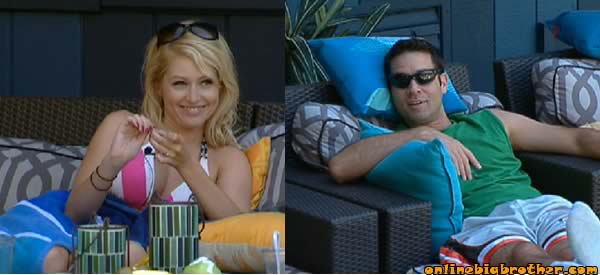 DAWG barked us up some new nudeslink
3:20pm Backyard Couch Brit, hayden and Andrew Talking about luxury prizes, Brit says she doesn't want to win the TV fuck the TV she says. She'll take the trip and the money.. or perhaps clothes to. Hayden says he's been everywhere in the United states and some places in Canada but never anywhere else. Brit tells him he should go use his stipend for a trip. hayden: "No i got other things I want to do with that cash"
Brit tells them all the places she's visited, Europe, Caribbean, and Mexico (She lists off a lot of resorts, expensive shit) Hayden leaves.. she tells Andrew that she really wants to go to Auschwitz. Andrew says he will never go he's had friends that have gone but it's not a thing he will ever do… Brit says she's seen shows and documentary's about it, She brings up the Pianist. She disgusted that there are holocaust deniers. Andrew says taht the town is really old and isn't a place for tourists it's more like a museum. Brit explains that she believes it's an important part of history and she wants to go to see what it is like. She's amazed that the human mind can handle and inflict so much suffering.

3:44pm Storage Room Andrew and Brendon Andrew telling him he's got Brendon's back he thinks Brendon is a stand up guy and he like him.
3:52pm Backyard Most the houseguest are on the couch chit chating… they are talking about modelling. Brit is explaining to them all about Beauty pageants and how much work and money they are, "hair and make-up 500 dollars the dresses are 4000 the interview suit is 500 theres travelling and the swim suit is a couple hundred".. if you win you get to go to ms america and theres scholarships to win. Brendon says he stopped doing modelling because he felt like a piece of meat. Brendon asks Brit if she thinks pageants display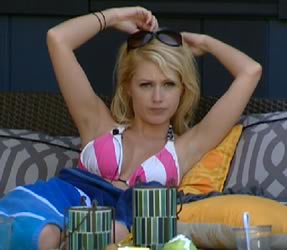 women as sex objects. Brit explains the different systems and how one system is highly regulated and another system is more raunchy. Check out Brit in her Beauty Pageants . She goes on to explains how expensive it is and how many of the girls that go into the pageants go on to big things like politics, movies, modelling, industry. Brendon asks if only rich people can afford to compete. Brit tells him that many girls do it on the cheap, they do there own hair, makeup buy cheaper clothes, "Thats what I did My family doesn't have much money… theres some girls that spend a fortune but I think they can so they do" Brit says that its a great experience for girls to do it builds confidence and respect (and bitchiness) Enzo asks about the 6 year old Pageants. Brit is against the little girl Pageants she thinks that it's not good to force your kid to do it let them start when there old enough to make their own choices. Enzo saying he watched a show once about it and it made him sick….Enzo asks here what her "talent" is she says she plays the piano but doesn't sing. Enzo asks her if she's ever been asked a question during a pageant that she didn't have a clue or drew a blank. Brit tells them a story about being asked about what is democracy and she answered "Look at the Statue of liberty"… Enzo laughs.
4:08pm Chit chat about stuff… enzo starts to scratch his balls… Hayden is over to the side showing us his front teeth and Brit is talking on and on about Beauty Pageants.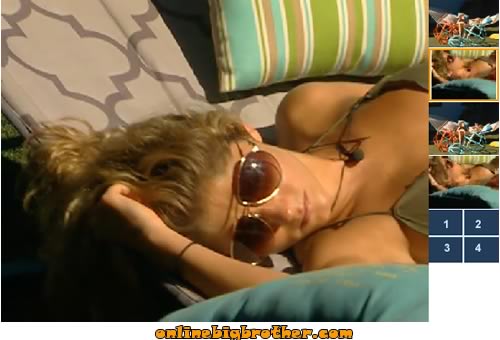 4:13pm Hammock Kristen and Rachel Kristen is telling her that if she goes up this week it might not be a good idea to use the POV because then they'll put Brendon up. Kristen says Rachel ahould just work like hell to get the votes, if she's u against Kathy there shouldn't be a problem. Rachel starts to whine about everyone in this house is hell bent on breaking them up and its not fair. Kristen tells her that the only reason that is happening is because last year Jeff and the cookie dough monster made it so far. Kristen tells her that every single person in this house is going to get lied to and back-stabbed and it's going to get a whole lot worse in the coming weeks. Rachel says she didn't know the game was like this she really isn't liking it, "I thought it was going to be fun Play in some challenges and meet people… you know just hang out" Kristen explains that the game is very different then what they portray on the TV broadcast. Rachel: "you see i only watched the Broadcast" Rachel doesn't have a clue what Matt is doing neither does Kristen… (I don't know about you folks but I can't wait for nominations tonight)..

4:48pm Trivia on the feeds, Nominations underway

6:14pm Still Trivia
DAWG barked us up some new nudes link

Onlinebigbrother.com is around because of your donation every year the site costs us to host the images and run the 3 servers needed to handle the traffic. If you like the site then please consider donating to keep the madness going. Thanks!
Share it YO!!
Tweet